---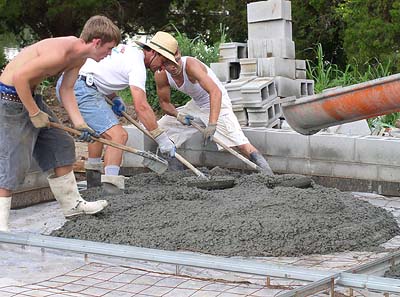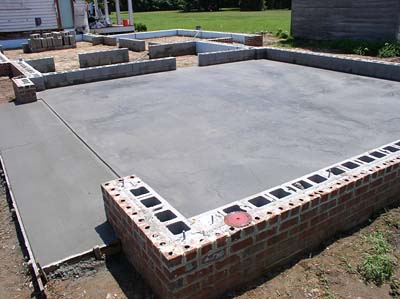 The garage slab was poured today. I delayed the lumber delivery until Wednesday so it wouldn't get in the way of the pour. -- Bill

---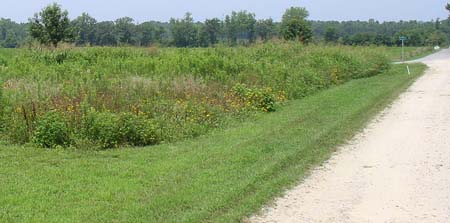 The wildflower field has been a real eyesore this summer. It started off this spring with lots of color and promise, but then the weeds quickly got the upper hand. It's hard to tell from the photo above, but the overall height of the weeds is about 7 feet tall! And nothing has bloomed for several months other than an ocassional daisy along the perimeter. Today it was time for it to go, so I saddled up the bushhog and mowed it down.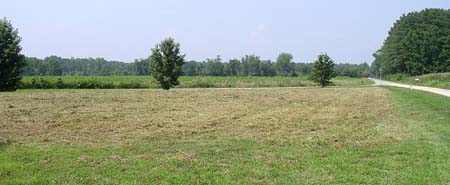 Gay has been hesitant for me to mow it down because she wanted to give the flowers time to reseed for next year.

Back in May I launched a Budget Tracker feature to show where we stand, expenses vs. budget. I haven't posted a follow-up in over two months and several people have even E-mailed me about it, asking why. Truth is, we haven't incurred any significant expenses in that time. (Which is also indicative of our slow progress, I guess.) Well, the ole budget tracker's about to become a lot more active. The mason finally gave me an invoice yesterday so that gave it a bounce.


The above includes items not yet installed, like all of our windows, exterior doors, a 50% deposit on kitchen cabinets, etc. If I back out those items, then we have spent 14.5% of our budget to get us to the point of a finished foundation. (I like that number better than 25%!) -- Bill

---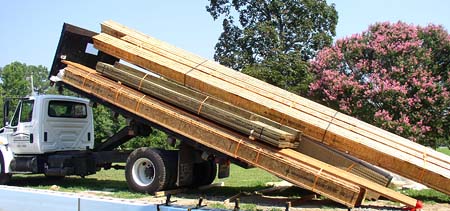 Our first lumber delivery arrived this morning. This is everything to get us to the first floor subfloor. Kinda scary the way the drop (literally) it off. Broke one piece of Advantech T&G subfloor in the process.

I called the framer to let him know that everything's ready for him and he said, "We'll see you on Tuesday." I can't tell you how many times I've heard that so far. Gay, William, and I are convinced that "Tuesday" is the standard answer given by everybody around here, no matter what you ask. Tuesday it is then.

Today's other projects: re-built one of the chicken house doors that was out of square, painted a finished window sash, pulled a stump, filled a couple stump holes, etc. -- Bill

---
Last Wednesday the framing contractor said he'd see us on Tuesday. Then on Monday he called and said, "if not tomorrow, then we'll see you Wednesday. Or Thursday at the latest." This afternoon he called again saying that our day of rain (yesterday) had really set them back. "So it might be Friday. But no later than Monday." Oy. This is not a good start. About three weeks ago he was here and met Gay for the first time. In the course of that conversation he said he thought he'd be able to start in a week and half. Then he turned to Gay and said, "and when I tell you a week and a half, that's what I mean." So I told him today, "Gay's got your number. You shouldn't have told her that."

Meanwhile, I've been suffering from a bad case of summer laziness. I've dabbled at a few things, researched a few doors that I need to order, ordered custom moulding and window sills for the windows, etc. But, the lack of activity has me feeling a bit frustrated and uninspired. -- Bill

---
Today I did the 200-hour maintenance on the Kubota tractor. Yep, I've put 194 hours on it since July 2003. I'm not sure how I feel about that. That's five 40-hour work weeks in just two years. 2-1/2 weeks per year...that's more than people typically get for vacation each year. And I've spent it cutting grass. Or you can look at as 8 solid days. That sounds better. Just four days a year, I cut grass. Four 24-hour days.

The bad thing about having a windmill is when it gets really, really hot...like 100 degrees hot...and you look up and see that the windmill isn't spinning at all. That's when you know you're doomed.

I hope to have actual construction progress to share next week, rather than more such stream of consciousness ramblings. -- Bill

---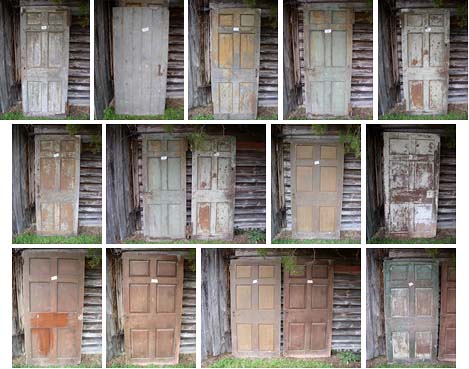 Back in February I sorted through all of the old doors in the chicken house that we might be able to use in the new addition. Today I finally figured out what doors will go where; doing my best to group similar styles together. To make matters even more interesting, no two doors are the same size, so I have different rough opening dimensions for every single one. The framers are going to love this...but I've warned them. Then will come the big job of restoring all the doors, building jambs for each, hanging the doors, and installing them all. This is something I plan to do myself. Could take years! We'll just start with the bathroom doors and go from there. I was reading an article on the This Old House web site where Tom Silva was basically saying that re-using old doors is great, but if you're expecting to save money by doing so, you're in for a rude awakening because of the amount of work involved.

I haven't heard anything otherwise, so I'm expecting the framers tomorrow. -- Bill

---
WooHoo! The framers showed up. They really did!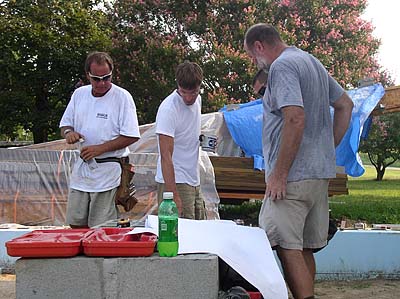 We started the morning with a pow-wow over the plans...me still nursing my Monday morning cup of coffee.

The first order of business, before any new construction, was to replace the rotten front and gable end sills on the part of the house that the addition will tie into. They started on the gable end since that's the easiest.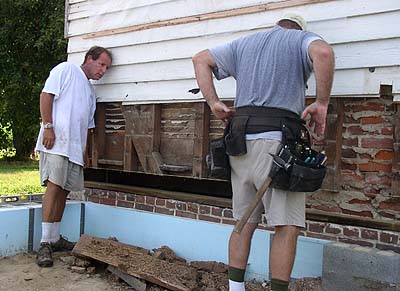 Since the gable end of a house really doesn't carry any weight (the front and back walls carry the weight of the roof and floors), the old sill can be carefully removed in sections without major bracing. The old 7-inch sill was then replaced with a stacked salt-treated 2X6 and 6X6.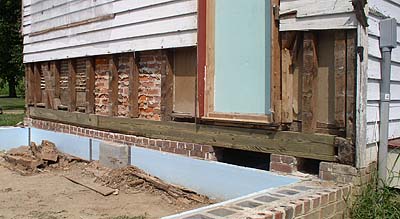 By lunchtime, the new gable end sill was in place. Boy, it's a great feeling to be sitting on solid wood!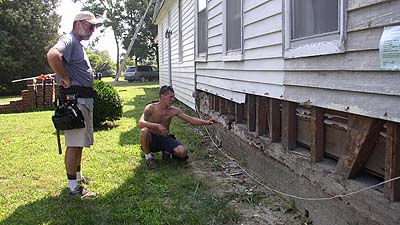 The front sill is more complicated. Not only is the sill carrying the studs (and the weight of the second floor and roof), but the first-floor floor joists are notched into the back of the sill. So all of the floor joist ends will need to be supported from under the house and the studs will need to be braced from the outside before the sill can be removed. There was a lot of studying and conversing and pointing and head scratching as they tried to determine the best approach.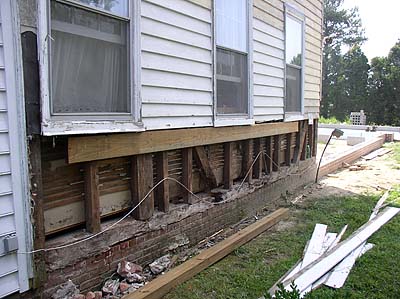 The finally decided they could brace the studs by attaching a temporary ledger board across them and then angling braces down to the ground. With the ledger board being so low it's going to make it tricky to work behind the braces. Which is maybe why they decided that this was a good time to call it a day.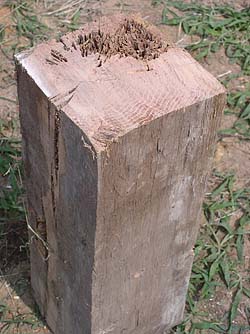 We're going to have to find something to make out of the few solid sections of the old chestnut sill that we can salvage. Old chestnut is very rare.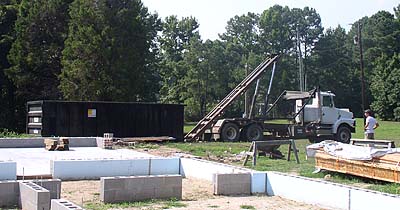 I've been on the waiting list for a construction dumpster for several weeks now and it arrived late this afternoon. Big excitement! -- Bill

---
This morning the carpenters got to work right away on the front sill.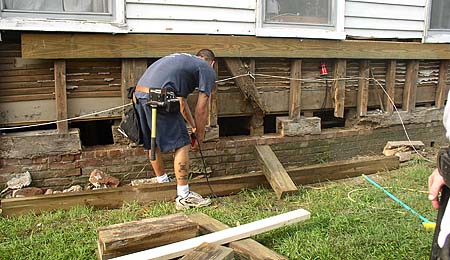 They started by using the reciprocating saw to cut out sections of the sill between the studs and from under studs that they could tell weren't putting any weight on the sill.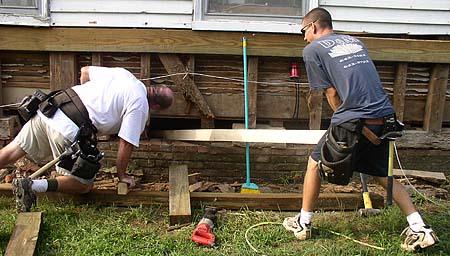 Instead of supporting all of the joists from under the house, they approached each one individually. They used a 2X4 as a lever against the foundation to support each joist end while a new salt-treated block was hammered into place.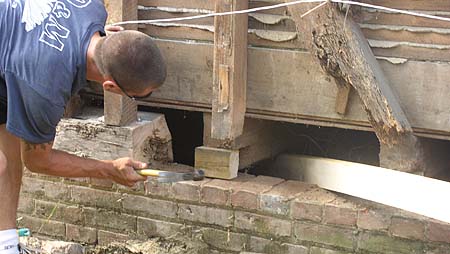 All of these joist-end supports will be screwed to the back of the new sill. Plus, the new sill is notched to fit around the joist ends, so the blocks won't be going anywhere.

The work moved quickly until a thunderstorm rolled through and they called it quits. By that time they had just pieced in the last section of new sill. They've been very judicious in their use of the sledgehammer to drive the new sill sections into place so that they spare our dining room plaster from cracking. So far, so good!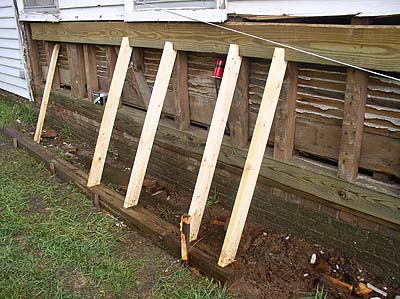 The last five feet of the old sill to the corner is in good shape, so they won't be pulling that.

In some of the photos above you can see the rotten downbrace timber. The downbrace's job is to keep the house from racking, Since we will be sheathing all of this structure with plywood, the plywood will be doing that same job...so it won't be necessary to repair or replace the downbraces.

Before the storm, three other crew members arrived and started working on the mudsills.


Gay and I spent the morning carting wheelbarrow loads of stuff into the dumpster. Rotten lumber from my work on the chicken house, leftover stuff from when we tore the kitchen down, trash left behind by the masonry crew, etc. We have had quite a few trash piles sitting around waiting for the dumpster, so it was sure nice to get all that cleaned up!-- Bill

---

The carpenters made slower progress today, continuing to work on the mudsills. -- Bill

---
Enon Hall up 11-7/8 at the close of the day.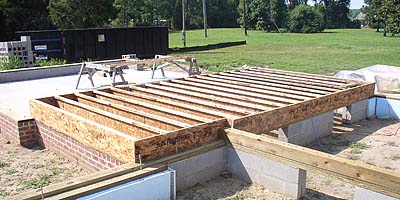 Well, 11-7/8 inches...which is a whole lot better than the 4 inches at a time that we grew with the brickwork. All this to say that the 12" TJI floor joists went into place in the colonnade section today.

Gay had a cool idea for the pantry doors, which are supposed to be a set of bi-fold doors. She wants them to be screened bi-fold doors. Sounds cool to me! (As long as they don't cost a fortune to have custom made.) -- Bill

---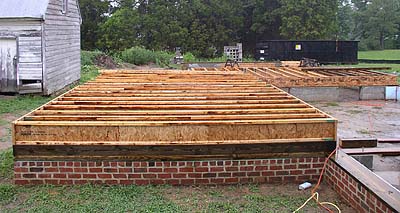 The framers were going along at a good clip this morning, until the rains came. Kitchen joists are largely in. -- Bill

---
Yesterday and today we had no framers as they were pulled off to finish up another job.

I have been trying to wait until the second story of the addition is constructed before doing much work on William's bedroom and bath. That way I could keep from dragging lumber and dust through the house, entering through the addition instead. Today I decided I just couldn't wait any longer. Especially with the dumpster sitting out there and me having more plaster to remove.

So I tied a rope to a heavy duty trash can, loaded it with plaster, lowered the trash can out the 2nd-story window, went down and dumped the can into a waiting wheelbarrow, and then wheeled the debris off to the dumpster. It worked pretty well, especially when Gay became available later in the afternoon to do the dumping so I didn't have to keep running up and down.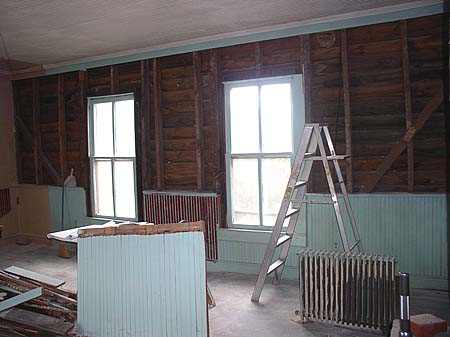 Both of these windows are being moved about two feet to the left in order to line up with the dining room windows downstairs, so there wasn't much chance of saving more than a couple feet of plaster on this wall. So it was best to just remove it all.

I think I finally have William's long, skinny bathroom layout worked out after numerous sketches. I've forgotten everything I ever knew about drawing in perspective, but these sketches were tremendously helpful to me to get everything worked out.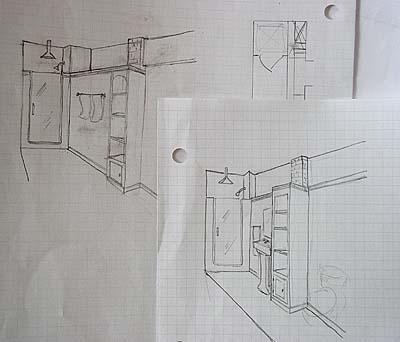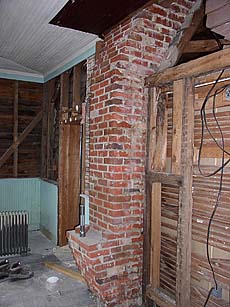 The bottom sketch is the layout we are going with. Both layouts call for building a cabinet around the chimney with a fake door at the bottom to cover the weird ledge section. The back of the cabinet will be open to reveal the brick behind the shelves. To the left of this cabinet is a small bump out for a closet accessed from the adjacent room, which will be Gay's sewing room. It will basically be a bookcase with a door, but it will be handy for storing fabric, etc. My top sketch allowed for a deeper closet, but there wasn't room to put both the toilet and sink to the right of the cabinet.

For this bathroom we are going to use a 36" X 36" gel-coated shower module. We have three new showers to put in. For budget and because this shower will be soon used by a teenager, a prefab insert seemed the way to go in this bathroom. The other two will be tile. Because there will be a lot of height between the ceiling and the shower, I'm thinking about dropping some kind of small exhaust fan so that it hangs down right over the shower. Hopefully we kind find something that looks kind of old and funky.

While pulling out the plaster I uncovered the remnants of this big ole wasp nest. -- Bill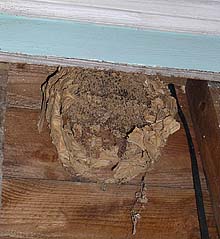 ---
Here's something you hate to see!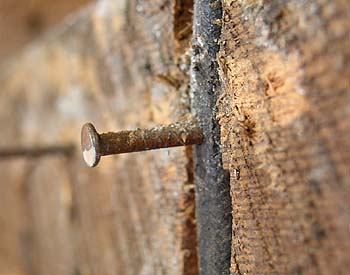 And yes, the wire is hot!

I was back to work in the law office today, this time carefully removing the beadboard and pulling all of the nails out of it so it can be put back up after the windows are moved and the new partition wall is up for the bathroom.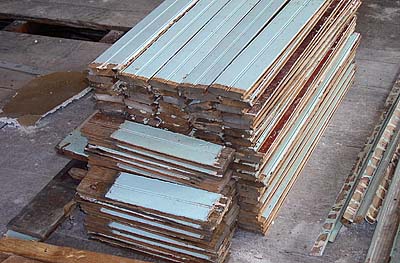 I also removed the 2-over-2 windows, which will be replaced with 6-over-6 windows to match those downstairs in the dining room.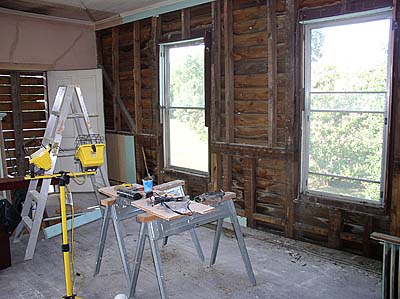 Meanwhile, the framers were back at work today.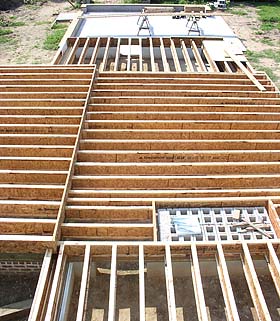 Tomorrow they'll finish up some loose ends and then we should be ready for our foundation/floor joist inspection on Friday.

Time to get the first floor wall lumber ordered! -- Bill

---

I've scheduled our foundation and floor joist inspection for tomorrow morning. Fingers crossed.

I've also ordered the lumber for the first floor walls. Should be delivered tomorrow afternoon or Saturday. -- Bill

---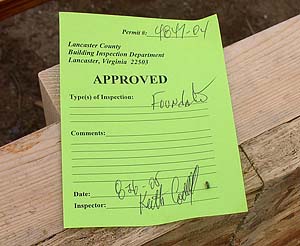 WooHoo!

Walls will start going up on Monday! -- Bill

---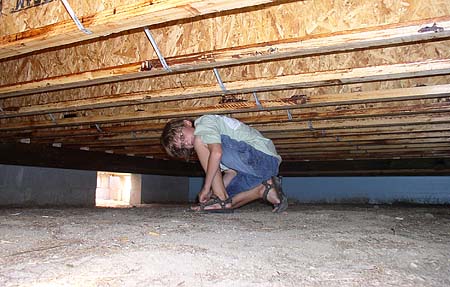 Well, I had thought that I would get some walls today for my birthday. But, instead the crew spent all day putting down the subfloor...and still didn't get that finished up. We're using 3/4" tongue & groove Advantech plywood...gluing it AND screwing it every six inches. So it's a slow process. But boy! What a solid, non-flexing surface it makes!

It was exciting to get our first glimpses of our crawl space as the Advantech slowly closed things in. William's been doing a good job cleaning up errant nails and screws under there; mostly with a magnet on a pole, but today on his hands and knees.

Walls tomorrow? Maybe? -- Bill

---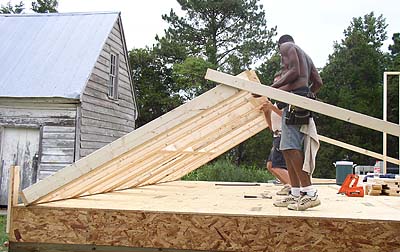 Finally! A few of the first floor walls were raised today!

The excitement of new walls was peppered with some frustration as well. The front door, when centered in the center hall, wasn't in the center of the house...which then turned into a compounding error that made the new first floor windows six inches out of position. So, the framed window and door openings had to be cut out and relocated. And we'll have to live with our front and back doors being 3 inches off center inside so that they will look correct from the outside. Just like in the old days of house building when windows would actually wind up being bisected by interior walls in order to preserve the symmetry of the exterior elevation.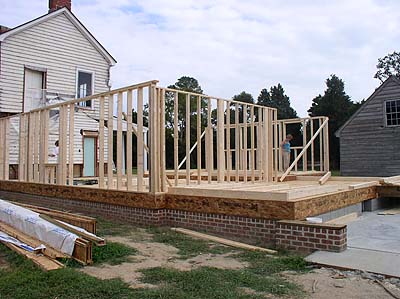 Several weeks ago we also found out that we had lost a foot of depth in the kitchen due to an error on the plans. It doesn't sound like much, but it's really messed up the layout in there and we're still trying to determine how to deal with the lost floor space. And we also have a four-foot opening on the plan that is five feet wide in reality. I have yet to figure out how or where that error occured. Today we also found out that the downstairs ceiling height is going to be lower than anticipated, which means that there isn't room for the full window casing at the ceiling line, unless we lower it by a half inch or trim it off at the ceiling.

As we keep running into these problems I keep telling myself that these are the quirky things that will actually make the new part of the house feel more like the old part of the house. Hey, we have lots of windows where the top moulding disappears into the ceiling...

I'm also finding that our approach to this addition is often very different than what most people would do when building a new house...or even an addition. It's become clear that our approach is, subconsciously, very farsighted. For instance, the architect's plans showed the brick veneer not continuing under the back porch...just cinder block there. My first thought was what happens fifty years from now when somebody tears down that porch. Boy, would they hate me when they saw that cinderblock! Today the lead carpenter was questioning my window height calculations in the kitchen because I had included 3/4" for the finished floor...meaning that the kitchen cabinets are sitting on the finished floor, rather than the subfloor. Again, my mindset is what happens when we (or William, or a grandchild) remodel and pull out the cabinets? To each his own, I guess.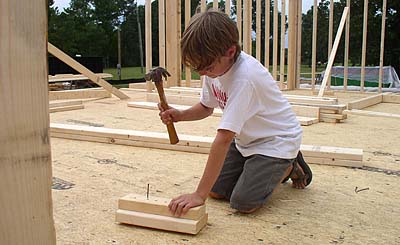 There was a new framer on the crew today who amazed me by sinking 16d nails with one blow of his hammer. Unbelievable. William was inspired to hone his own hammering skills and got down to 9 hits. Not bad for a kid. -- Bill