ONLINE JOURNAL These journal entries track our progress as we undertake our adventure of restoring this very old home. The main reason for keeping this journal on the web is that we have found that there are very few resources (books or websites) that follow all of the trials and tribulations of restoring an old home...from start to finish.
---
February 5, 2005
Yesterday I went to Enon Hall to remove one of the sashes from the windows that we want to replicate in the new addition. I also took lots of photos to post online for the various companies who are pricing this job.

With the sash in hand, today we set off to also search our two biggest architectural salvage companies to see if we could find any matching sashes. Our first stop was Caravati's, a real Richmond landmark for old house folks.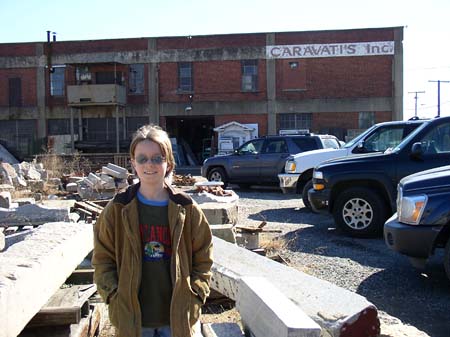 In addition to window sashes, we were looking for two sets of matching double entry doors, cast iron tubs (they had lots), mantels, and an old sink for our temporary kitchen which would then be moved into the new laundry room after construction. As far as doors and windows, we didn't have much luck. Most of the stock at Caravati's is late 19th & early 20th century, so the window sashes were much thicker than ours with angled meeting rails. And they were all set up for weights. Cast iron tubs at Caravati's are priced at $450 as-is, or about $950 fully restored.

After Caravati's, we headed across town to Governor's Antiques. It's hard to say which of these two places has a larger architectural salvage inventory, but Governor's certainly wins hands-down when it comes to claw foot tubs.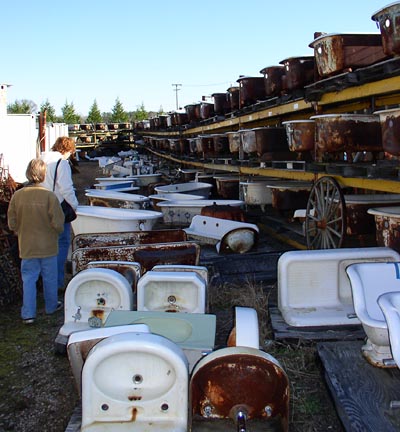 Their tubs aren't as in good shape as what Caravati's has because they're all stored outside and most have at least some rust.

What the heck are these things?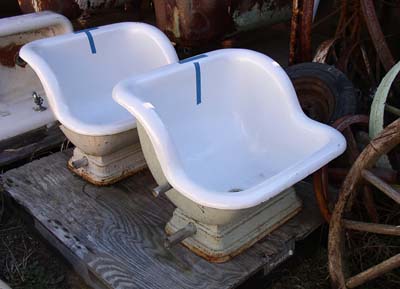 Again, Governor's didn't have any sashes or doors that matched what we were seeking. But it was an option that we had to explore. I think that our chances of finding two sets of matching door pairs are pretty slim, so I'll start shopping for new.

Bayshore started their work at Enon Hall on Friday. They were busy locating all of the property markers when I left. They will also locate and assess the drainfield and establish our 100-foot RPA setback from the creek. -- Bill

---
February 8, 2005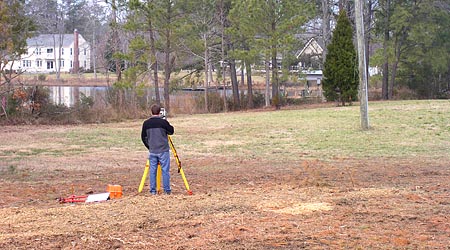 The survey team was back at work at Enon Hall today. Turns out that they didn't have a very productive first day. I had showed them where a corner pin was located...one that we found several years ago. Working from this point, they were oddly unable to locate any other pins. Finally they discovered that the pin cap that we had uncovered was no longer attached to the pin, but was just smashed into the ground. The pin was nowhere to be found. Today they had more luck and had located just about everything they needed and were starting to establish the setback from the creek.

Meanwhile I worked on creating scale drawings of our existing window frame construction. If you've followed the posts to our Forum you may have seen that Alex in Alexandria, Virginia gave me the tantalizing clue that there might be an Amish fellow somewhere named Yoder who replicates old windows for a good price. Well, after a number of phone calls, word made its way to Mr. Yoder yesterday that I was in need of his assistance. He got in his buggy and went to the nearest pay phone to give me a call...reaching me in my car on the way to Enon Hall. I think I will be paying him a visit on Saturday with sash and drawings in hand to see what he can do. He's located about two and a half hours away.

I really need to take an inventory of the old doors that we have out in the chicken house to see what we can use in the addition.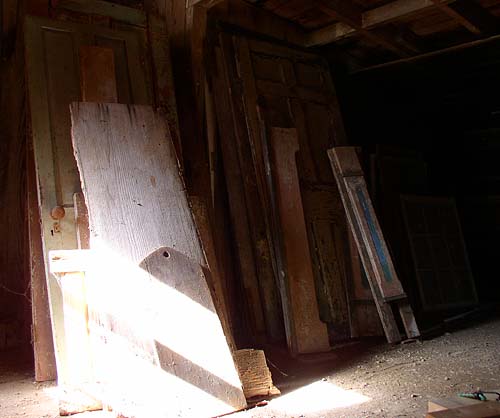 Several years ago I discovered that one old door that is actually in use in the chicken house is the missing door from our dining room...an exact match for the door on the other side of the fireplace.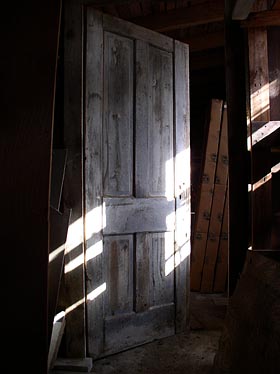 After receiving a lot of love and attention, it will make its way back into the house. As might this piece that's been in the chicken coop for who knows how long.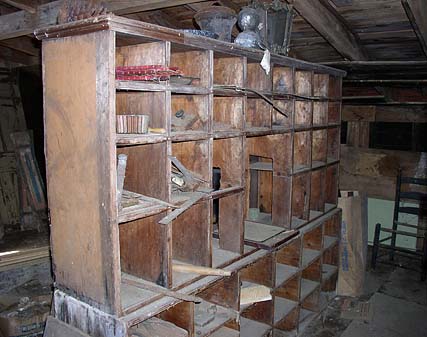 William has his eye on it for his bedroom. It would be good for his collections if we can get it cleaned up enough.

I'm so obsessed with windows at the moment that I started eyeing the old sashes that are haphazardly hung in the chicken house. Sadly, they aren't a size we can use...but I did discover one window with four old shutter pintels.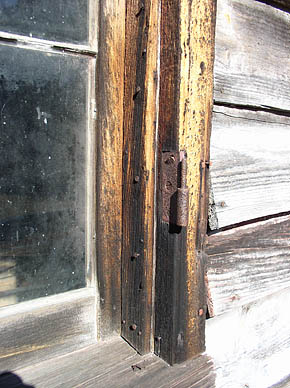 They probably migrated from the house at some point; they're definitely older than the chicken house. After five years I thought that I had scrutinized every square inch of the place...I can't believe that I never saw these before!

I need to find bricks for the new foundation to match the 1850s addition.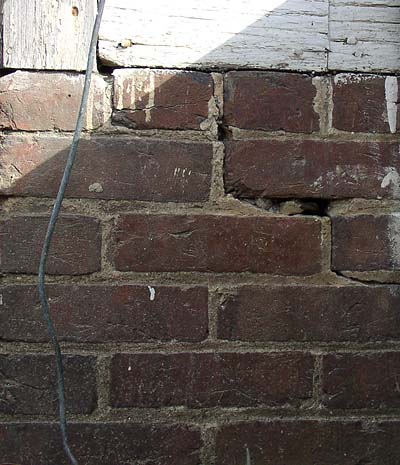 Funny, I have had several people point out this foundation crack to me...usually with great alarm. I love it when that happens, because then I lead them to this photo from about 1916.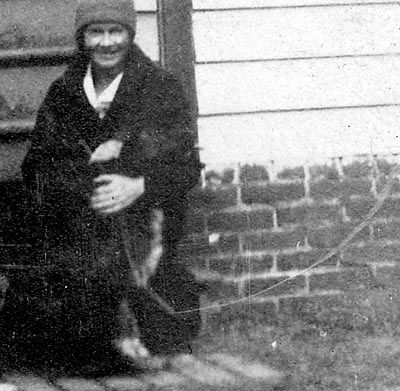 I think I have more pressing things to worry about than this crack. -- Bill

---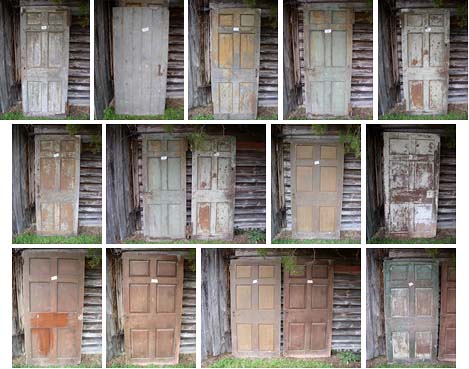 I had SOO much fun today pulling out all of our old doors to measure, assess, and photograph. What I found is that we have a goldmine of about a dozen wonderful 18th & 19th century doors...some in great shape, some in need of lots of attention. Some even still have wonderful hardware in place.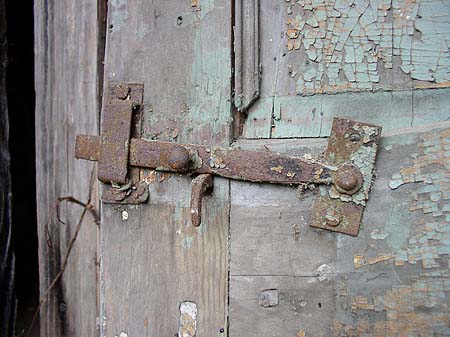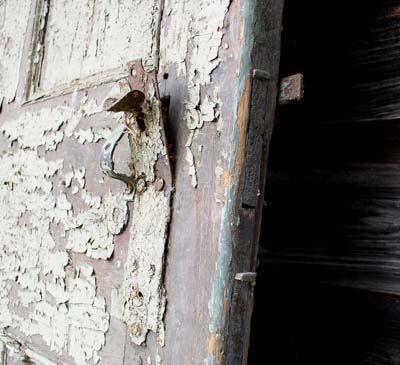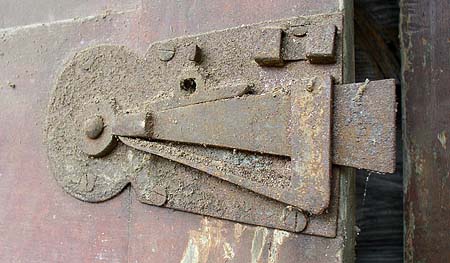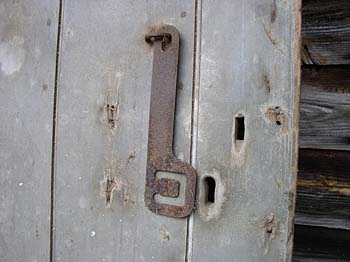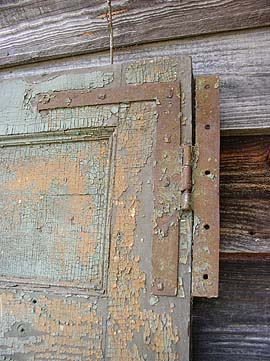 There are 3 matching 18th century doors and 3 matching doors that I believe are 19th century. The latter have some nice graining and faux work, like these faux raised panels.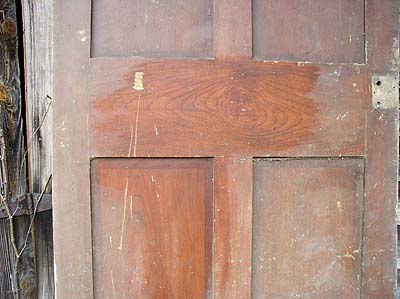 An example of the graining...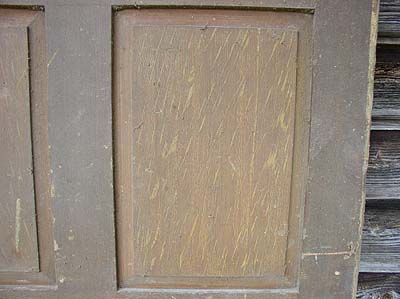 But the prize of the day was this set of double doors!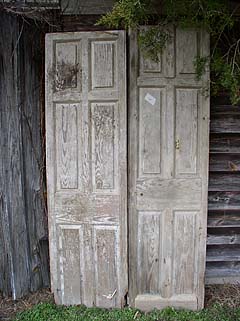 Each door measures 24" X 87-5/8" X 1-3/4" and they weigh an absolute ton! They need some repair work. One is missing the top rail and the other is missing the bottom rail. But what a treasure! I'm thinking that we can have somebody repair these and then also making a matching pair for the back door. They are so tall that I don't think we could have a transom above them, but perhaps we could have side lites instead.

You may ask, "didn't you know that you had all these doors?" Well, yes...but other than neatly assembling them all in one place I had never really pulled them all out into the daylight to see what we really had.

It's hard to tell at this point how many of these doors came out of the house and how many (like the double doors) were collected elsewhere, but I suspect that the 18th century doors are original to Enon Hall and I can't wait to put them back to use!

I have another meeting with another builder scheduled for Friday. -- Bill

---
February 13, 2005
Friday I had a great meeting with a builder. I really hope he comes through with a good price, because I really liked him. I have asked him to just price the framing, getting us under roof and Tyvek. He promised a price by the end of this coming week.

Yesterday we paid a visit to Mr. Yoder in Maryland and hired him to replicate our window sashes. In addition, he is going to repair the double entry doors that I found (see above) and produce a matching set! We also discussed having him make my window sills in long lengths so that I can cut them down and then stick-build my window frames in place. Other than the sill (3 inches thick) the rest of the window frome construction is very simple, so this could work. He looks like he's going to be a great resource for us, but communication will be different. I'm used to phone and E-mail, but since he uses neither (Amish), it's either the U.S. Postal Service, or a 2-hour drive, each way. I was surprised by the size of his workshop! Very large and outfitted with all of the latest electric-powered woodworking equipment. Quite the contrast to the buggy sitting outside. Gay did some research and found that the Amish can use electricity, they just can't be on the grid. -- Bill

---
February 17, 2005
Today I began setting up our new makeshift kitchen in the dining room so that I can tear off the present kitchen to make way for the new kitchen. (Make sense?)

I was working alone today, but managed to manhandle everything but the refrigerator into place. Because of the narrow doorway between the kitchen and dining room, the refrigerator is going to need to go outside and around back in through another outside door. That is, if it can actually fit out the kitchen door. It's gonna be tight!

I tore out one of the cabinets that Mr. Hayden built to see if it would be salvagable for our temporary kitchen. And, of course, you can't remove any cabinets around here without revealing the obligatory mouse nest and mummified mouse.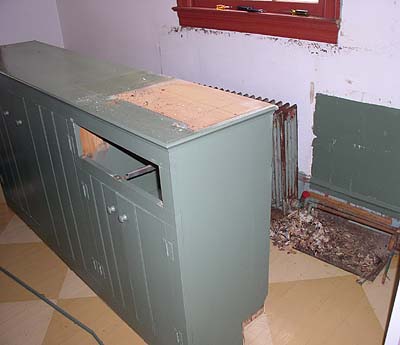 Since this cabinet was built to surround a radiator (we always had warm plates!) I tore out and pitched the old narrow shelves, leaving just the carcass. (That is what they call it, isn't it?) Tomorrow I'll add clean, new, full-depth shelves.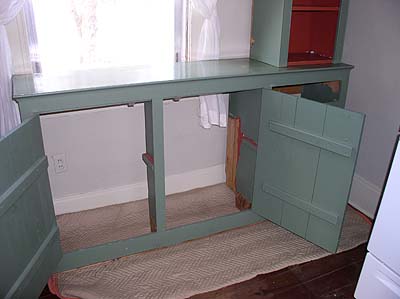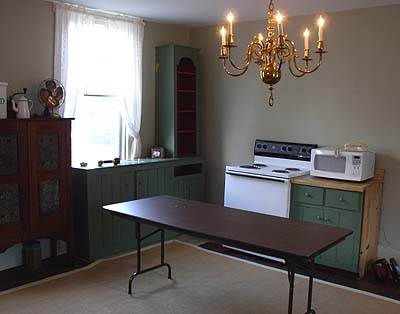 The cooking area is in one corner of the dining room. The refrigerator will go to the right of the microwave. The folding table will provide another prep surface, although it would be better if we could find something else counter height. Across the room is the dining area.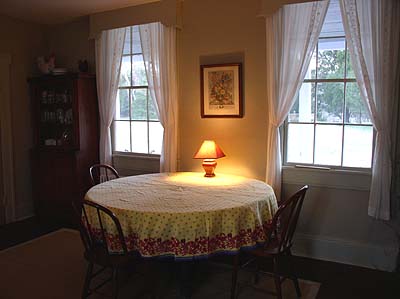 It's a good thing that our dining room is pretty big! I'm sitting at the table right now writing this, and as I look around, I think this room is going to function pretty well as our kitchen for the next 9 months or so. Of course, these photos will be Gay's first glimpse of my set-up. We'll have to see if it gets her stamp of approval since she's the cook of the family. Once her blessing has been received, I need to get an electrician to run an outlet for the stove and disconnect all of the power lines in the old kitchen. I'll also have him/her run some new outlets from the former kitchen breakers. Right now the dining room only has two outlets, and I doubt they could carry the load of the refrigerator, microwave, coffee maker, lights, etc.

Meanwhile, it's good to see the old kitchen being broken down.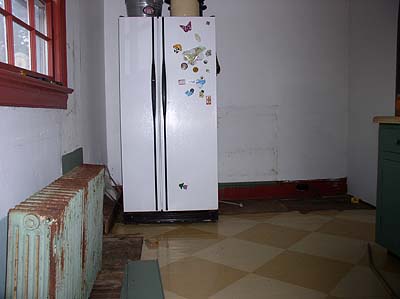 One note on our painted floor. I dragged heavy items across it all day and it never scratched! I guess our technique was a good one!

The surveyors have finally finished their site work and have staked off the addition.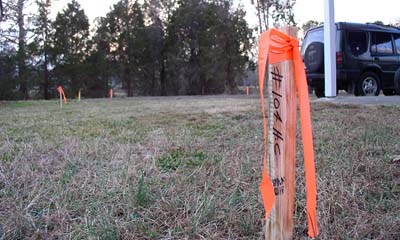 Now if we can get the county's blessing, we'll be one step closer to breaking ground! -- Bill

---
February 20, 2005
We rented a handtruck and moved the refrigerator today. But not without first suffering through the disgust that we found in the compressor housing in the back. More mouse skeletons and nests. Apparently they're not at all intimidated by the whirling fan. Or maybe that's how some of them wound up becoming skeletons. I removed the cover and did my best to vacuum out all of the crud.

I don't know what the plan was in the event of this refrigerator dying, because we couldn't remove it from the kitchen without first tearing down a partition wall that had obviously been built after the refrigerator was in place. William took the first whacks at the wall and then I cleared it out of the way.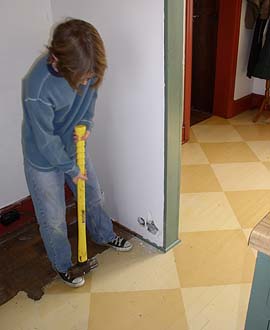 Once I had the refrigerator secured on the handtruck, I tilted it back and asked Gay to look underneath to see if it needed vacuuming. I got my answer when she turned green and made a quick exit from the kitchen with her hand clasped over her mouth. I looked out the window to see William (who had also witnessed the tilt) running away down the dirt road. Sheesh. Gay came back in and held the refrigerator at a tilt so I could vacuum the underside. What was underneath was not nearly as bad as what I had already cleaned out of the compressor area.

After the dramatics, we were back in business...well, after removing the kitchen door, and the weatherstripping, and the screen door latch. We finally got the refrigerator outside and made our way around to the back porch door.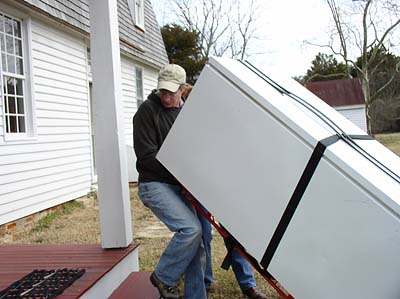 With the fridge in place and as clean as we could possibly get it, we continued to work on the rest of our makeshift kitchen setup. We bought two wire rack shelf units (cheap) and scrounged up and old drawer section from when we re-did our bathroom in Richmond and a 5-foot countertop section from when we re-did the kitchen in Richmond. Both of these items had been stashed in our garage. We put it all together and voila...a makeshift island!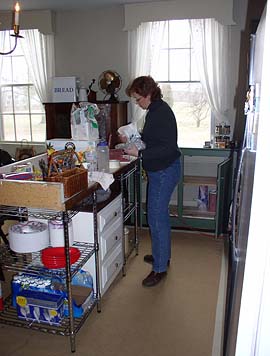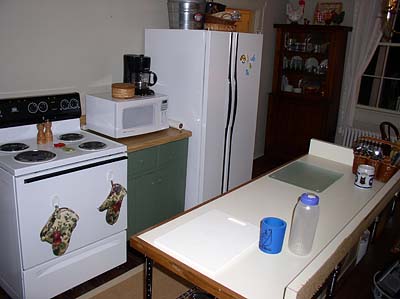 It ain't pretty, but it should get us through the summer.

Now that the old kitchen is stripped bare, I'm ready for an electrician to come and disconnect the power. Before I can really start taking it down I need to remove all the asbestos siding and the windows, which we may re-use. And I need to make a new home for the tractor since the carport is going.

I wonder if we won the HGTV Dream House? -- Bill

---
February 21, 2005
Today I removed and bagged the asbestos shingles from the front and back of the kitchen addition. I was surprised to find 1 X 8 pine sheathing boards instead of plywood. These boards are definitely salvagable, although it's gonna be a lot of hard work to get them off in good shape.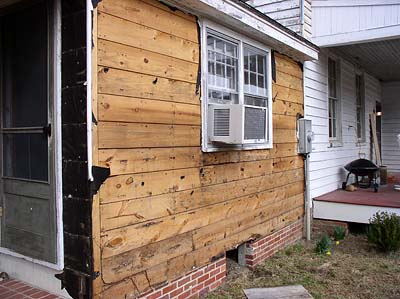 Future flooring, maybe?

Earlier today a reader posted a suggestion to our Forum that we detach and move this addition somewhere else on the property and use it as a little guest cottage or something. As I stood back looking at how solidly it's built, I was starting to almost agree. But I think the best plan is to salvage what we can to re-use. The floor joists also look to be in really good shape.

In the spirit of re-use, does anybody within driving distance have a need for my tile breakfast counter?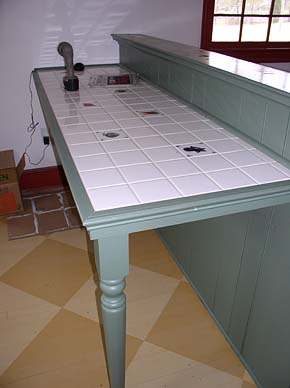 It's 6'-10" X 25-1/2". Send me an email with "Countertop" in the subject line if you're interested. Free to a good home.

I converted our downstairs bathroom into our kitchen sink room by replacing the nice little pedestal sink with a honkin' big laundry sink.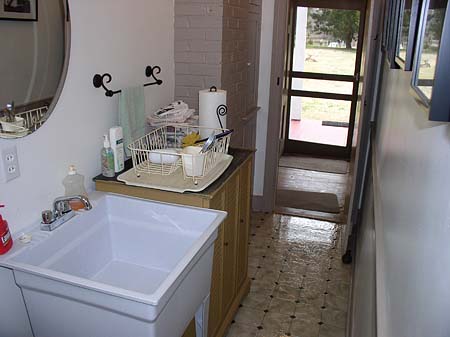 I combined this with an old TV cabinet, rescued from our garage, that can be used to store cleaning supplies and is the right height for a dish drainer. Again, it ain't pretty...

I have an electrician coming tomorrow to disconnect the kitchen power and have contacted the power company about moving our meter onto a temporary pole in the yard. -- Bill

---
February 22, 2005
The kitchen power is disconnected and we now have plenty of power in the makeshift kitchen, including a stove outlet. I can actually cook some dinner tonight!

The transition took most of the morning with the electrician. And I had to assist by running wires under the house. Hey, there was NO way he was gonna fit through the tiny hole in the foundation that leads from the cellar to under the 19th century addition. It's a tight squeeze.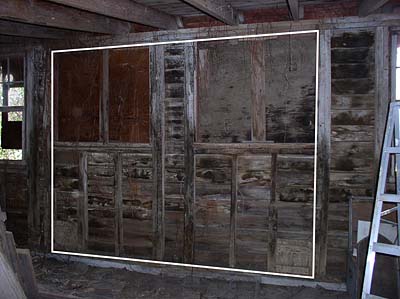 I made plans for cutting an opening into the chicken house wall for new double doors so I can store the tractor in there. I need to get this done so that I can move the tractor out of the carport so I can proceed with the kitchen demolition. (Everything seems to be a "chicken-or-the-egg" scenario.) The opening will be ten feet wide. I'm going to put a new header across the top, but it really doesn't need to carry much weight.

While in the chicken house I found this cool fireplace poker made out of a piece of rebar.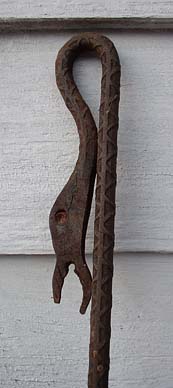 The kitchen radiator will come out tomorrow. Once that's done, I can seal the kitchen off from the rest of the house.

This is one of those "a picture is worth a thousand words" photos.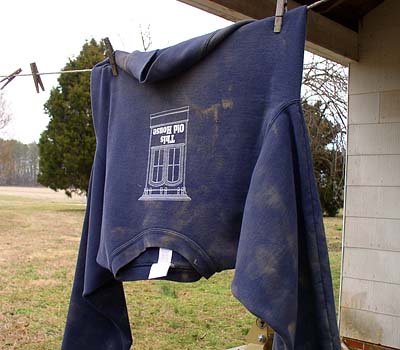 I think I'm coming down with a cold. -- Bill

---
February 23, 2005
As this is a feverish update laced with Nyquil, I can't be held responsible for anything I might say.

The kitchen radiator is disconnected!

Mark Dameron, from Enon East Earth Maintenance, helped out this morning by clearing away the brush and Russian olive trees to make way for my new tractor doors in the chicken house.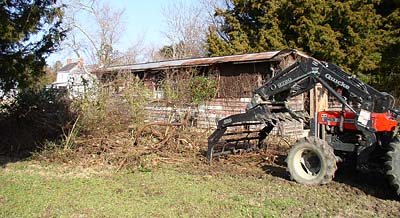 A few hours later I had the opening mostly framed out. I couldn't manage to get the new header in place by myself (although I foolishly tried) so I had to leave my braces in place until help arrives.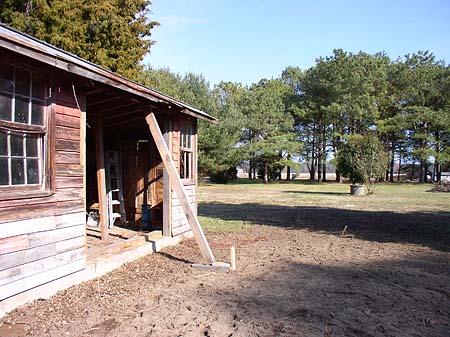 I'll need to have a concrete ramp poured.

They're calling for snow tonight. -- Bill

---
February 27, 2005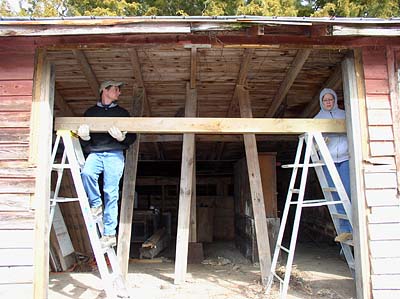 With Gay's assistance, we got the new header in place. We were then able to take down my braces and get this half of the chicken house cleaned up and ready for the tractor and its attachments. The old chicken coops are great for storage.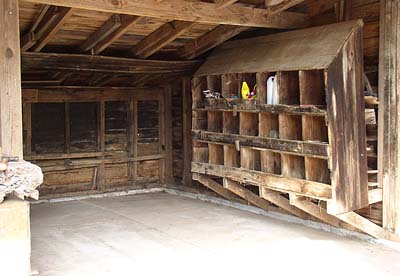 Sweeping away years of dirt and crud we uncovered a date scratched into the floor that confirms its construction date.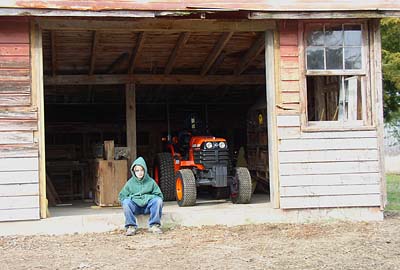 I'm thrilled with my tractor's new home. I have somebody lined up to pour a concrete ramp this week (weather permitting) and I'll trim everything out and build some doors later this spring. But for now, with the tractor out from the carport, I can direct my attentions back to the house. -- Bill