ONLINE JOURNAL These journal entries track our progress as we undertake our adventure of restoring this very old home. The main reason for keeping this journal on the web is that we have found that there are very few resources (books or websites) that follow all of the trials and tribulations of restoring an old home...from start to finish.
---
May 1, 2005
This file box is my constant companion. In it is every bit of information related to building the new addition...contracts, product brochures and spec sheets, photos, a tape measure, PDA with phone numbers and appointments, a piece of soapstone, and not one, but two checkbooks. Along with my blueprints, it gets thrown into my car at least once a day as I head out to do researching or pricing. I even have a color-coded file system. Green folders are for exterior items like siding, windows, roofing. Blue folders are for systems...HVAC, electrical, plumbing, etc. Yellow folders are interior details like kitchen cabinets, bath fixtures, and flooring. And so on. The system works pretty well. Portable and organized.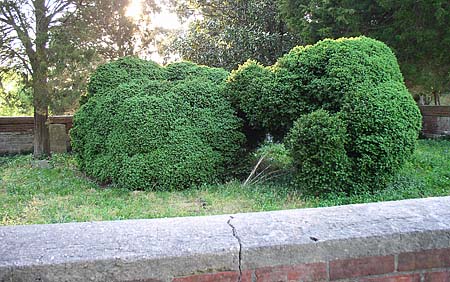 A long time ago I realized that Enon Hall has taught me patience, not a naturally occuring personality trait for me. Further evidence was that today I took about 60 clippings from the giant 100-year-old, 8-foot-tall English Boxwoods in the graveyard and established a small plot at the edge of the woods to try to root them. If this proves successful, in about 10 years we'll have some nice small boxwoods to use to create a formal garden somewhere. -- Bill

---
May 2, 2005
As of this morning, our deed of merger has been executed and recorded at the courthouse so that our site plan can be approved. With this done, I was able to submit our construction plans for a building permit. If all goes well, we should have our permit in-hand by the end of this week! -- Bill

---
May 3, 2005
Good help is sooo hard to find.

We had to pay big bucks to have a site plan done for approval by the county.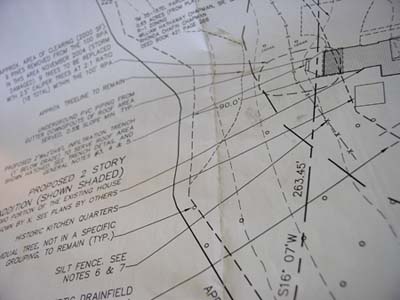 It specifies everything we need to do to comply with the Chesapeake Bay Act and mitigate water run-off. One of those things is the installation of 160 feet of silt fence to remain up throughout construction. You have to dig a six-inch trench and then lay the cloth into the trench and backfill. The plans are VERY clear about where that fence needs to go. But does that matter?! Apparently not. No matter how many times I showed my assistant the plans...well, it just didn't seem to get through that hard head.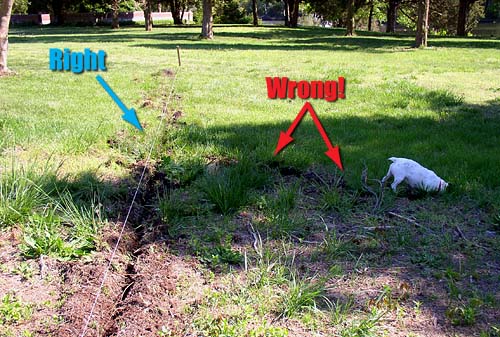 Oh well. Despite Lucy's help, I got about half of the silt fence installed.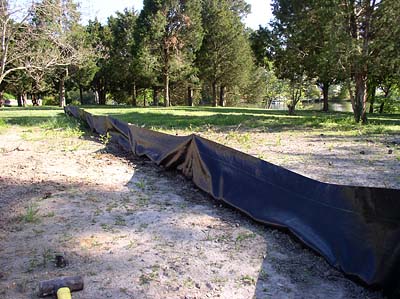 Yup, it's a thing of beauty. -- Bill

---
Today's big accomplishment was knocking an item off of an ancient to-do list.

When we re-did the screened porch two years ago, the only thing I didn't do was replace the two corner trim pieces. The old ones were rotten and broken.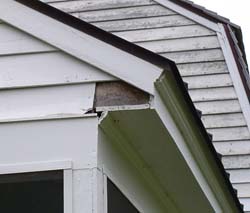 I had saved one of the old pieces (in pieces) and used it as a pattern to make two new ones.



Much better. Now we just need to trim the tops of those holly bushes.

A discussion this morning in the Forum sent me out to take some pictures of the graveyard wall to share. It wound up being a bit depressing. Here's a selection of the good and the bad.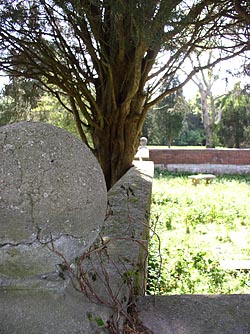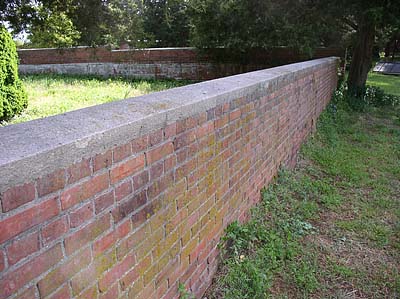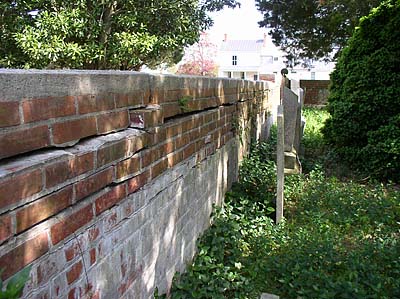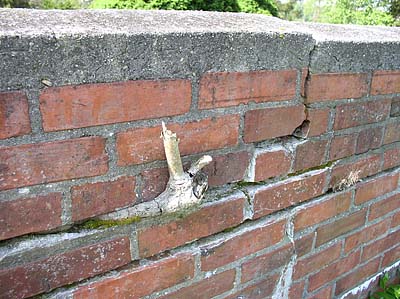 In the first picture you can see how the cedar tree has pushed the wall out of line. This got worse after Hurricane Isabel. Every time the wind blows hard, the cedar rocks against the wall.

The wall is in bad shape after years of neglect. Things were allowed to grow in the mortar, basically blowing it apart. The south wall (second picture) is in really good shape. The others need repointing at best and rebuilding at worst. It's going to be an expensive job.

I have considered approaching Hathaway descendants and asking for donations to help repair the wall of the family graveyard...perhaps asking one of them to serve as trustee for any money collected. But my fear is that I'll scare everybody off. I hear from new "long-lost cousins" on an almost weekly basis through this site. Would hate for them to stop making contact because they think I'll hit them up for money. Anyway, it's something to think about. Maybe we could put a plaque on the wall recognizing those who helped preserve it.

Meanwhile, this was a fun diversion. Roll over the photo below to see the difference...1964 to 2005.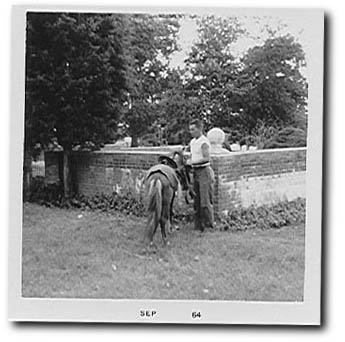 Thanks to the McKessons for the 1964 photo! -- Bill

---
Mother's Day started with the roar of chainsaws as we had two more trees taken down to make way for construction and our new driveway.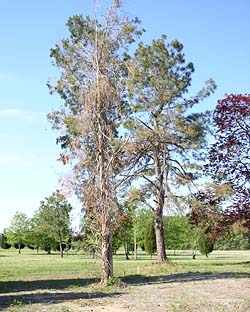 One was a dead cedar (left) and the other a large and very gnarly pine (right).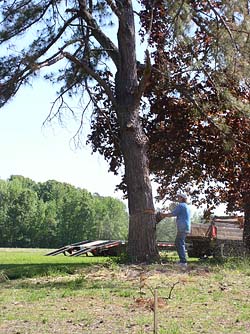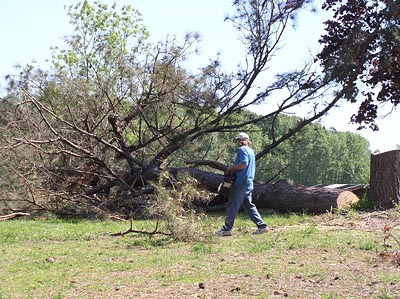 They were down and hauled away in short order.

We're considering oyster or clam shells for the driveway. Found this interesting discussion of the merits and availability of each. -- Bill

---
Gay rounded up the tie-dye t-shirt and overalls. William supplied the head. My sole contribution was observing that this year's scarecrow is undoubtedly...well...a pothead. An angry pothead, in fact.

With the dead cedar out of the way, I finished putting up the mile of silt fence today.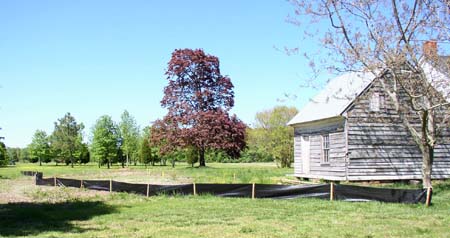 Our beautiful red maple really stands out now that the gnarly old pine is gone. The pine was to its left. -- Bill

---
I called the County this morning to follow up on my building permit application and was told that it hadn't even been started because the site plan still hadn't been signed off on! I thought that was done last Monday when I dropped off the Deed of Merger! The Land Use guy had told me that that was all he needed to give his blessing to our site plan, so I wrongly assumed that he was headed back to his office right then to wrap things up. I even asked him as he walked away..."So, I'm good to go ahead and get the building permit application going?" and he responded that I was. But when I talked to him this morning he said he hadn't even started his "review" yet, but I was "near the top of the stack." It's so frustrating...but what can you do? I have to continue to be nice, or that stack will surely grow taller on top of our plan. Plus, he's like 6-foot-8.

At 2:00 this afternoon he called to say that the site plan was officially approved and ready for me to pick up. So I guess we're back in business. So maybe I'll have a building permit before THIS week is over?

With the addition going nowhere in a hurry soon, I was starved to find something to give me a sense of accomplishment. So I climbed the ladder to one of the north-facing dormers that I knew had some rot. Well, "some rot" turned out to be "alottarot."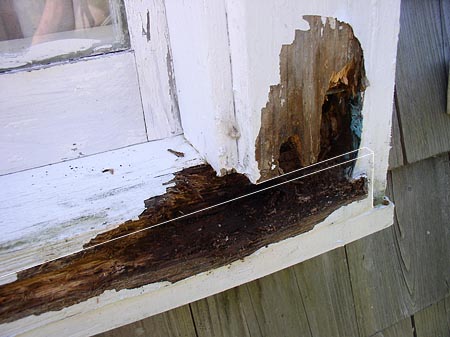 And that's just what I pulled out with my bare hands. I dug it out further with various implements of destruction until I had hit solid and dry wood in all directions. I decided to give my friend SculpWood a shot at this job. It would take a lot of the filler, but if it worked, it would still be cheaper and a whole lot more practical than replacing the whole sill.

Here's what it looked like after just a little tooling.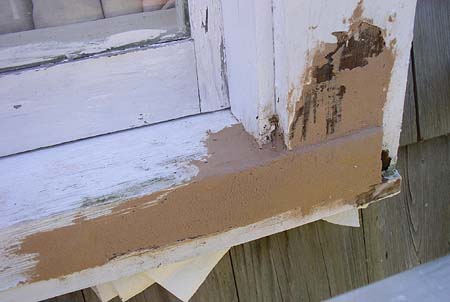 I'll let it cure overnight and then sand and prime it tomorrow.

That set me on a mission. I've played around with the windows here for the last four years. A sash here...a sash there. But I'm still nowhere ready to hang the shutters we bought three years ago. Thus, my new campaign..."Ten Windows in Ten Weeks." Ten weeks to fully restore all six dormers and the four downstairs windows in the Dutch Colonial portion of the house. Think I can do it? Seems like a lot of time...but there's a lot of work to do to the sashes and the frames. Today I started by removing the glass from two of the parlor sashes. Only about 25% of the panes are old, wavy glass...and then about 25% of those panes are broken. They're so wafer thin!

I ordered some glass samples from Bendheim Restoration Glass today. I hope it looks good, because it's considerably cheaper than what I've paid for salvaged old glass in the past. -- Bill

---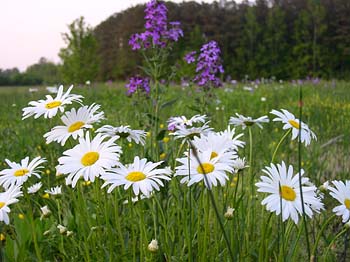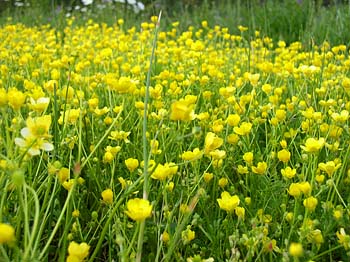 The wildflower field that we planted last year is starting to come alive as the perennials come into bloom. A few here and there...hopefully many more on the way. Meanwhile, the buttercups are going crazy this year.

With the promise of a building permit looming in the near future, I called the brick mason today to get on his schedule for our foundation. He says he's 2-3 weeks out.

All of our windows are ready! Yikes, we have windows, but no walls! The Amish cabinetmaker called today to say that he had finished our sashes and entry doors. Meanwhile, The Jeld-Wen windows that I ordered also came in. Looks like the tractor might be bumped out of the chicken house for a while to make room for all the windows!

Which reminds me... I want my due in "attaboys" from all the purists out there. In the chicken house are 10 very nice sashes that are exact replicas of the downstairs sashes in the Dutch Colonial. The previous owner had them made at some point, but never installed them. They're all glazed, primed and ready to be hung. But I am resisting their siren song as I bloody my knuckles, scraping petrified glaze from the old sashes. But every once in a while I think..."you know...those brand new sashes are out there..." -- Bill

---
Scraping and sanding window sashes doesn't make for very exciting Web site updates. Today I got one 9-pane sash ready to prime.

After hours and hours of handwork, I set out to try to find a power tool that would make things go easier. I wound up with the Dremel Contour Sander Kit. So far, I give it mixed reviews.

It has "sanding tubes" (ultra-mini sanding belts) that slide onto the "sanding contours." "Slide" isn't exactly the right word. They are a real struggle to get on. And then you're supposed to be able to remove, rotate, and replace the tubes so that you can use their entire surface before throwing them away. Well, once they're on the contour, I don't see any way that they can actually be removed again, other than tearing them off. Only 3 tubes come with the kit and replacements are $5.99 for five! Not cheap.

I was only mildly impressed during straight sanding, but when I first used one of the rounded contours to sand the ovolo areas of the sash...wow, that worked great! It made quick work of what would have, otherwise, been a real pain. So, the jury's still out on this tool. I'll report back after I've put some more mileage on it.

Still no permit. -- Bill

---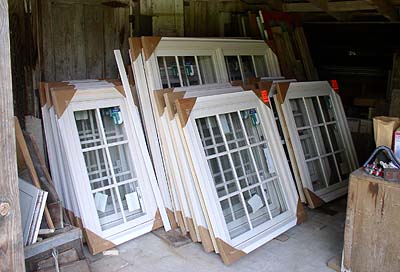 Speaking of windows...the new Jeld-Wen windows arrived this morning. These windows will go in areas of the addition that we aren't trying to make look old-old...like the kitchen, colonnade and garage. I got the Williamsburg trim package and the enlarged sill, which will make them a pretty good match to the other "old" windows in the addition. I had to order these windows when I did because Jeld-Wen rolled out a 30% price increase on April 1st on this Norco line with their new AuraLast wood treatment. Auralast is their new award-winning wood treatment process that is supposed to make the windows termite, water, and decay resistant.

Speaking of decay...

It's never a good sign when part of a window sill is covered with metal flashing.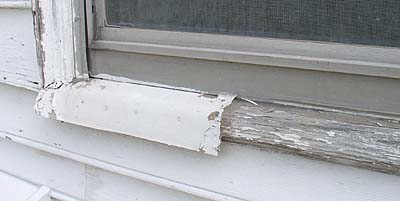 After six years wondering what was going on under there, this morning I removed the Band-Aid and found that the damage was bad...but really not as bad as I was expecting.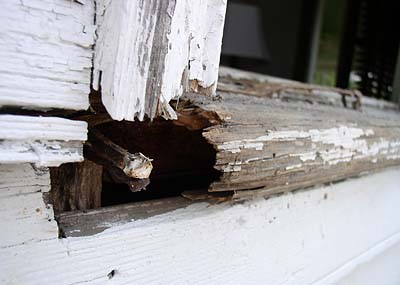 Yep...another job for SculpWood. (Good thing I just re-stocked!) First, I scraped and sanded everything as best I could and removed gobs of old caulk. I left the old nails in place. I like having them there for the Sculpwood to wrap around and adhere to.


You can see that the problem is not just the rotted-away sill end, but also that the entire surface of the window sill is badly checked. If left like this, water could easily seep back in and start the damage all over again. So the job was to re-create the missing end, and also fill in all of that checking.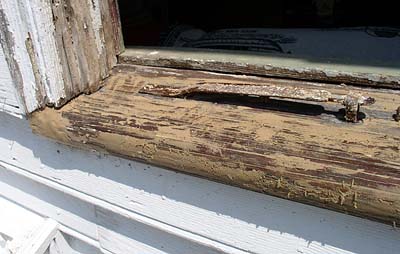 After the RotFix step, I applied the SculpWood with my hands, working it into a crude rounded shape at the end and working it into the checking on the surface. In a few hours when the first pass had cured, I sanded it all down and worked in a little more Sculpwood where needed.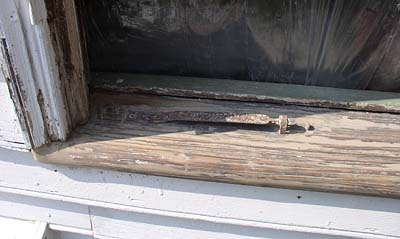 There are still a few places to fine tune tomorrow, but it's looking pretty good.

I also applied a missing piece of trim to the south library window, making this window officially ready for shutters!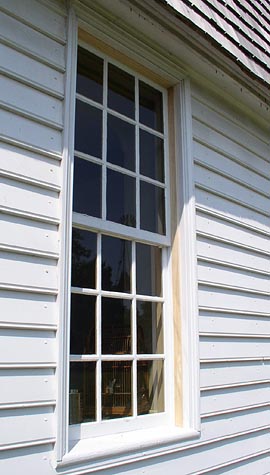 One down, nine to go!

When I came inside at the end of the day, there was a phone message from the county. Our building permit is ready! WooHoo! -- Bill

---
This morning I got the bright idea to use one of the sets of replicated sashes to fill the gaping window hole while I'm working on the old sashes. Three hours later, I realize why Mr. Hayden never put these sashes in place. I knew this window was out of square, but just how much quickly became apparent when I tried to put the square sashes in it.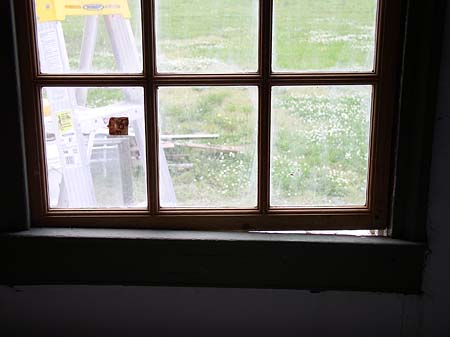 The old square peg in the parallelogram hole test...

Even being so far out of square, it's amazing that the old sashes raise and lower effortlessly. I haven't stopped to figure out the geometry of how that's possible.

Meanwhile, here's the primed window sill from yesterday.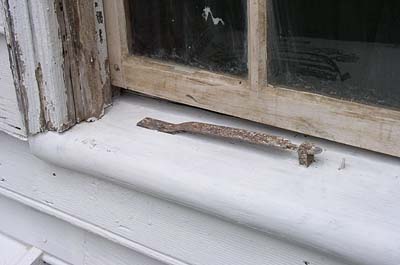 Picked up the building permit this morning, first thing. It's real! -- Bill

---
On Saturday we went up to Maryland to pick up our Amish-made window sashes and doors. 24 sashes and two sets of double doors.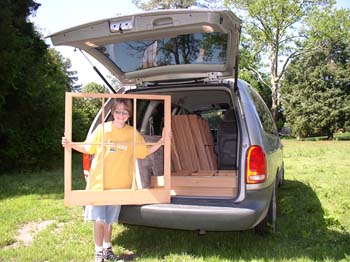 We're very happy with the job that he did replicating the old window sash that we took him. He is primarily a furniture maker and his wood of choice is mahogany so that's what he used for our sashes. They should last forever, but it will sure be a shame to paint them. I got him to leave the bottom rail long so that I can cut them down on site.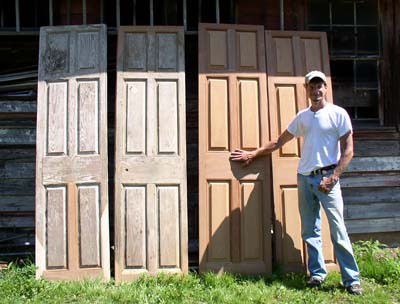 He also did a beautiful job repairing the double doors that we found in the chicken house and made us a beautiful matching set. It will be wonderful to be able to open up these doors at both ends of our new hall and let the breeze blow through from the creek.

The chicken house is now full of doors and windows waiting for walls. I am really hoping that our mason will be ready to start the foundation next week. But the way things go around here, there are no guarantees. Our neighbor told us this story of a lady and her builder. He called her and promised he'd be there on Monday. Monday came and went. She called him and he replied that they had been delayed, but he promised that the following Monday they would definitely be at her house. Again, Monday came and went. She called him and got the same story, and once again he promised to be there the following Monday. This cycle repeated several times until the lady finally lost her cool and read him the riot act. To which he replied, "Well, if you're going to treat me like that...I'm not going to make you any more promises." -- Bill

---
I'm introducing a new site feature will make Gay very nervous. But, in an effort to make this site as informative I've possible, I've decided to add a budget tracker that will appear periodically in our journal updates. The budget tracker will indicate where we are at the moment...expenses against total budget for the addition.


Again, considering that we have yet to break ground, the current 18% percentage is a little out of whack because it includes a number of items that we have already paid for in full like windows, doors, and bricks; plus a sizable deposit on our kitchen cabinets.

Received the restoration glass samples today and ordered 24 panes for the windows I'm working on now.

Weird discovery... For the past two days I've been taking wheelbarrow loads of dirt from where the kitchen addition was and hauling it to various areas of the yard that need fill. (All of this dirt will be dug out for the crawl space under the addition anyway, so I wanted to snag the beautiful top soil while I had the chance.) In the course of digging today I discovered the buried drainpipe from the old kitchen sink. During the demolition I had been looking for this, but oddly never found it. It's remained a mystery to me until now. Turns out that I never found it because I was looking in the wrong place. Instead of the drainpipe running out the back of the house to the septic tank, it ran out the front of the house. I did some more digging and found that the pipe had dumped into a layer of buried oyster shells covered by plastic. A crude little drainfield. I have no idea how big it is, but this system sure wouldn't pass code today! -- Bill

---
Wow, I am impressed. I ordered the restoration window glass on Monday and received it today. They had said to allow 2 to 3 weeks for delivery so this was a pleasant surprise. The new glass doesn't have as much distortion and rippling as my old panes, but it looks pretty good. And it's a full 1/8th inch thick, so it should be much less prone to breaking and cracking than the old, very thin panes. I will re-use as many of the old panes as possible and mix in this new glass where needed. -- Bill

---
The word from the mason is that he is planning to be here this Thursday or Friday to start digging the new footing! -- Bill

---
In anticipation of the arrival of the mason, today's job was to have been the removal of one corner of the 1850s foundation. Years ago, the corner had fallen away and the opinion of the builder and the mason was that the corner could be safely removed because there didn't seem to be any weight sitting on it. (They decided this after easily sliding putty knives in and out between the brick and the sill from the front.) So, the plan was for me to remove the corner so that I could clean up the old brick for re-use. Then a footing would be poured under the corner for the rebuilt foundation to sit on. I was armed with a cold chisel, brick hammer and a jack and blocks for stablizing the corner once the brick was out until the mason arrives.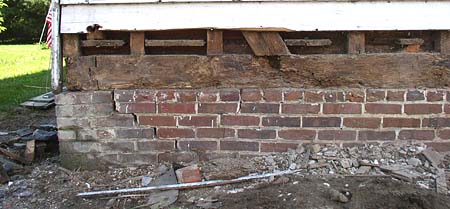 But upon removal of the bottom two siding boards on the gable end of the house, it was easy to see that the corner was making contact with the bricks after all. So that immediately ended my participation in this project. I called Kenny (the builder) and he was here in fifteen minutes to take a look. "Yeah, let Doug (the mason) pull it."

I also wanted him to check out the sill, which is pretty spotty, especially on the north side. He agreed that we should add partial sill replacement to his list. I would say that about half of it needs to be replaced. It's interesting that the worst damage is under the down braces. On the north side the entire bottom of the down brace is rotted away, as well as the sill under it. On the west side (gable end), the down brace is okay, but the sill is shot under it.

Kenny doesn't think we need to worry about the down braces themselves because our new plywood sheathing will prevent any shear.

He thinks the sills are chestnut.

When Doug arrives, Kenny is going to come over too so they can put together a plan of action for addressing the foundation and sill. I love it when people work together! Very encouraging.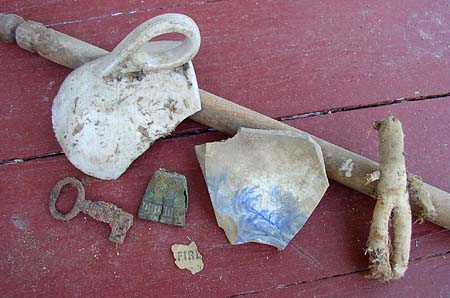 On the gable end the framing was filled with ancient mouse nests and all of things they dragged into them. I cleaned it all out into a bucket for William to sift through later for treasures. I found a few items myself, including some broken ceramics, a thimble, an old key, a wooden curtain rod (maybe?), tons of old newspaper with Civil War era typefaces, and a tiny, primitive rag doll.

No telling what else we'll find behind the walls! -- Bill