---

When you see this symbol, click to read related discussion in the Forum.
---
Mark Dameron of EnonEast Earth Maintenance got our driveway cut and the base sand in place, so now I can show you what it's going to look like.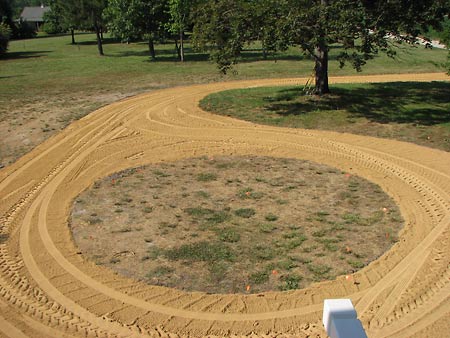 The road can be seen in the top right and the photo is taken from the upstairs window of the garage. The maple that we were worried about is the tree that the drive curves around. We're really pleased with the way it's turning out. The center of the circle will be great for planting. The clam shells are scheduled to be delivered on June 12th or 13th. Meanwhile, we can be driving on the sand to pack it down.

-- Bill

---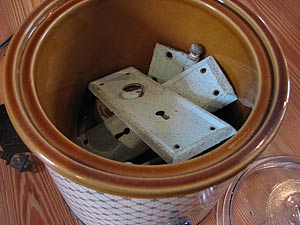 I've been hearing that an easy way to remove paint from door hardware is to soak it overnight in a Crockpot filled with dish soap and water. (Some people say to use TSP instead of dish soap.) So, I'm giving it a try. I'll report back tomorrow on what happens.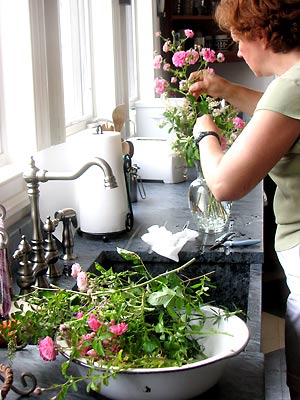 Our wild roses are really thick with blooms this year. Gay's been keeping vases full in the house. -- Bill

---
At first glance this morning, I wasn't too sure that the Crockpot overnight paint stripping technique had actually worked.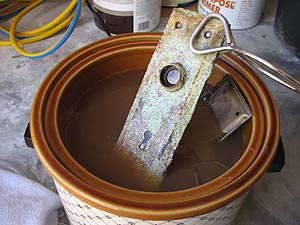 But I took the hardware to the laundry sink and with a plastic scouring pad easily scrubbed the softened paint right off. So it does work!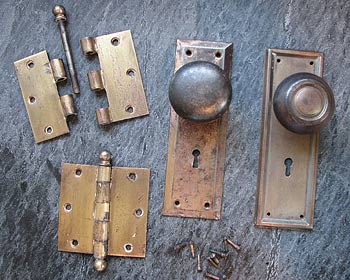 One good tip is to put screws in a tea ball before putting them in the Crockpot. It's easier than trying to fish them out one at a time later.

This hardware goes to a door that was on a 20th century closet in the law office. I'm thinking it dates from 1910 or so. We will be using the door in the master bath on the toilet room. The door itself is in good shape, but I'm having to reverse it, square it, etc. Working on it a couple hours here and there as I have time, I should have it primed, painted, and ready to hang by the end of this week.

We have been trying to decide what kind of tree to plant in the center of our driveway circle. The early idea was a weeping cherry. We planted one at our old house about 6 years ago and when I drove by there this spring it was beautiful. So that's still a contender. Another tree we discussed this weekend is a golden rain tree.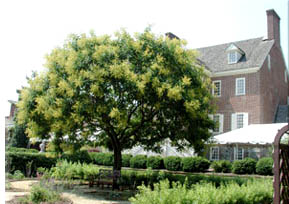 The tree in the photo above is at the William Paca House in Annapolis, Maryland.

Our only concern is how it would look to have our giant, screaming pink crape myrtle and a vibrant yellow golden rain tree both blooming at the same time in the front yard. It might look really good. Or it might look like the circus has come to town.

-- Bill

---
I hung the water closet door today. No more curtain! Real privacy!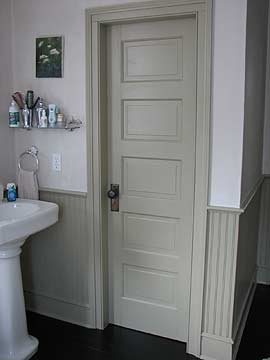 The recycled 5-panel door blends right in with the woodwork and looks like it's always been there.

This door came from the law office where it was used as a closet door. (On the right in the photo below from 2000.)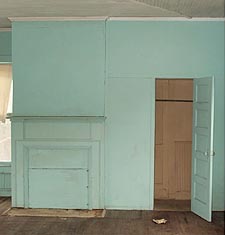 That closet was obviously a later addition, probably added in the 1930s or 40s.

So now that one door is finally installed, Gay and William's expectations are high for more doors to follow. I'll see what I can do. This door was probably the easiest of the bunch. The door was in pretty good shape, but I did need to square it up and add a spline to the latch side. Most of the other doors are no where near so simple.

Tomorrow our clam shells are supposed to arrive for the driveway! -- Bill

---
The new driveway stinks.

Literally.

But given a few days of sun and a rain shower or two, the ocean-bottom smell should start to wane.

The truckload of clam shells arrived right on time this morning, although I was a bit surprised by the truck itself. I was expecting a tandem dump truck but, instead, a cool truck with a spreader on the back showed up.


The guy definitely knew what he was doing and did a very neat and even job of spreading the shells. We found a few conch shells in the mix which we had to pick out because they don't crush easily and could definitely slice a car tire. We also found a dead skate, which added to the overall fragrance. So for a few days, at least, you'll want to try to stay upwind of our driveway.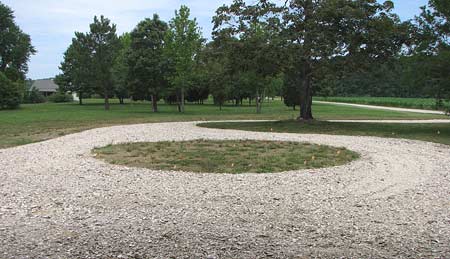 The view from the garage. The sun will quickly bleach the shells bright white.

-- Bill

---
I think it's cool that after 8 years we're still making discoveries around here.

Yesterday William said, "Hey, have you ever noticed this?" He was pointing to a spot on the top of the graveyard wall at the southest corner.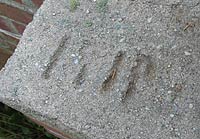 It's the date "1919," except with the second "9" written backwards for some reason. This date for the wall isn't news, but it's nice to see it confirmed. Walter Hathaway specified in his will that a wall should be built around the graveyard, and he died in 1918. So, I've always believed the wall to date from 1919 or 1920. And now it's confirmed. I guess we've never seen the date before because of the cedar that used to obscure much of this corner.

But I wonder what's with that backwards "9". An accident? A creative mason? A dyslexic mason? I guess we'll never know. Just another conversation piece.

We were in Williamsburg this weekend scrutinizing gardens, plants, and trees. There we discovered lots of fruiting pomegranate trees.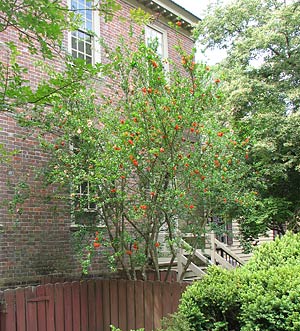 It's not a great photo, but they're really pretty trees. We bought three from their garden stand and planted them on the creekside of the graveyard wall.

Good news is that the driveway smell is starting to wane. Bad news is that we have a second truckload of shells coming on Wednesday, so we can start up the stank all over again. The first load just didn't provide enough coverage. -- Bill

---
For about six years I have been researching my Hathaway line and have found that much of what I and others have long believed to be true was far from true. I have finally compiled my findings in what I'm calling William Hathaway of Virginia - The True Story. -- Bill

---
We received our second load of clam shells for the driveway today and it wasn't nearly as rank as the first load. In fact, they hardly smell at all. And no dead things. Just one old shoe.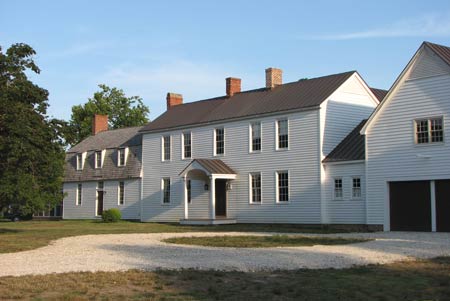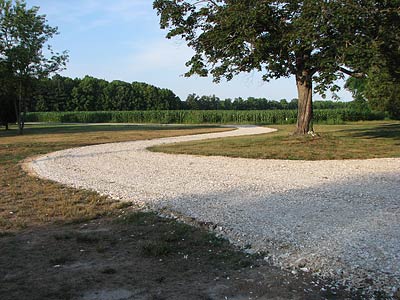 I'm frustrated that I can't take a photo that captures the way the driveway sparkles in the sun and moonlight. It looks like it's covered with broken glass. (Or diamonds, if you're rich.) It's really cool. -- Bill

---
We were able to find a weeping cherry tree locally on Saturday and planted it in the center of the driveway circle.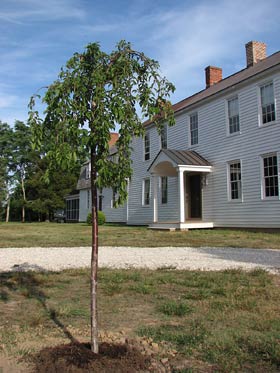 Also, somebody in the Forum recently mentioned mimosa trees.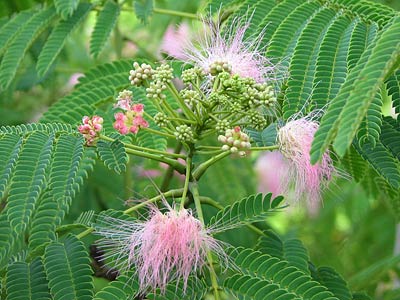 The one that we planted 3 years ago is about 6 feet tall now and loaded with blooms.

-- Bill

---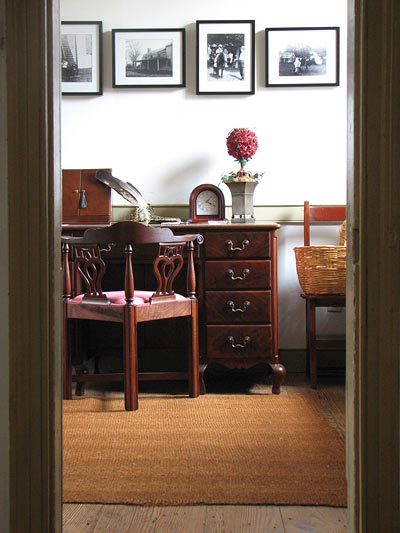 Every time I walk through this doorway I think, "I should take a picture of that." This morning I finally did. This is a view into the library in the Dutch Colonial. I think the composition through this doorway is really nice and when I took this photo the lighting was just right.

The view through this doorway is pretty important, because the way that the rooms all connect in a straight line in this house, you can see this view from three rooms away.

To the left of the desk is the only internal door on the first floor that doesn't line up with the others (because the Dutch Colonial staircase is on the wall behind the desk). If that door was in line with the others, you would actually be able to see straight through from one end of the house to the other.

The main reason this view is so nice is the beautiful mahogany desk and sword chair (or "corner chair"). I am very fortunate to have inherited some beautiful furniture that my great uncle (Carl L. Roll, 1908 - 1969) made, carefully reproducing 18th century originals. I owned this furniture long before we bought Enon Hall. In fact, I've had it since I was in college. But now, these pieces really feel like they've found a great backdrop. -- Bill

---
People keep asking me, "What do you have left to do on the house?" The answer is a million little things. Like finishing the rear staircase. (Yeah, and the missing bathroom door too...)
We've been looking at insulation and the air return for months now while I decided what I wanted to do here. Finally, I got up yesterday morning and went to work on it. I ran a bead on 6" tongue and groove pine floorboards and then installed them vertically. This is the same way that the underside of the stairs in the Dutch Colonial is treated. It will look good when it's painted and the beads really stand out.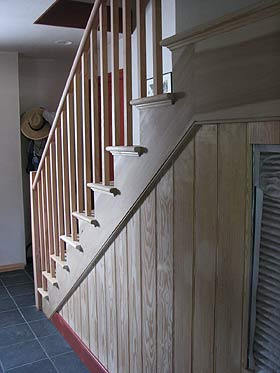 One of my other delays here has been determining how to treat the air return. I don't want to put up a standard nasty looking return grille. I'm looking for something that will look older and not impede airflow, while still hiding the filter. It will probably be hinged like a door so that the filter can easily be changed. I'm thinking of some kind of perforated steel set in a wood frame, maybe. Another option is wooden shutters. Still noodling on this.

Another thing I'm noodling on is what to do with this.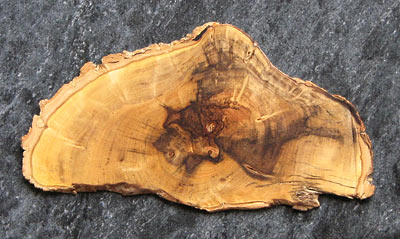 This is a slice from a boxwood branch that I saved after it broke off in a storm. Yesterday I sliced off a piece to see what the wood looks like and it's this really pretty burled wood. It's really hard and sands up smooth as glass. I'm thinking that a chess board is a no-brainer. It would also be pretty set in jewelry, like a pendant. Any other ideas? (The piece above is about 3" wide.)

William's getting ready for the 4th of July parade. Apologies to our neighbors on the creek! -- Bill