William Hathaway of Virginia - The True Story Posted June 20, 2007
---

The Hathaway family tree below has been published and published and published until it has become accepted in toto as the gospel truth. Unfortunately, this family tree is incorrect.


William Hathaway I
1636 - 1672
|
William Hathaway II
1666 - 1725
|
William Hathaway III
1695 - 1772


Everything that follows is built on primary research. I have not included a single date or name or location for which I cannot point to the primary source. Unfortunately, past trees have been totally unsourced. Leaps and assumptions have been made without any concrete evidence and then passed down as fact.

Here's the true and sourced story. And it's really quite interesting.

In 1666 a "William Hathaway" purchased 100 acres of land along Dragon Creek in Lancaster County, Virginia from William Downing. The smeared and difficult-to-decipher, hardwritten deed can still be viewed in the Lancaster County Court House. In the early 20th century a researcher found this deed and assumed that the 100 acres in the deed was Enon Hall and, therefore, the William Hathaway in the deed was assumed to be the progenitor of our Hathaway family in Virginia.

What that early researcher failed to understand is that Lancaster County was split in 1669. The lower portion, south of the Rappahannock River, became known as Middlesex County. And that is where the land lies that William Hathaway purchased from William Downing, not far from present day Saluda. [Location 1 on the map below.] About a 20-minute drive from Enon Hall [Location 5 on the map], with the assistance of a 3-mile-long bridge. So, although that land was in Lancaster County in 1666, it isn't in Lancaster County today.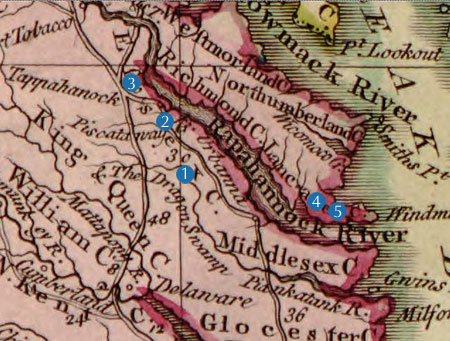 The Mitchell Map (drawn by Lancaster County native John Mitchell between 1750-1755)
shows some of the locations key to our early family story. Distances are not to scale.

This also explains why from 1667 until 1709 there is not a single mention of William Hathaway in the Lancaster County records. You have to turn, instead, to the newly formed county of Middlesex, and sure enough, there you can find the rest of William's story.

In 1674 William Downing acknowledged selling the 100 acres to Hathaway in order to pave the way for Hathaway to sell that same property to his neighbor David Allyson (Allinson) later that year "for the sume of six thousand pounds of tobacco and caske." By April 5, 1675 William Hathaway was dead and the administration of his estate fell to the same William Downing "with the condicion and provides that after all just debts of said Haddaway be paid the overplus to come to William Downing Junr son of the said William Downeing Snr according to the will and desire of the said Haddaway in his life tyme he putting in security and appraising the state according to act." The indication is clear that William Hathaway died with no heirs. And I can find no evidence at all that he was married to a "Letitia Lawson" as the published histories purport.

On June 2, 1679 another order appears in the Middlesex Order Books reading "Mr. William Downing doth binde over all & singular his goods and chattells as security to answer & make good to his sonn Willm Downing when he comes of age or can lawfully demand ye same, ye sum of fourteene thousand nine hundred sixty six pounds of tobacco and caske and ___ pounds fourteen shillings & eight pence sterling money ____ ye value of ye estate of William Hathaway dec'd according to ____ all his just discounts & payments to be allowed..." There are no further mentions of Hathaways in the 17th century records in Middlesex.

So was this William Hathaway related to our Hathaways? Possibly. But he surely was not the grandfather of our William Hathaway who purchased Enon Hall in 1762. This is proven by the fact that he died with no heirs and it can also be proven by the evidence that I have uncovered by working backwards from our Enon Hall William Hathaway...but I'm getting a little ahead of myself.

First, I need to point out another important key in researching Hathaways. In the 17th & 18th centuries the spelling of the name in county and parish records was totally at the mercy of the clerk doing the writing. Spelling was less formalized in general and names often took many forms. The period variations on Hathaway included: Hattaway, Haddaway, Hadaway, Hatteway, and Hatherway. For instance, when William Hathaway purchased the 100 acres above it was recorded as "William Hathaway." When he sold the property in 1674, it was also recorded as "Hathaway." When his estate was recorded in 1675 he was "William Haddaway" and then when the estate was mentioned again in the 1679 order he was "William Hathaway" again. All undeniably the same person. By the mid 18th century, these spelling issues seem to have been settled. Our branch of the family finally settled on the Hathaway spelling, but I feel sure that other branches of this same family are living elsewhere as Hattaways today. Unfortunately, in many cases, the different contemporary spellings have masked the families' common origins.

So if "William Hathaway I" died with no heirs, then what about "William Hathaway II"? In the family history he appears suspiciously without details. Unknown wife. Unknown children. All we had was unsourced birth and death dates. (He was supposedly born in 1666 and died in 1725 at Enon Hall.) In truth, William II did not exist. He was an assumption created to connect the William Hathaway from the 1666 deed with the William Hathaway who purchased Enon Hall.

The truth, being published here for the first time, is that our William Hathaway's father was Francis Hattaway of Lancaster County.

In doing family research its amazing how you can collect reams of seemingly disconnected data and then suddenly one magic document can bring it all together, connecting the dots and confirming your suspicions. One such document was brought to me by William Carrell about a year ago. In researching the Lawson family he uncovered the depositions from a 1770-72 lawsuit in Richmond County ("Thomas Taff v. John Yerby"). One of the deposed individuals was our William Hathaway. (His wife Sarah Hathaway was also ordered to be deposed, but never was for some reason.) In his deposition (conducted on September 13, 1771...9 years after purchasing Enon Hall and just one year before his death), William reveals two facts which have not previously been known.

1) William Hathaway "saith that he believes he is aged about sixy four or sixty five years having always understood that he was born in the month of March in the Year of our Lord one thousand seven hundred and six/seven." This means he was born in 1706 or 1707. Not 1695 as previously believed.

2) And more signficantly, William states that his uncle was Dr. Robert Gibson of Lancaster County.

Combining these facts with other facts that I had already collected started to paint the picture.

Francis Hattaway died in 1719 in Lancaster County, when William was 12 or 13 years old. In 1719 Robert Gibson testified that he was Francis' brother-in-law and that Francis had died without a will. Records show that Robert Gibson was not married to a Hathaway, so his relationship with the deceased must be that Francis Hathaway was married to a sister of Robert Gibson, although I have not yet found her name. Combining Williams' deposed statement that Robert Gibson was his uncle with Robert's statement that Francis Hattaway was his brother-in-law makes it clear that Francis Hattaway was William's father.

Further evidence follows in 1730 when William sued Robert Gibson for his share of Francis' estate. (The case was dismissed.)

William may have even lived with Robert Gibson as a child after the death of his father. In the deposition cited above, William describes going to the mill as a boy on behalf of his uncle, Robert Gibson. (It also appears that the Gibsons owned a mill at the headwaters of Carter's Creek.)

So we now know the following to be true.


Francis Hattaway m. _______ Gibson
? - 1719
|
William Hathaway*
March 1706/7 - November 16, 1771

* This is the same William Hathaway who we have come to know as "William Hathaway III" in the incorrect family tree shown at the top of this page.

Do we know anything more about Francis Hattaway? Only that he first appears in the Lancaster County tithables in 1700. Before that, I don't know anything. There were definitely other Hathaways in the area in the 17th century including a Thomas and the more well-known Rowland Haddaway. Rowland settled on a creek that became known as Haddaway's Creek. Today that creek is known as Dymer Creek and is just north of us. (On the map above, it's the creek directly above numbers 4 & 5.) We know that Rowland left Lancaster County between 1661 and 1664 and moved to Maryland where he died in 1667. His will mentions three children: Peter, George, and Margarett.

Also, it's interesting that there was a Francis Hathaway in nearby York County from 1652 to 1657. He was transported to the colonies by Augustine Warner, George Washington's great grandfather. I haven't had time to explore whether there might be a connection.

Whatever the case, it's clear that we have very early roots in Lancaster County, Virginia. Just not in the way originally believed.

Getting back to William's story. We know he was born in Lancaster County in 1706/07 and then bought Enon Hall in 1762. What about all of the years in between? I started to uncover that story several years ago when I happened to stumble on the following ad from the November 16, 1769 issue of the Virginia Gazette.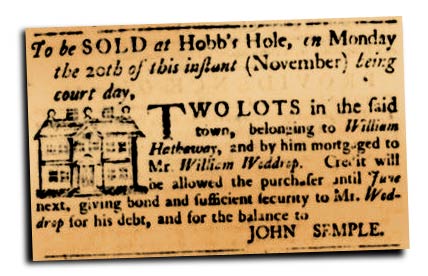 "Hobb's Hole" was what is today Tappahannock, Virginia; located just up the Rappahannock River. (Location #3 on the Mitchell Map above.) I had no idea whether the William Hathaway in the ad was our William, but I had to check it out, so I turned my research attention to Essex County. In short order I started turning up all sorts of information.

In 1741 William Hathaway purchased 190 acres on Piscataway Creek in Essex County in the South Farnham Parish. (Location #2 on the map above.)

Then in 1748 "William Hathaway of the County of Essex and Parish of South Farnham" leased 150 acres on Carter's Creek back in Lancaster County, "including ye plantation that Robert Cornelius now lives on." The property was leased for a period of 21 years from Ezekial Gilbert. Gilbert owned quite a bit of land in the area and also operated a very profitable ferry across the Rappahannock River. Gilbert was married to Winifred Gibson, daughter of Robert Gibson (see above), making her William's cousin. The leased land shared a border with Isaac Currell (pronounced "Curl") and the Hathaways and Currells later intermarried. Using published processioning records from the Christ Church parish from 1750 I have been able to determine roughly where this property is. We drive right by it every day when we take William to school.

So at this time, William Hathaway owned property in Essex County while also leasing property in Lancaster County.

Then on February 18, 1752 "William Hathaway of the Parish of South Farnham of the county of Essex and Sarah his wife" sold the 190 acres in Essex County to Joseph Mann. All of the evidence points to "Sarah" being Sarah Lawson, daughter of Henry Lawson in Lancaster County.

No longer owning property in Essex County, we can assume that William and Sarah now lived full time in Lancaster County on the leased Carter's Creek Plantation.

On September 13, 1762 (4 years before the Carter's Creek plantation lease was due to expire) William purchased 200 acres in Lancaster County from Andrew Donaldson. Known as "Andrews" this is the property that is today Enon Hall. The deed mentions "plantation messuage tenement." "Messuage" is an archaic word meaning "house with its land and outbuildings."

But what about those two lots and houses owned by William Hathaway in Tappahannock nd being auctioned off? (Lots 33 and 69 in the town plan.)

It turns out that these were the property of William Hathaway, Jr.

On August 19, 1766 William Hathaway "Junr." mortgaged the properties to James Ritchie & Company, a tobacco importer based in Glasgow, Scotland that operated warehouses in Tappahannock. The "William Waddrop" mentioned in the ad was an agent of the company.

William Hathaway, Jr. seems to have been a black sheep. In 1760 he was appointed as Constable for the Town of Tappahannock. And he held that position for all of 26 days before being replaced. In 1763 he was involved in a arm-long string of bad debt cases, as both plaintiff and defendant. In one case against him his attorney and two other men had to enter bail for him. In 1765 he was charged in court for "not frequenting his parish church." Then he appears to have defaulted on his mortgage on the Tappahannock properties leading to their eventual auction. And when his father died in Lancaster County, he snubbed Junior in his will. While all of his other children received equal shares of his estate, William, Jr. received "five pounds sterling money and no more."

William Jr. appears frequently in the Essex County Order Books until 1769. Five months after that last mention the auction ads began running in the Virginia Gazette and continued to run until 1772 when the property was apparently finally sold. The last ad refers to William as "William Hathaway, late of said town." He seems to have left town.

Meanwhile, back in Lancaster County, William Hathaway, Sr. had died on November 11, 1771 and his will was recorded in January 1772. His son Lawson inherited "my plantation that I bought of Andrew Donaldson, known by the name of Andrews." Present day Enon Hall.
_____________________

NOTE:

I have only just begun to unravel the true and accurate story of our Hathaways. The problem has been that once the family history was published in "Hathaways of America" in 1970 everybody stopped looking. Everybody's assumption, including my own, was that the work had already been done. So instead of doing good research, we've all just been reproducing the same bad information over and over again. Meanwhile, the real story lay totally undiscovered in Middlesex and Essex and who knows where else.

Instead of footnoting every reference in the article above, I am making all of my notes available to other Hathaway descendents here for download. My time to spend on further research is limited and comes in fits and spurts so I welcome anybody else's involvement. I only ask that we all stick to primary sources only. There's way too much bad information already out there.