ONLINE JOURNAL These journal entries track our progress as we undertake our adventure of restoring this very old home. The main reason for keeping this journal on the web is that we have found that there are very few resources (books or websites) that follow all of the trials and tribulations of restoring an old home...from start to finish.
---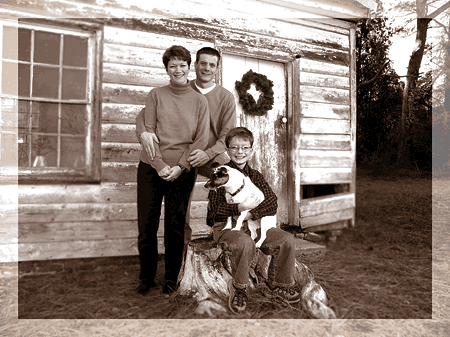 HAPPY HOLIDAYS!
May all the blessings
of this holiday season
be with you and yours
all year long.


Gay, Bill, William & Lucy




Like last year, we'll be dialing back our restoration work during December so that we can enjoy the holidays and restore our energy. Stay tuned. We'll be back to work soon!

---
December 18, 2002
Today we finally closed on the parcel next to Enon Hall! You may remember that we were supposed to close in March and then all hell broke loose with the seller. I've kept most of the details offline until we could finally close, but appreciate the many supportive emails we've received on the subject. (Including some from folks who have had similar nightmare experiences with Howard Loonan in the past.)

In August we found somebody clearing the parcel who claimed to have bought it from Loonan...even though we had a contract and had been trying to close. Fortunately for us he had jumped the gun in doing his clearing. Although he thought he had purchased the lot, his deed had not yet been recorded at the courthouse. Our attorney got there first and attached a lawsuit to the property (suit for specific performance) that effectively tied up the property and forced Loonan to fulfill his contractural obligation to sell the property to us. From there we were in a waiting game as Loonan dragged his feet and then finally delivered the signed documents so that we could proceed with closing. What an ordeal this has been. Hope I never hear his name again!

So, we now have a total of 6 acres. (Let's see...that's a whopping 1.5% of the original Enon Hall acreage...) Most importantly, nobody can build beside us and we get control of the right side of the dirt road that leads to the house. We'll be able to create a very nice approach with some trees lining the road. -- Bill

---
December 22, 2002
I'm working on a new design for enonhall.com that will hopefully be live in a couple weeks. Also, early in 2003 we'll be adding an online forum where you can share your comments with us, as well as with other visitors. We have so many great email exchanges with other old house folks (sharing ideas, asking questions, commiserating) and it will be nice for everybody to be able to benefit from those. The Enon Hall forum will also be a place where Hathaway descendants can meet and exchange information.

Thanks to everybody who has been so loyal in visiting this site over the last 3-1/2 years. Enonhall.com started as a simple tool for exchanging photos with other old house restorers and a way for us to record our own progress. Now as we watch William grow up before our eyes, it's really become the unfolding story of our little family; undertaking one very large project together. I hope the new design will reflect that.

Have a great holiday! -- Bill