ONLINE JOURNAL These journal entries track our progress as we undertake our adventure of restoring this very old home. The main reason for keeping this journal on the web is that we have found that there are very few resources (books or websites) that follow all of the trials and tribulations of restoring an old home...from start to finish.
---
August 4, 2002
The roofing company hasn't started work on our roof yet. Hopefully this week.

Remember back in March when we were supposed to close on the adjoining 2.5 acre parcel and then it got delayed? Well, I never shared the details of that botched closing here because I try to not air grievances and dirty laundry in this public forum. But after what's now happened, all bets are off. Here's what we've been going through.

The owner of the parcel is a New Jersey corporation called US Investment Corp and two individuals named Doron & Sherry Steger. Back last year I mailed a letter to the address for US Investment Corp asking if they were interested in selling the property. After about six weeks I finally got a reply from a man named Howard Loonan who said he was the owner of US Investment Corp. He indicated that they would be willing to sell the property but, after several go arounds, we could not agree on a fair price so things did not proceed.

Then early this year Howard Loonan contacted me and said he was going to put the property on the market and wanted to see if I had any interest in discussing a purchase again. We still wanted the property and this time it didn't take us long to settle on a price. I proceeded to get a local attorney to draw up a contract for the purchase. This was the first sign that something was very wrong. On March 4th, Loonan sent me a perturbed email challenging why I was "bothering with a contract." Huh? Who buys real estate of any type without a signed contract in hand? Especially with multiple parties involved. I had only ever discussed the purchase with Loonan. How was I supposed to know that the Stegers were also agreeable with our discussions? From here things went downhill fast. He finally did sign the contract, as did the Stegers. (But as little as I now trust Howard Loonan, I can only hope that the Stegers really signed the contract.)

A closing date was set for March 28th. The day before the closing the title company and our attorney uncovered a mess that included the following:

Unpaid back taxes on this parcel as well as other properties owned by US Investment Corp in Lancaster County.

Liens against this property by another New Jersey corporation called "Widget Corp." (Gee, that sounds genuine, eh?)

US Investment Corp was no longer a valid corporation in New Jersey and its ability to conduct business in the Commonwealth of Virginia had also been revoked by the SCC.

Unpaid judgements in Lancaster County on another property where Loonan had never paid the association fees.

Loonan had told me that he was an accountant. According to the New Jersey State Board of Accountancy his license is suspended. (Not that this has anything to do with our transaction, but this and other details I won't share here helped to flesh out the picture of the kind of person we were dealing with.)


It was obvious we would not be able to close on anything until this mess could be cleaned up. After all, a corporation that doesn't legally exist can't sell anything, much less transfer a clear title.


When challenged with these issues, Loonan agreed to designate enough of the proceeds of the sale to clear his back taxes and judgement in Lancaster County. He also stated that he was the owner of Widget Corp and could remove that lien. (Of course, further investigation revealed that Widget Corp was also defunct and would need to be reinstated by New Jersey before it could remove anything.)


We remained ready to close and waited as Loonan proceeded to get the corporations reinstated in order to be able to uphold his end of the contract. By the end of April both US Investment Corp and Widget Corp had been reinstated in New Jersey. The only remaining step was to get US Investment Corp back in good standing as a foreign corporation doing business in Virginia. I checked in regularly with Loonan and would either get no response or a reply that he had still not "heard back from Richmond." Finally, last Wednesday I picked up the phone and called the SCC in Richmond and was told that they had never received the necessary paperwork from Loonan.


That brings us to today when we arrived at Enon Hall and were shocked to see that the parcel was being cleared! I knew this wasn't good. I immediately went over to talk to the two gentlemen who were doing the clearing. I asked who had asked them to clear the parcel and one responded, "Me. I bought this land on Thursday." I explained that we had a binding contract to purchase the property and had been trying to close since March. He claimed that Loonan had never told him that there was another contract in place that he was breaching with this transaction. He also said that he was the one who had originally sold this parcel to Loonan 15 years ago so he had had past dealings with him. Direct quote from this gentleman..."Howard is a slickster. But I can't believe he'd be dumb enough to try to sell the same lot twice."


Our conversation was as amicable as it could be under the awkward circumstances. We agreed that this was nothing personal towards each other...but that this matter would definitely be going to court and that we would have our attorneys contact each other tomorrow.


What a mess. We're just sick about it. Stay tuned... -- Bill

---
August 8, 2002
Exciting day as the crew from Clark's Roofing showed up and swarmed on the house!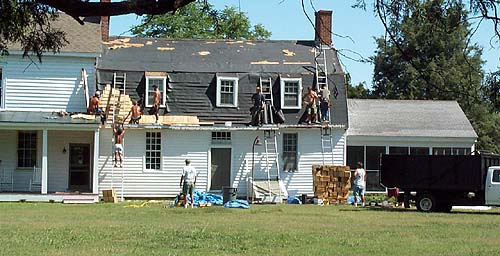 I was surprised to see a crew of ten men. They arrived at 7:30am and I took this picture around lunch, so you can see the speed with which they worked! I'm very excited! It's gonna look great! Especially with the standing seam copper on the other roofs.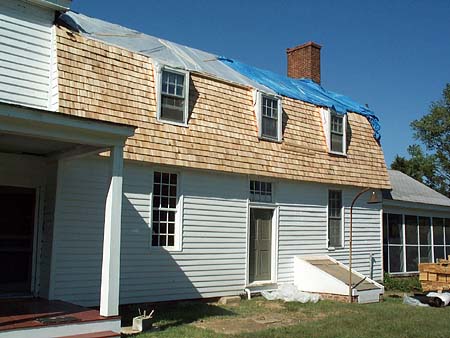 When they wrapped up around 4:00 they had made good progress and did a thorough job covering everything from the elements (even though we're in the midst of a long-running drought.) -- Bill

---
August 10, 2002
Roofers haven't finished the back of the gambrel yet. I figure that it will take them through Wednesday to finish installing the cypress on the gambrel and then Thursday and Friday to install the copper on the other roofs.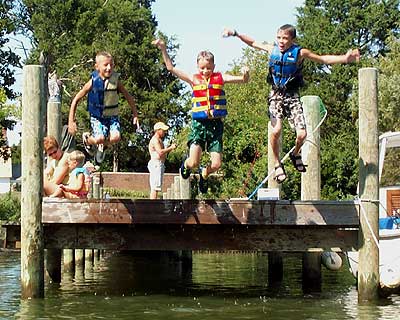 The great thing about having the crew working on the roof is it's a license for us to just play...since there's great progress being made without us lifting a finger. So we did just that...played all weekend and enjoyed the perfect weather. William's Chapman cousins joined us on Saturday.

I don't want to say too much about what's going on with the parcel right now except that things are looking positive for us. Fingers crossed. Thanks for everybody's concerned emails! -- Bill

---
August 14, 2002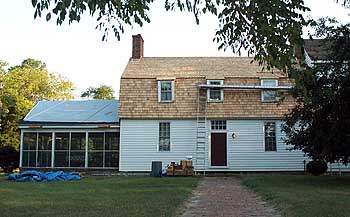 Roofers called today to say that they had finished the gambrel and moved on to the porch roof. They stripped off two layers of asphalt shingles to reveal the plywood sheathing. One piece of plywood was rotten so they removed it and discovered a layer of cedar shakes! So they had to remove all the plywood and the cedar shakes to finally get to a clean surface for the new standing seam copper.-- Bill

---
August 18, 2002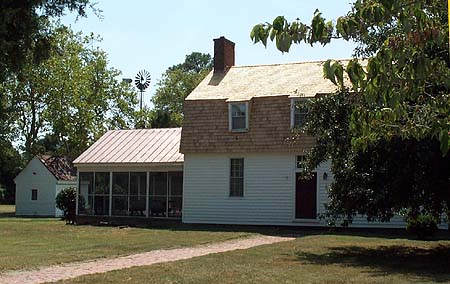 At long last, we were able to see copper on the roof. Looks good. Right now, the color of the blindingly-new copper clashes with the color of the brand new cypress. But once they both start aging they should complement each other nicely. A new copper roof went on a nearby church about two months ago and it's already a nice brown.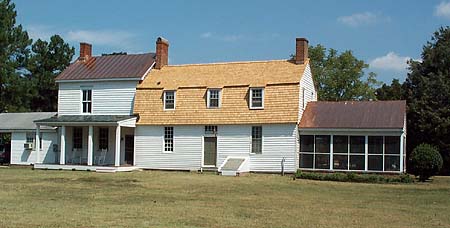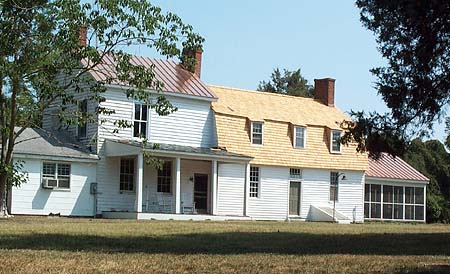 All the roofers have left to do is the front of the roof on the 19th century and the back porch roof. The kitchen addition will remain asbestos shingles until we determine exactly what our future plans are for it.

Boy, sure could use some rain! Everything is fried. -- Bill