ONLINE JOURNAL These journal entries track our progress as we undertake our adventure of restoring this very old home. The main reason for keeping this journal on the web is that we have found that there are very few resources (books or websites) that follow all of the trials and tribulations of restoring an old home...from start to finish.
---
September 5, 2004
We spent the day at Enon Hall today poring over floorplans and making the subtle tweaks that will really make the house our own. We're getting into finish details now too, which is a lot of fun. (A lot of fun to talk about and visualize, anyway. We'll see how much it all winds up costing!) We certainly don't have extravagent tastes, but we're going for period-appropriate details.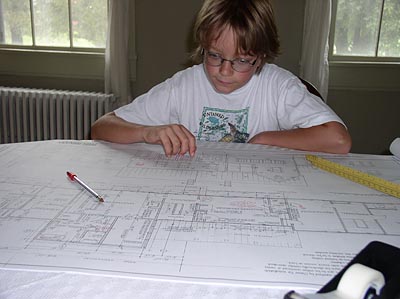 William's getting excited about finally making the law office his new bedroom! The very first time he saw that room five years ago he "claimed it" as his own. So, I guess he'll finally be getting his wish!

We've also been playing with 1/4"-scale cut-outs of our furniture on the floorplan, trying to figure out how each room will work.

Back in the world of reality, we're still trying to find a builder. The guy from Richmond didn't feel confident that he could put together a consistent crew in White Stone, so he bowed out early this week. We're talking to some local builders, but they're used to building million-dollar castles at over $200 a square foot. This job is much simpler, and hopefully their pricing will reflect that.

Should we need to cut something for budget, our plan is to wait and build the garage later. We shall see.

Nothing seems to be moving very quickly. In Richmond, we're progressing on getting our house ready to put on the market. (We had it power-washed yesterday.) But I'm sure not gonna throw up a "For Sale" sign until we have a builder lined up for Enon Hall. Everything seems to hinge on everything else.

I'm a little concerned about the effect of this Web site on our ability to line up a builder. Will they liken contracting with us to agreeing to appear on a "reality TV" show? Surely every construction project has its share of problems and mistakes that arise...even with the best builder. But does a builder want to run the risk of having them publicized to the world? (OK...to our 3,500+ loyal visitors each month.) On the other hand, it could be a great opportunity for a really great builder to show the worl...uh, show thousands of people how good they are. Oy. Just something else to think about. -- Bill


---
September 6, 2004
We spent our Labor Day gethering kitchen appliance specs in a couple stores and online.

Gay really enjoys cooking and her wishlist includes: a 36" gas cooktop with 5 burners, double wall ovens, a separate beverage/wine cooler, and an ample counter-depth refrigerator/freezer. When we remodeled our kitchen in Richmond a couple years ago we put in a 48" Subzero and have loved it. With the separate beverage refrigerator we can probably go down to a 42" fridge/freezer.

If you subscribe to Southern Living you can see the kitchen that Gay's modeling ours after in the June 2004 issue, page 113. -- Bill


---
September 12, 2004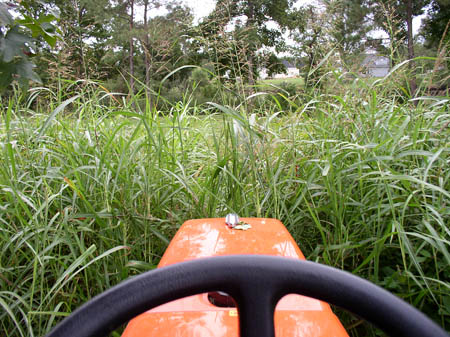 This was my view all day Saturday as I got caught up on the grass after getting the tractor back. Turns out the whole overheating problem was caused by the high-lift blades that the local Kubota dealer sold me for the mower deck. The dealer in Richmond said that these blades were creating a high vacuum, yada, yada... Not sure I understand it all, but it sure seems to be a lot better! After satisfying myself that the problem was fixed, I quickly ditched the mower deck and hooked up the bush hog so that I could really tackle the field which was 4 to 5 feet tall. The tractor ran beautifully and I was able to pretty much fly through it. (It's wonderful knowing that there are no longer stumps waiting to surprise me underneath it all!)

Saturday was Gay's birthday, so we celebrated at a new crab house in town and then played on Sunday. We took the boat up to the island and hung around for a while. It was a beautiful day and I got a bit red.

Once again, we're holding our breath and waiting to see Ivan's path. We've been very lucky so far and I really feel for the folks in Florida who are getting hit again and again. This hurricane season is certainly going to be one for the record books. I still have a window sash out in the guest bedroom and I keep shoring up the hole, hoping that it will withstand the next impending storm. So far, so good. -- Bill


---
September 26, 2004
The Enon Hall story is mainly taking place 80 miles away these days as we work on getting our house in Richmond ready to put on the market.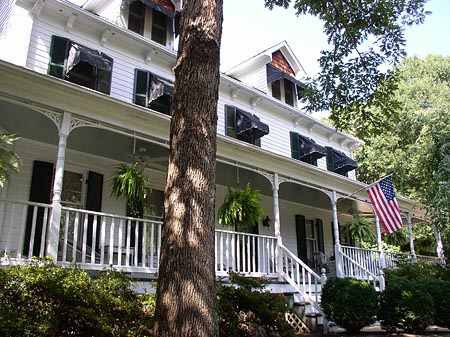 We've had the house and deck power-washed and have had some tree work done. All of the price quotes that we got from house painters were between $8,000 and $10,000...so I decided to go on and paint it myself. I started on Friday and have made a good start in just three days.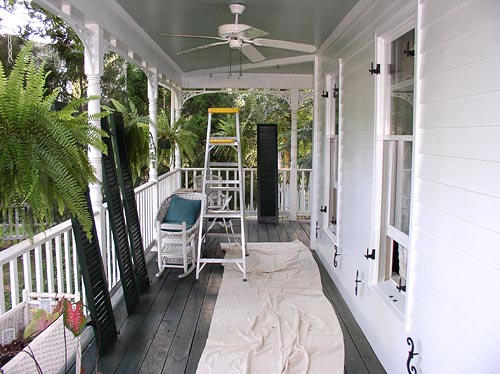 It's really a pretty simple painting job. White on white...semigloss on everything, the body of the house and the trim. The shutters don't need painting and all of the windows are 1-over-1...no multitudes of small panes. And there is very little peeling...really only one window with a peeling sill and drip cap. There is some tedious gingerbread around the porch and gazebo. But the price just isn't worth it when I can do it myself. (Well, maybe all of it but the very tops of the gable ends.)

We really have enjoyed this house and our neighborhood...but it will nice to have just one place to maintain!

We're a little closer to selecting a builder for Enon Hall. Stay tuned! -- Bill