ONLINE JOURNAL These journal entries track our progress as we undertake our adventure of restoring this very old home. The main reason for keeping this journal on the web is that we have found that there are very few resources (books or websites) that follow all of the trials and tribulations of restoring an old home...from start to finish.
---
October 3, 2004
This weekend I got a little more painting done in Richmond and cut the grass at Enon Hall.

I also, finally, got around to repairing the rotted muntin end in the guest bedroom window sash that I removed in August.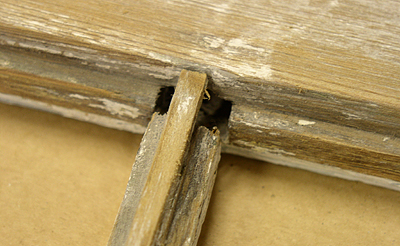 Somebody recommended these products from System Three, so I thought I'd give them a shot. I've never used epoxy wood fillers before, and was expecting it to be a bit of a mess.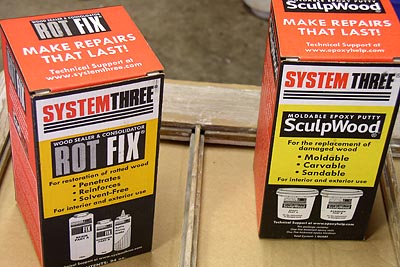 Rot Fix is a 2-part epoxy wood sealer and primer that you use to coat all of the damaged wood (after cleaning out as much as you can). Sculpwood is a two-part, kneadable epoxy resin with the consistency of Sculpey. The Sculpwood is extremely easy to work with and its four-hour curing time kept me from feeling like I had to rush before it suddenly turned to rock. Even before it cures you can shape it with a putty knife, and then sand it when it's totally dried.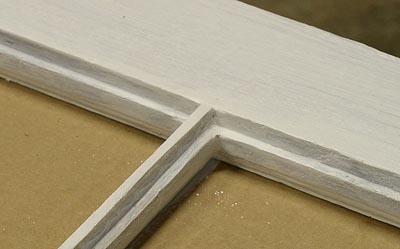 I was very pleased with the end result. An invisible repair that seems very strong. (Although I really didn't yank on it too much to see if I could break it.)

Now that I've done this once I am excited about tackling some of our rotted window frames and sills!

I swear, I know I'm hard on things...but this is getting ridiculous. I have had a hard time finding cotter pins that don't mysteriously come out and leave a mower deck wheel lying in the middle of the field as I cruise on unknowingly. I've tried all types and somehow they all manage to get caught on something and pulled out. Yesterday, not only did a wheel fall off, but before I realized it, I backed over the wheel and sheered off one of the blade bolts. So there lay the wheel and one of my mower blades, side by side in the freshly mown grass.

So, this weekend I learned how to use an epoxy wood filler system. And next weekend I'll have to learn how the heck you remove the remaining end of a sheared-off bolt. With all this stuff I'm always learning, how come I'm not getting any smarter?? -- Bill


---
October 10, 2004
We had a beautiful weekend which I used to get more painting done in Richmond. I think I am probably about 1/3 of the way done with this job.

After my repair work to the guest bedroom window sash last weekend, this weekend I moved on to my least favorite restoration job...glazing. I have had awful results in the past, but am determined to someday "get it right."

When I had removed the old glass I had carefully labeled each pane in case there was any variation in the sizes. I started by scraping each pane to get rid of any remaining old paint and putty.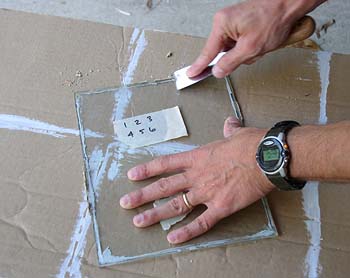 I also had to cut two new panes to replace broken ones. I recycled a large broken piece of old wavy glass that I had removed from one of the law office windows, and was able to get two perfect small panes out of it.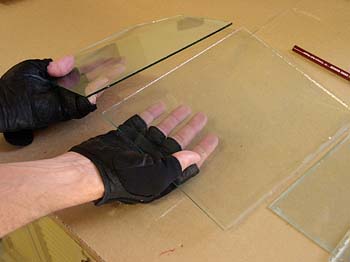 (All of my work gloves were at Enon Hall...so this was the best I could do to protect my hands.)

I was going to stick with the "old school" approach and use the traditional DAP "33" glazing, but when I opened my can I found that it had all dried out. So I turned to the new-fangled Dap Latex Window Glazing in caulk tubes that I had picked up a while back, and decided to give it a shot.



I had much better luck with this product. Setting the initial bead in the rabbets was a breeze.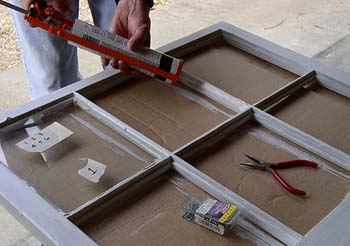 I then secured the panes with glaziers points and applied my top bead. The tube has an angled tip which gives you a pretty good application until you get to the corner of the pane. I found that I had still had to do a fair amount of tooling to get everything neat, but it was SOOO much easier to work with. If it started dragging, then dipping my putty knife in a little water was all that was needed to smooth it back out.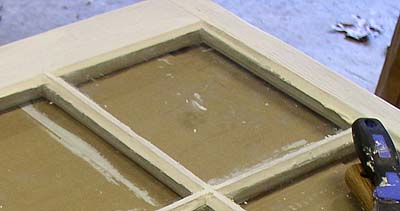 The end result is still not perfect, but it's a heck of a lot better than I've ever been able to do before. And with this product, I feel like there is hope. -- Bill


---
October 17, 2004
Headed to Enon Hall this weekend all ready to get the mower deck back up and running. I stopped at the Kubota dealer on the way to pick up a new blade bolt, only to be told they would have to order it. So much for the tractor this weekend!

I did get the guest room window sash painted and back in place and it looks good. Certainly looks better than the cardboard that has been there for several months, and through 3 tropical storms!

The weather was so gorgeous that I wiled away a fair number of hours sitting in the sun reading this book that I bought Gay for her birthday last month.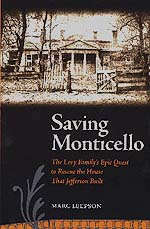 I was expecting a blow-by-blow account of the restoration of Monticello, but it's really a history of the Levy family's ownership of the home from 1834 to 1923 (making them the longest owners of the Jefferson home...much longer than Jefferson himself). And then it turns into a highly political drama in 1911 when efforts begin to wrest the home away from Jefferson Levy and turn it over to the government. Very interesting reading.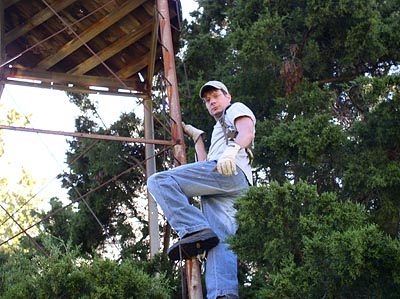 I made a quick exploratory trip up the windmill tower to look at the long-collapsed water tank. I'm slowly hatching a plan of attack for rebuilding the tank. Maybe next spring...

We have a finished set of drawings in hand now for the addition! I'm going to start setting up appointments to meet local builders and see if we can get things moving along.

The Forum is finally back up! -- Bill


---
October 31, 2004
The new blade bolt for the mower deck finally came in so I began the weekend ready to wrestle out the old, broken-off bolt. I was sure it would put up a fight, but it turned out to be a piece of cake with the extractor bit that I got at Sears. I'm sure it also helped that the bolt had only been in place for a month, so it wasn't corroded into place.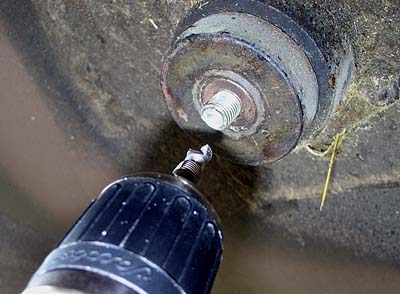 With all 3 blades back in operation I cut the grass for what will hopefully be the last time this year. It takes just under 5 hours to mow the entire place.

Saturday night we got into the Halloween spirit. We built a fire in the backyard, pulled up some Adirondack chairs, and took turns reading Edgar Allen Poe stories aloud..."The Tell-tale Heart," "The Oval Portrait," and "A Premature Burial." I tried to convince William that we should do this inside the walls of the graveyard, but the middle of the backyard was close enough for him.

This morning William decided that he would mark "Hallows Eve" my placing cut wildflowers on all of the headstones and decorating the gate with Magnolia.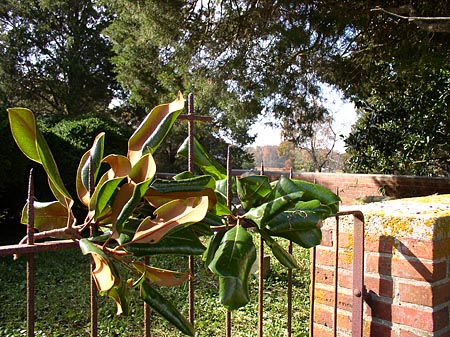 The old oven is getting feeble. Both elements need replacing in the top oven and the top element in the lower oven won't come on when set to "Bake." It will, however, heat up when set to "Preheat" or "Broil." Sounds like a bad switch. I'll be hunting down parts this week so that we can be back in operation for Thanksgiving.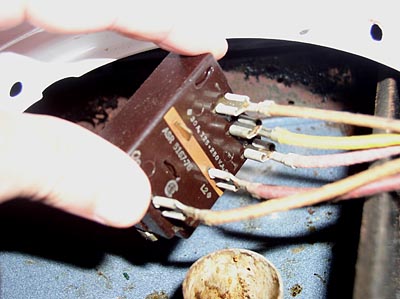 We have decided we can't stomach the idea of selling our house in Richmond and then moving into an apartment until Enon Hall is ready. Too much moving. So we're going to wait until the spring to put the house on the market and aim to move to Enon Hall as soon as school lets out in May...and live there during the construction. (Yikes!) That will mean living there six to eight months without a real kitchen...since the present kitchen will be demolished first thing. We're talking about setting up a makeshift kitchen in the library to get us through. Should be fun! -- Bill