ONLINE JOURNAL These journal entries track our progress as we undertake our adventure of restoring this very old home. The main reason for keeping this journal on the web is that we have found that there are very few resources (books or websites) that follow all of the trials and tribulations of restoring an old home...from start to finish.
---
August 1, 2004
Our archaeologists arrived today and have selected the two areas where they will be digging around the kitchen quarters...the southwest exterior corner and inside near where we think the cooking hearth would have been. We had to pull up some floorboards inside, but they're not old.

I'll be posting more updates during the week as they get going.

Enjoyed a nice visit from Tom Hathaway and his family on Saturday. Posted their photo to the Cousins page. -- Bill


---
August 8, 2004
Wow, where to begin? It's been a long week of both cool stuff and frustrations.

Sunday night an awful thunderstorm ripped through the area scaring the heck out of our house full of guests, including Grant and Melissa (the archaeologists) and two of William's cousins. One lightning strike hit awful close, although I was never able to determine exactly where. It practically knocked me out of the bed and left a humming in my body for the next ten minutes as I ran around checking on everybody. I found everybody sitting bolt upright in their beds with very wide eyes and Lucy (the dog) was about to have a heart attack. I usually enjoy thunderstorms...but that was a bit too close for comfort.

The next morning I found that both my internal modem (we only have dial up Internet access at Enon Hall) and my power cord were fried. Enon Hall is so free of electronics (no TV, etc.) that it didn't even cross my mind that my laptop was plugged in. Anyway, a week later I am finally able to post this update and let you know what's been going on.

On Monday, Grant and Melissa got right to work, first digging a "unit" (also known as a "hole") inside the kitchen quarters where we had removed some floorboards. It is obvious that the existing floor is 20th century, so the question was what type of floor was orginally in the building.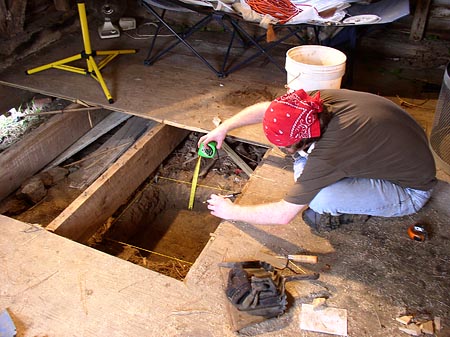 I'm not going to get into too many "conclusions" here, because of lot of their work and research remains to be done as they analyze their findings off site. But this unit indicated a hard-packed dirt "swept floor" and possibly indicated that the building was orginally built right on the ground without a foundation...a fairly common early practice in Virginia.

Moving outside, they began work on another unit at the southwest corner of the building. At the end of the day on Monday they were singing the praises of our rich, dark, rock-free Enon Hall soil..."an archaeologist's dream," said Melissa.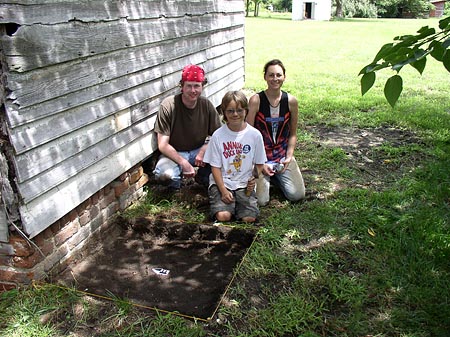 Grant and Melissa were great about letting William get involved and he learned tons this week. One of his early finds was a nail polish bottle. It wasn't old, of course, but they used it to teach him the way to properly uncover any bottle. He carefully extracted it with a dental pick.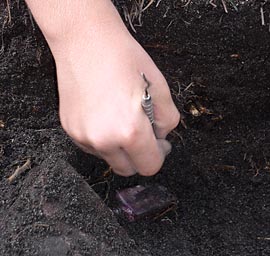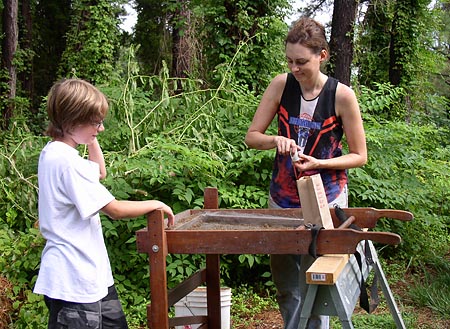 Along the way, they unearthed a fair amount of pottery shards, glass, a pipe stem, a clay marble and other items. All of these items will be cleaned, dated and identified, cataloged and returned to us.

Around lunch time on Tuesday the talk of "easy digging" abruptly ended as they hit a seemingly endless layer of oyster shells. William got in a lot of time in the unit, removing shell after shell after shell.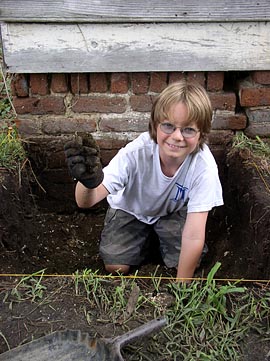 It turns out that the oyster shell layer was about a foot deep and actually went under the brick foundation.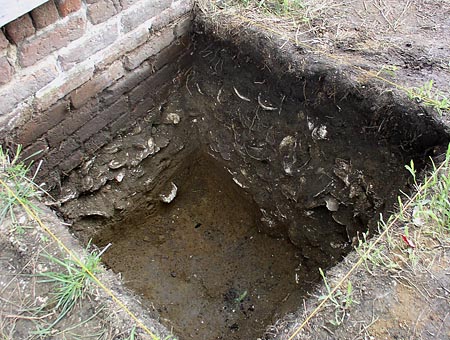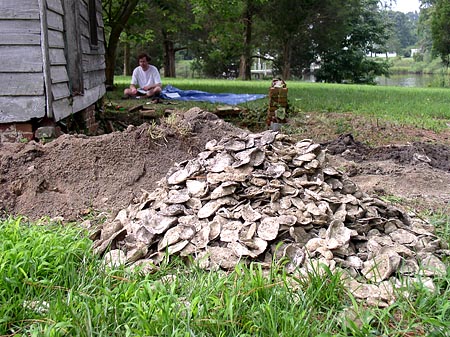 The pile of removed oyster shells was impressive.

After finishing this unit on Wednesday, Grant and Melissa spent the next day doing shovel tests around the property and worked on paperwork to submit this structure to the National Register.

I'll share more about their work and conclusions when I receive Grant's final report. Meanwhile, here's a sample of the kinds of things that William routinely digs up around Enon Hall.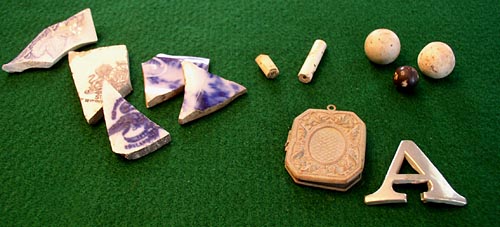 Always lots of ceramic and China shards - flow blue, transferware, and salt-glazed

Colonial clay pipe stems - these are cool because they can be dated based on the size of the bore. The ones we have found are from the late 1700s.

Clay marbles - both glazed and unglazed, probably mid to late 19th century

And some other interesting finds, like a Confederate company letter insignia and a tin (?) locket that appears to be late 19th century.
It was a great week for William. History, digging, head-to-foot dirt...what more could a kid ask for?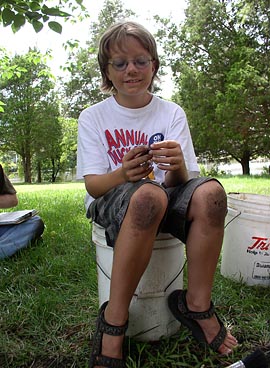 Meanwhile, aside from dealing with computer problems and playing cook for our houseguests (not my specialty) I did some work on the guest room window sash that has been out for about a month. (Was not fun during the thunderstorm!)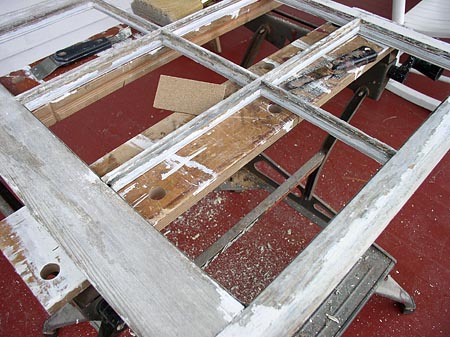 I have removed all the old putty and sanded the whole sash. Now I need to consult the Preservation Brief on restoring wood windows to see how to deal with one muntin that is rotted at the bottom where it meets the bottom rail.

The tractor was a major source of frustration this week. It keeps overheating the minute I start cutting grass. I have tightened the belt, replaced the blades, and lubed everything and the problem still persists. If I just run the tractor, it doesn't overheat. If I engage the mower deck and run around with the mower deck off the ground, it doesn't overheat. The minute I lower the deck, even in short grass, it starts bogging down and the temperature starts rising rapdily until I have to stop. The only remaining possibility that I can think of is gear lube in the mower's gear box. The manual shows how to check the level and add...but, what it shows doesn't match what I see on my mower. Instead of having screw-out drain and fill caps on my gearbox, I have cast "nipples" that are threaded on the outside. I just checked the Land Pride Web site and downloaded the manual there to see if it has been updated, but it hasn't. I'll have to call the dealer this week and see what the deal is.

Storms brought down a large part of the crabapple tree in the front yard, so Gay spent yesterday afternoon cutting it all up while I stressed over the tractor. -- Bill


---
August 16, 2004
Well...here begins an exciting new chapter of our Enon Hall story.

After much discussion, investigation, and soul searching, about a month ago we made the decision to build an addition onto Enon Hall and move there full time. Since then we've been doing more due diligence, letting family and friends know about our decision and otherwise getting our ducks in a row before "going public" with our big move here in the journal.

No decision to move is ever easy. And even though we've always discussed the possibility of making Enon Hall our full-time home some day, we always talked in general terms, with "some day" being somewhere in the vague, undefined future.

But as we have spent more and more time working on the house, we have also found ourselves becoming more and more connected with the community there, with small-town life, and with the friendliness of everybody we meet. We're now infatuated with more than just this old family homestead, but also with life in Virginia's Northern Neck...it's slower, it's charming, it's quirky, and it's full of character.

Leaving behind family and friends in Richmond has been a difficult decision. But the reality is that 90% of the occasions when we see our family members who live in Richmond...take place at Enon Hall. It's become the family gathering place that we always hoped it would be and now the expansion will give us more room to accommodate guests. And besides, we've become so used to the 80 minute drive from Richmond to Enon Hall that I'm sure we'll still be burning up the road...just in the opposite direction.

Another factor in our decision to make "some day" a near-term reality is William. We don't want to be one of those families where the parents wait until the kids have moved out and THEN build the cool new house, or add a pool. We want to make the most of the years that we have left with him at home. If we're going to take our Enon Hall adventure to the next level, let's do it now so that he can be a part of it. Plus, there are great private schools in the area.

And besides...what a great place to be a kid. Able to grow up with a little room to roam, lots of fresh air, a sky full of stars at night, and the water at your back door.

So that's the romantic side of the story. The reality-side is a bit more stressful. We have begun the process of getting our house in Richmond ready to put on the market. We spent this weekend wallpapering an upstairs hall and starting a rapidly growing yard sale pile in the garage. There are trees to be limbed up, power-washing to do (if the rain EVER stops), and some painting. Hopefully, we'll be on the market in September.

Meanwhile, on the other side of the fence, we are dealing with the realities of the expansion of Enon Hall to meet the needs of "21st century Hathaways." With the help of our architect, we have arrived at a design that we love. At present, the kitchen is the only room that still is in flux as Gay determines exactly what the kitchen of her dreams should look like. And then we're trying to determine if we can really afford to build what we're seeing on paper. We can afford it based on the architect's ballpark estimate, but we have also heard all the horror stories about construction projects costing twice the estimate (or more). Heck, you only need to watch "This Old House" to get the financial willies. They are constantly going back to poor homeowners after exposing a new calamity that needs dollar signs thrown at it.

Most of our work will be new construction that extends the house, rather than modifying the existing house. But, at the same time, we can't ignore that there is significant work that needs to be done in the old part. Particularly replacing some very rotten floor joists under the parlor and repairing all of the chimneys and fireplaces. I'm scared to death of the chain reactions that could start. But hey, it's all part of the life's grand adventure, right?

Even as early as we are in the process, I'm finding that there are many, many "chicken & egg" situations that must be navigated. Determining the correct order for all of the decisions can be a bit daunting.

Our hope is to complete the new work at Enon Hall by next spring or early summer. Meanwhile, once we sell our house we'll be living in an apartment in Richmond until the school year is complete and Enon Hall is ready.

But when it's all said and done, we'll just have one house to maintain, instead of two...which will be a great new reality, hopefully freeing up our weekends to do things together that don't necessarily involve power tools.

Knowing that all of this is on the horizon has made it a little difficult to stay motivated on our normal weekend projects. Somehow repairing that one window sash suddenly seems so trivial in the scheme of everything that now needs to be done.

This really is an exciting move for us. We have invested so much into the restoration of Enon Hall so far, weekend by weekend. Now it's time to "kick things up a notch!" -- Bill

P.S. Met with the architect today and picked up the latest elevations.




Road side - everything to the right of the left chimney is new



Creek side - Everything to the left of the right chimney is new



Yes, it looks huge. But remember that 90% of the house is only 1 room deep! The front elevation is a variation on the "Big house-little house-collonade-kitchen" form that was popular in 18th century Tidewater Virginia. This style and the single-pile nature of the houses resulted in extremely long houses like President John Tyler's Sherwood Forest. The center chimneys are more New England than Virginia, but they are a result of balancing the chimney that already exists at the end of the present 19th century section of the house. The creekside is much less formal and has more of a farmhouse feel. The garage entrance will be from the end if there is enough room...the required 100 foot setback from the creek may be an issue there. -- Bill


---
August 23, 2004
Nothing new to report for this weekend other than continued tractor problems. I have tried everything and still the minute I start cutting grass of any height at all the engine RPMs drop, black smoke emits from the engine, and the temperature gauge starts climbing. Needless to say, I didn't do much cutting. Everything's still under warranty, so it's time to call the dealer to come pick it up for service.

Meanwhile, we are waiting on an estimate from a builder from Richmond who came and reviewed the project last week. -- Bill


---
August 30, 2004
Things have been busy in Richmond. Last week we had our upstairs air handler replaced (it suddenly croaked) and had a tree crew come take down a magnolia that was squeezed into a too-small space in the back yard and do a lot of general limbing work. We had a big garage sale on Saturday and celebrated my birthday yesterday.

Got a call from the Kubota dealer in Middlesex (near Enon Hall) this morning saying that there is a transmission problem with my tractor and that it needs to go back to the dealer in Richmond because Kubota wants all warranty work to be completed by the dealer who sold the tractor. That doesn't make me too happy. If I had known that, I woulda called the dealer in Richmond in the first place. Now, I guess I'll get a bill from the Middlesex dealer for picking it up and diagnosing it. -- Bill