ONLINE JOURNAL These journal entries track our progress as we undertake our adventure of restoring this very old home. The main reason for keeping this journal on the web is that we have found that there are very few resources (books or websites) that follow all of the trials and tribulations of restoring an old home...from start to finish.
---
June 6, 2004
William was sick this weekend. That and other obligations kept us from working on Enon Hall. But I wanted to share a couple photos that I took last weekend that capture the age of the home.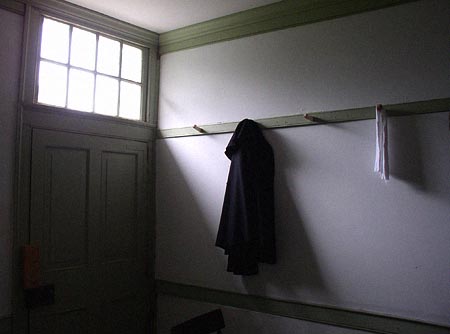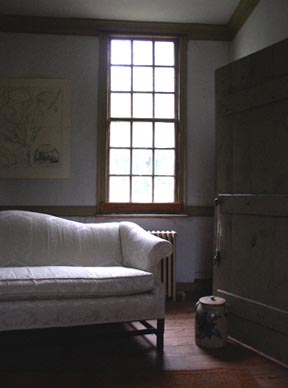 And anybody who visits this site will get a chuckle from this little commercial sent to me by my brother. (Warning to dial-up users: 2MB file.) Enjoy. -- Bill

---
June 13, 2004
We finally settled on a paint color that we like for the guest room! It's a dark Williamsburg gray..."Purdie House Gray."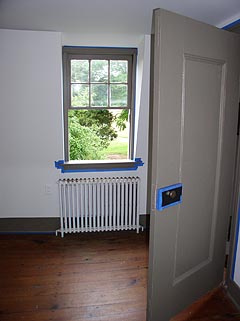 Gay spent most of the weekend painting. I removed both bottom window sashes to make it easier to paint the windows. Of course, one thing leads to another. Both need to be stripped and reglazed. So I guess I know what I'm doing for Father's Day!

There are actually signs of hope in the wildflower field. Now, from afar it still looks like a big mess of weeds. But upon closer inspection (much, much closer) there is actually some blooming going on...Baby's Breath and some others that I can't identify.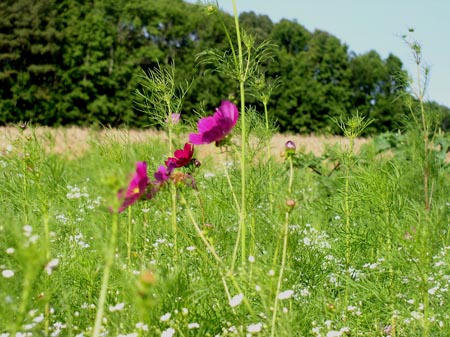 Maybe in another week of two it'll actually look like something from a distance!

I was busy cutting the grass and limbing a locust tree when the Colonel next door invited me to go up in his plane for a little while. So without any arm twisting, I quickly abandoned the tractor (and Gay and William) and took off. It was so cool to see this part of the country from the air. It really is breathtaking...water and boats everywhere. And from the sky, everybody's lawn looks mowed!

I took this photo of Enon Hall. Roll your mouse over the photo to see more details. Even groundhog holes visible from outer space. -- Bill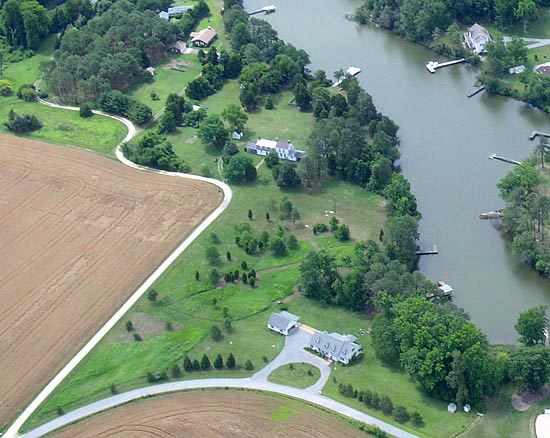 ---
June 20, 2004
I do not feel guilty. I took full advantage of Fathers Day as an opportunity to kick back and enjoy myself. No hammers, no saws, no paint brushes.

William and Gay got me a croquet set! That was a lot of fun! Even as we played below the missing window sash that I had intended to be working on...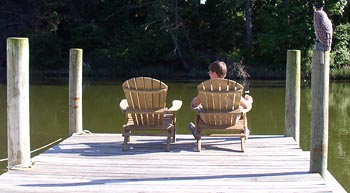 It's good to be Dad. -- Bill

---
June 23, 2004
Today we were visited by Richard Robinson, a photographer who spent the day shooting photos for a story that The Washington Post will be running about Enon Hall on July 1st.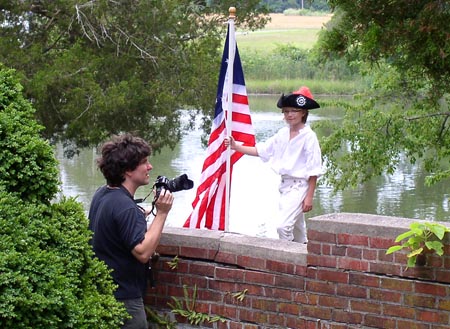 Watch for it on your newsstand! -- Bill

---
June 25, 2004
I finally added a page with links to other great old house restoration sites. You can also get to them from a link at the bottom of the home page. -- Bill

---
June 27, 2004
We focused on the still-unfinished guest bedroom this weekend. I finished one of the two bottom window sashes that I had removed...the easy one. Scraped, sanded, primed, painted, and re-installed.

This sash was in pretty decent condition and didn't require re-glazing. The other sash is not going to be such a cake walk. I got started on it today, removing the panes and scraping out the old glazing. I've had dismal results from my glazing work in the past, but I'm ready to try it again. Recently there have been great how-to articles about glazing windows in Fine Homebuilding Magazine and This Old House Magazine, plus I've received lots of advice on the matter from visitors to this site. Now my only question is whether I'm going to try the new glazing that comes in a caulk tube, or use the old fashioned stuff.

With the first sash back in, the room is really starting to come together.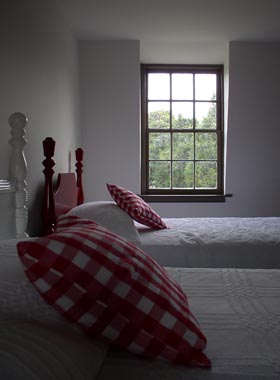 Meanwhile, Gay worked on the dried out, paint speckled floor. First she used paint thinner and a lot of elbow grease to clean it.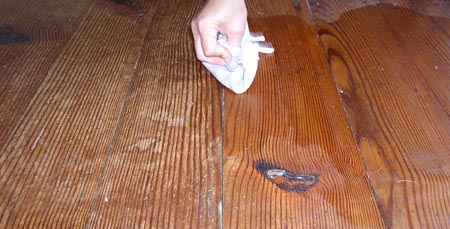 And then she restored the finish with a little linseed oil. What a difference!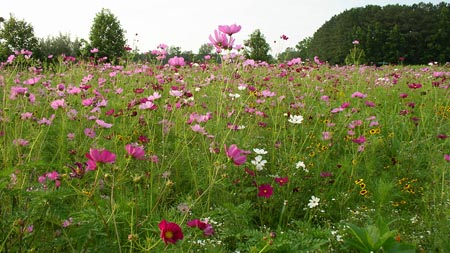 The wildflower field is looking good. You can actually see the blooms from the house now! -- Bill