THE HATHAWAY FAMILY GRAVEYARD AT ENON HALL
Following are various descriptions of the Hathaway family graveyard, as well as detailed information recorded during a visit to the cemetery in February, 1999.
---
"I think all of the Hathaways on your side from William down, and I know all from the 1st Lawson down, are buried in our graveyard here at home. Six or seven generations lie in that piece of ground."


Source: Letter from Felica Toler Hathaway to her son Howard Hathaway
March 7, 1915
From the collection of the Mary Ball Washington Museum
---
"I wish my body to be buried in the grave yard at Enon Hall between the graves of my two wives and that a suitable tombstone be erected over my grave, and my wife Susan's grave, similar generally to the one over the grave of my first wife. I also direct that a strong and substantial brick wall be built around the grave yard, making it...(illegible word), considerably larger than it is now. With a substantial iron gate on the North side."

Source: Will of Walter E. Hathaway - 1918

---
"The cemetery is set to the south of the main dwelling, surrounded by a stretcher bond brick wall with concrete coping. Cypress and boxwoods ornament the site. A metal gate is located on the north side. The markers are set around the perimeter of the site."

Source: Virginia Department of Historic Resources
Reconnaissance Survey Form
October 29, 1997

---
"Back of the house, in the middle of a field was a fine brick wall around the Ancestral Graveyard where generations of Hathaways are buried. The later graves are marked by stones -- the earlier by boxwood. "The black mammy" of the Hathaway family, Priscilla Fauntleroy," a loyal and devoted friend was buried in the family graveyard along with her "white folks" and her epitaph could have been "well done, good and faithful servant -- enter into the joy of thy Lord." A later generation buried his faithful dog Max here, with the inscription on his tombstone -- "The more I see of men, the better I love my dog." All that descendants now own of Enon Hall, is that little graveyard, by Va. law not transferable with the sale of the plantation, to BE PRESERVED perpetually."

Source: Lawson & Hathaway Families of Virginia
Compiled by Virginia M. McComb, 1950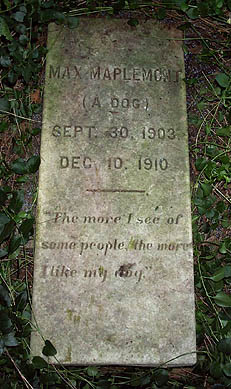 ---
Physical Description:
Approximately 40' X 50'
10 headstones, all situated along West wall of cemetery
Simple iron gate with cross on top
2 large boxwoods remain inside the wall
Large Cedar trees at each corner. 3 remain, one has been cut down.
Decorative concrete ball caps on corners of wall. (Some missing)
The dog's headstone (see above) is located just outside the graveyard wall at the southeast corner. The dog was a collie named Max Maple Mont and was the pet of Walter E. Hathaway.


Source: William Hathaway Chapman
Graveyard visit on February 6, 1999
---
Headstones and Inscriptions
From left to right along West wall


Lillie Augusta
Daughter of Henry S. & Harriet E. Hathaway
Died May 1, 1869
Aged 13 years, 9 month & 22 days


Harriet E.
Wife of Henry S. Hathaway
Born June 11, 1828 and died in hope of heaven February 8, 1858


Henry S. Hathaway
Son of Lawson Hathaway and Elizabeth Pullen
Born August 2, 1826
Died in hope of heaven September 15, 1892
He giveth his loved sleep.


Felicia Toler
Daughter of Felicia Hall & Col. Thomas J. Dunaway
Wife of Henry S. Hathaway
December 27, 1839
April 1, 1921


Henry S.
Son of Henry S. and Felicia T. Hathaway
Died November 11th, 1862
Aged 1 year, 7 month, 25 days


Effie T.
Daughter of Henry S. and Felicia T. Hathaway
Born December 8, 1873
Died November 14, 1876
Suffer the little children to come to me.


Lily Belle
Wife of Walter E. Hathaway and daughter of Col. William and Margaret Bailey
Born St. Louis, Mo. June 30, 1869
Died Enon, Va. June 22, 1902


Walter E. Hathaway
Born November 13, 1862
Died July 9, 1918


Susan T. Smith
Wife of Walter E. Hathaway
Born November 25, 1876
Died May 26, 1918


R. C. Smith M.D.
1839 - 1920
(Richard C. Smith, Confederate Veteran - Co. B., 5th Regiment, North Carolina)

Source: William Hathaway Chapman
Graveyard visit on February 6, 1999
---