---

When you see this symbol, click to read related discussion in the Forum.
---
Our spring break was a looping road trip that took us to many of the places that William's been wanting to visit. Baltimore, Maryland to Gettysburg, Pennsylvania to Frederick, Maryland to Harper's Ferry, West Virginia to Manassas, Virginia. Following are some brief comments about our trip and some links to some of the places we visited.

Baltimore

We spent two days in Baltimore and stuck close to the Inner Harbor and Fells Point. We left the car parked and walked everywhere except for Fort McHenry.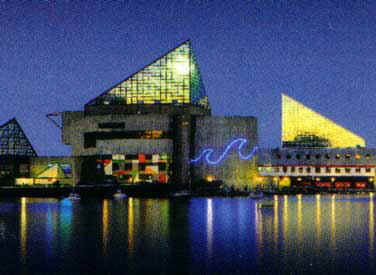 Baltimore Aquarium - Very cool.


USS Constellation - The last surviving Civil War-era Navy warship. Surprisingly, this is was one of the coolest historic sites I have ever visited. We must have spent over an hour wandering the three decks and checking out every detail. I could have easily spent all day.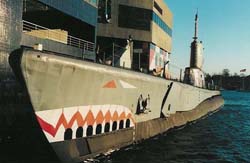 Baltimore Maritime Museum - You get to visit 3 very different historic vessels and a Chesapeake Bay lighthouse.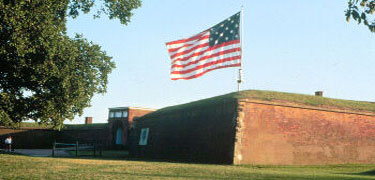 Fort McHenry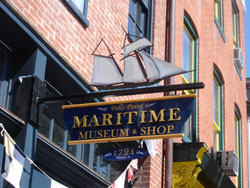 Fells Point Maritime Museum - This is a neat little museum with lots and lots of scale ship models.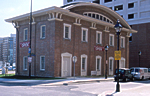 Baltimore Civil War Museum - A TINY museum. Our first impression was that this stop was going to be a waste of time, but we did wind up learning some things and they have a pretty good film. Just don't go into it expecting it to have the depth of other Civil War museums you've visited.


---
Gettysburg
Dobbin House Tavern - 1776 - Great dinner in a charming 18th century tavern. The house was also part of the Underground Railroad and you can take a peak at the secret room where runaway slaves were hidden. Very cool.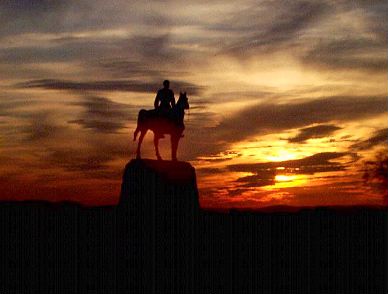 Gettysburg Battlefield - What can you say? This is the best Civil War battlefield that we have visited. The museum is very dated (new museum opening in 2008), but it's chock full...even with a lot of items already having been removed to prepare them for the new museum. The battlefield is toured by car, so we purchased an audio CD and booklet that narrated our drive. We stopped and walked around quite a bit to take it all in. Especially at Little Round Top, The Devil's Den, and the site of Pickett's Charge.

William was determined to locate the site of this famous photo and try to match it up.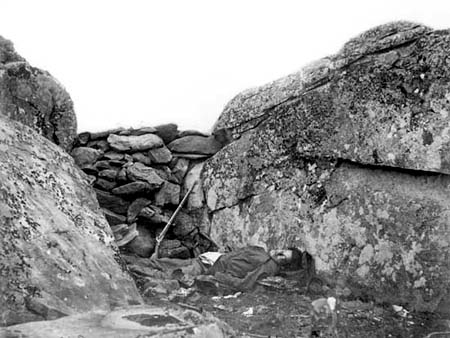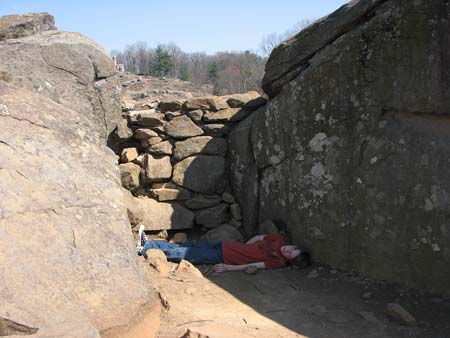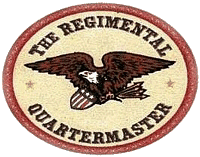 The Regimental Quartermaster - Civil War Sutler - This was William's favorite store of the whole trip. We had to make two long visits while he carefully selected his purchases. Actually, all three of us bought things there.

Gettysburg Ghost Tour - This was pretty lame. Gay and William enjoyed it more than I did. All I know is that our cellar is a lot creepier than the one they took us into and double-exposures are not photos of ghosts. There are many different groups offering ghost tours in Gettysburg. Maybe some are better than others.


---
Frederick, MD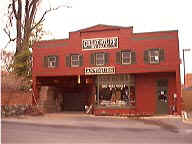 Great Stuff By Paul - After reading a story about this place in a recent Southern Living, we knew that we had to stop in Frederick if only to visit this store. Then we did some more research and Old Town Frederick sounded pretty cool too. Both turned out to be a little disappointing. Great Stuff is cool, but just too expensive. If you saw a cool old coal skuttle or great old galvanized watering can in an antique store and just fell madly in love, you MIGHT fork over $45. You'd probably be grumbling and trying to get a better price...like $25, maybe. But you MIGHT cave and buy it at $45 for its unique charm and usefulness. The problem is that at Great Stuff by Paul you are looking at a stack of literally hundreds and hundreds of these watering cans marked for $45 each. Suddenly the can seems less unique, less rare, less valuable. And $45 starts seeming more outrageous. I'm guessing that Paul probably paid $5 per can, plus the costs of importing them. At $45, he has to be making a more than generous profit. It seems like if you have that kind of quantity then your objective ought to be to move them out at prices people can get excited about. Anyway, that's just my opinion.

Frederick didn't offer much in the way of what we usually look for...museums, antique shops, house museums. But we did stumble onto this cool museum...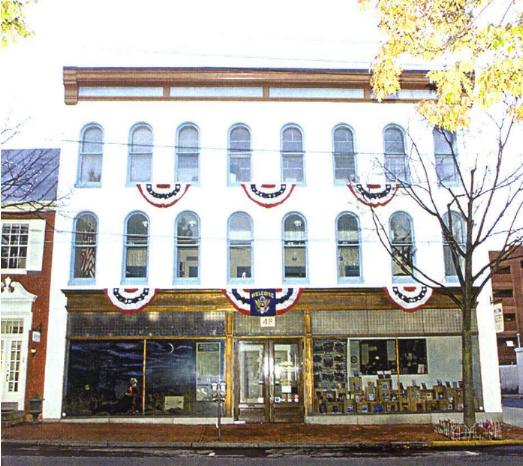 National Museum of Civil War Medicine - There are so many general Civil War museums that it's nice to find ones that focus on a specific aspect of the war. We recommend this one.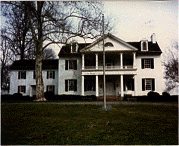 Rose Hill Manor - The gentleman at the Frederick Visitors Center told us about this 18th century house and we got excited about visiting it. He didn't tell us that it closes at 4:00, so we assumed that it closes at 5:00 like everything else. So we planned our day accordingly and arrived at Rose Hill at 3:30. When we opened the front door to the house we were greeted by two ladies in period costume who were sitting in the hall chatting. There were obviously no other visitors, and they looked rather startled to see us. When I explained that we would like to take the house tour, they both looked flummoxed and explained that the tour takes an hour to an hour and a half and that they would be closing in 30 minutes, so there simply wasn't time. Could we come back tomorrow? We explained that we were from out of town and had planned to leave Frederick right after visting the house. They repeated that a tour was impossible and again politely suggested that we come back some other time. So we left. And no, we won't be coming back some other time. These two ladies obviously found it preferable to sit in the house alone chatting for the remaining 30 minutes until they could lock the door than to accommodate us in any way. They could have offered to let us walk through the house. They could have given us an abbreviated tour. So many things they could have done short of turning us (and our money) away. But, instead, they were apparently too committed to their rote presentation that it never dawned on them that perhaps they could be a little flexible. A little adaptive. I don't get it. Anyway, it looked like a beautiful house, but we'll never know.


---

Harper's Ferry, WV

We drove through Harper's Ferry several years ago but didn't have an opportunity to stop and visit. At that time it struck us as a very unique, beautiful, and strange place. Which it is.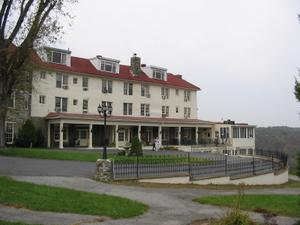 Hilltop House Hotel - Over 100 years old and with killer views, this should be the no-brainer accommodation in the area. Sadly though, it's in such a state of disrepair that it really takes a special person to enjoy staying here. (Read some of the online reviews and you'll see what I mean.) Definitely ask to see your room before committing. They're all different and some are in better shape than others. They really need to shut the place down for two years and totally renovate it. It could be a fabulous five-star hotel. Instead, it's a one-star hotel. But we enjoyed it anyway. We all got a chuckle about the desk clerk on duty when we arrived. He could not have been nicer, but his mild manner, politeness, and soft spoken ways were very distinctly "Norman Bates." That night the wind outside was roaring and blowing the blinds around through the closed window. Some guests might find that disturbing. For us it was just like home. We spent two nights here and decided the best way to approach the place is to pretend that it's a grand old hotel that has been closed for fifty years, but they've unboarded it for one night so you can stay there.


Harper's Ferry National Park - Lots and lots of good museums in the old part of Harper's Ferry, including John Brown's Fort. Very cool.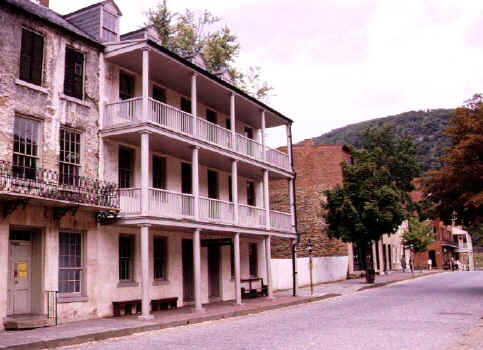 Harper's Ferry Main Street - Being in Harper's Ferry is a little like being in a ghost town. At least that's our off-season impression. It's very other-worldly. It's hard to imagine the hustle and bustle that was once here.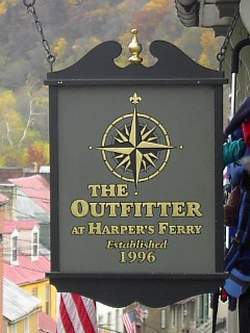 The Outfitter at Harper's Ferry - This is a GREAT and friendly little store. A spring runs across the stone floor just inside the door and upstairs you feel like you're in a treehouse. Harper's Ferry is situated on the Appalachian Trail and this store gets lots of hikers stopping in along the way. When the weather took a sudden turn and started snowing, we stopped in for some jackets and caps.


---
Manassas, Virginia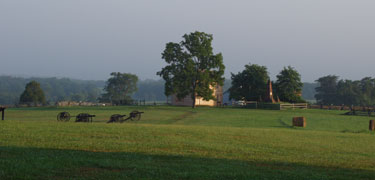 Manassas National Battlefield Park - Manassas has a really good 45-minute film. One of the best that I've seen for a battlefield park. Then you can do a walking tour of the First Manassas battlefield and then drive the Second Manassas battlefield.

Manassas is thick with Northern Virginian sprawl and traffic, but they also tout an "Old Town" area. But there's really not much there. We found one antique store and a place to eat lunch and then headed out. Nothing there to warrant an overnight stay.

But I have to plug the place where we ate lunch...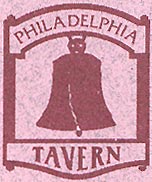 Philadelphia Tavern, 9413 Main Street - Great Philly cheese steak sandwiches and the best service that we had the entire week. It's not fancy fare, but it's really good and the two waiters that were working were better than many I've seen in five-star restaurants.

We had intended to spend the night in either Frederick or Manassas. But since they didn't offer a whole lot to do, we found ourselves done with our planned trip a day early. So we decided to stop in Fredericksburg for the night on the way home.


---

Fredericksburg, Virginia

Fredericksburg is only about 1-1/2 hours from us, so we go there fairly often. But we always find new places to visit.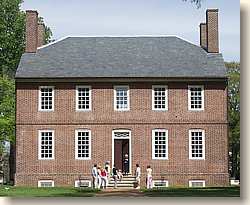 Kenmore - The home of George Washington's sister, Betty. The home is presently at the tail end of a long restoration, but is still open for tours. The focus is on the restoration, which made it very interesting to us. Incredible plaster work.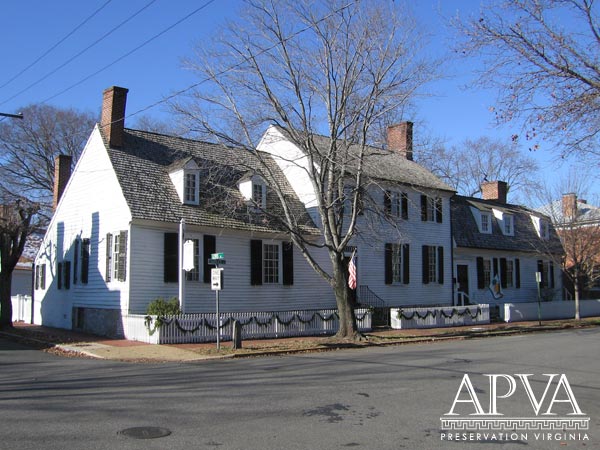 The Mary Washington House - This is the home that George Washington bought for his mother in 1772 and where she lived for the rest of her life. Not as fancy as Kenmore, where her daughter lived two blocks away, but very homey with much original material.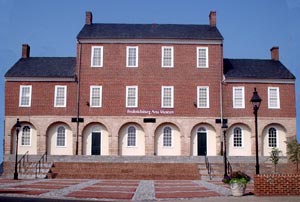 The Fredericksburg Area Museum - They have a new permanent exhibit that focuses on the work of Rappahannock region furniture makers and artists. Very interesting.

Those are the highlights of our week. We visited so many places that I'm sure I left some out. If I remember them, I'll add them in later.

-- Bill