Lucellus Hathaway - Civil War Service
In 1917 my gg grandfather, Lucellus ("Selly") Oswald Hathaway (1847 - 1920), wrote the letter below in support of his request for pension payments for his service during the Civil War when he was 16-17 years old. The letter is interesting for the level of detail regarding where he was and when, including a brief stint on guard duty at the infamous Libby Prison in Richmond. (I have transcribed the letter here without correcting spelling.)

A brief account of Lucellus' service can also be found in the book, "Lancaster County, Virginia: Where the River Meets the Bay" by Carolyn H. Jett. (2003, p. 190)

Lucellus was the oldest son of Henry Straughan Hathaway, who owned Enon Hall until his death in 1892. At that time, Lucellus was 45 years old and already had his own home and family; so Enon Hall passed instead to younger son Walter who was 30 at the time. Lucellus was a merchant in his younger years, including operating the White Stone wharf store, and later a farmer. His home, according to Agnes Hathaway, was somewhere on the Enon Hall property.

---

Taft, VA


August 6th, 1917


Auditor of Public Accounts
Pensions Department


Dear Sir


Yours of August 1st just received and I procede to anser your questions. In the fall of 1863 I enlisted in the home gard at 16 years old. The co. was commanded by Capt Elias Edmunds. In the summer of 1864 the confederate government issued an order requiring all that had arrived at the age of 17 years to report to Lancaster C.H. There we were met by an officer from Richmond who enrolled us as a reserve force for the regular army. In a short time we were ordered to report in Richmond. There I was placed in a company of reserves commanded by Capt James Mothershead from Richmond Co VA. We were placed for a while as a gard at the Libby Prison. Later on we were stationed at Camp Lee as a gard and when Sheradan made that rade around Richmond in the winter of 1865 we were in the out line breastworks to the north of the city. In the spring when it was disscovered that we would have to give up Richmond we were ordered to report at General Kempers head quarters who commanded the reserve force. There we were disbanded as a reserve force with orders to go to any command we desired. As soon as I could reach them I went to Co-H-40-Va regiment known as Lancaster Grays commanded by Cap Wm Henderson. My reason for manning this Co was because it was the last command I was with. Such was the condition of the army at that time I question that my name was ever put on its roles. I remained with them until the surrender. The last time Co H stacked arms we had 4 privates. Hackit, Wm Doggett, John Cundiff and my self. Capt Henderson in command. After the surrender I proceded to my home in Lancaster [This would be Enon Hall - Bill] reaching it April 15th 1865. It's out of my power to see Mr. Cralle and Mr. Harding at this time. Mr. Cralle served with me in the reserve force and at the time we avackuated Richmond was home on a 10 days furlow having arrived at the age of 18 years and been transferred to the regular army. Mr. Harding was a member of Co-D-9th Va Cavalry. I was at school with Mr. Harding when the war broke out and have lived near him since that time and have been a member of the Lawson-Ball Camp together since it was established. If you question I would make any another than a truthful statement I refer you to all the Co officers from the Clerk to the Constable. I am also a Deacon in the Baptis Church at White Stone, Va and refer you to my Pastor J.P. Essex. I am not only entitled to a pension by the laws of Va but am in need of it. Hoping this is satisfactory. I am yours truly, L.O. Hathaway

---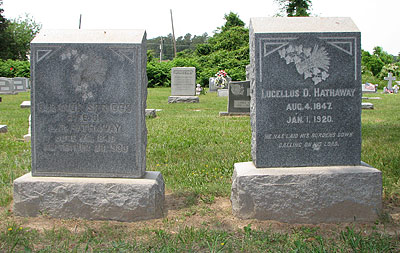 Lucellus and his wife, Eleanor Spriggs Hathaway, are buried at White Stone Baptist Church.