---

When you see this symbol, click to read related discussion in the Forum.
---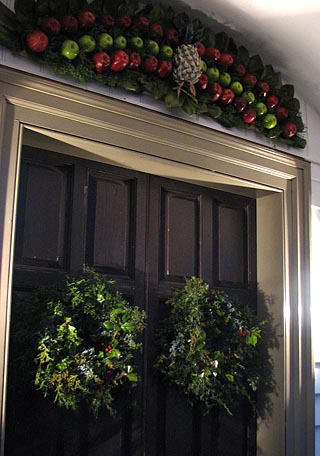 Gay's been busy making wreathes from our cedar and holly. She and her mom made the arrangement for over the front door after Thanksgiving. Everything is real except for the pineapple. The real pineapple fell off and Gay replaced it with a lighter, fake one. But don't tell anybody!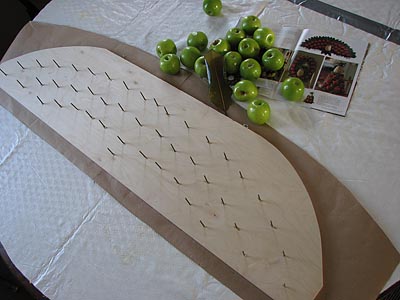 We wish you and yours all the best for a holiday season filled with blessings. -- Bill

---
By request...Christmas tree photos.

We actually have 3 trees up. An artificial tree in the parlor, a small artificial tree in William's room, and then our real tree in the family room.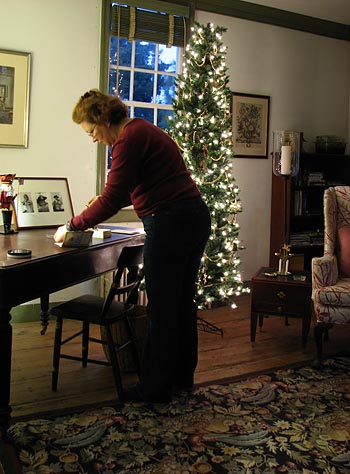 The parlor tree is decorated with only brass ornaments.

I'm guessing that our family room tree is the first real Christmas tree to be put up in Enon Hall for decades. I really doubt that the elderly previous owners put up a real tree. And during our construction we just put up the artificial tree that's now in the parlor.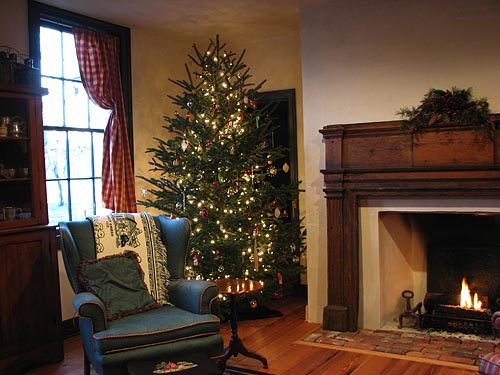 Our intent was to put the tree in front of a window, but it really wasn't working out. Instead, it wound up in this rather unorthodox position, in front of one of the doors to the center hall. It's tucked back so that it's safely out of range of the heat from the fireplace. It actually works beautifully. It's like a special Christmas tree alcove. And the cool thing is that you can also see the tree from the center hall and as you come down the stairs.

We just put this tree up today. We usually wait until after William's birthday, which was Friday.

William's desktop tree in his room is very kitschy.

We're really looking forward to Christmas. This year will actually be the first Christmas day that we've ever spent at Enon Hall! -- Bill