ONLINE JOURNAL These journal entries track our progress as we undertake our adventure of restoring this very old home. The main reason for keeping this journal on the web is that we have found that there are very few resources (books or websites) that follow all of the trials and tribulations of restoring an old home...from start to finish.
---
September 1 - 3, 2001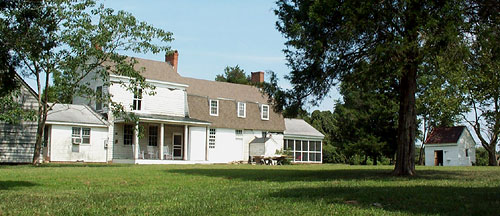 Spent the weekend finishing up projects. Caulked and painted the new siding. Looks great. Also put my upstairs window back together. Also looks great...from a distance. I don't think I'll be glazing any more windows. In the future I'll handle everything before and after the glazing process and leave that part to a pro.

Three car loads of long-lost Hathaway cousins who can trace their roots to Enon Hall visited on Sunday from California; Akron, Ohio; and Roanoke, Virginia. We enjoyed showing them around their ancestral home. The group, lead by Donna Parsons, is descended from Captain John Hathaway. As part of their return trip they will be visiting Captain John's home (Hatherage) in Fauquier County, VA. Donna promises photos, so stay tuned.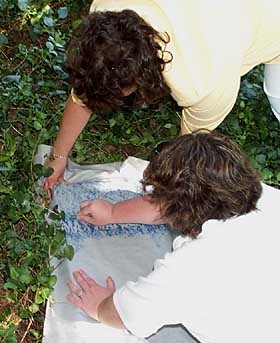 While at Enon Hall, Donna and her cousin created some gravestone rubbings, including Max Maplemont (Walter Hathaway's beloved collie). -- Bill
---
September 11, 2001

Our deepest sympathies and most heartfelt prayers are with those who have lost their lives or loved ones in today's horrible tragedy. God bless America. -- Bill

---
September 23, 2001
After spending the last two weekends buried in office work it was good to get back to work at Enon Hall this weekend. We are at the end of some major projects (the siding, Gay's upholstery work, etc.) so we're going back and tying up some loose ends on other projects that have been left halfway done for months. Gay did yard work. I painted two sides of the smokehouse (primed back in the spring) and stripped, sanded, primed and painted one of the four columns on the back porch.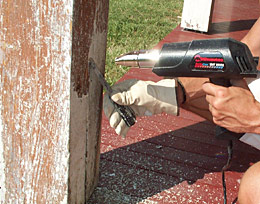 Meanwhile, William, wearing heavy gloves and boots, worked to clean up "Junk Beach." His name for a strip of our shoreline about twenty feet long that was used as a dumping ground for glass, bottles, and broken ceramics. -- Bill

---
September 25, 2001
See a two-page article about Enon Hall and this website in this month's issue of Renovation Style magazine. It's now available at newsstands. Welcome to new visitors who found us through that nice story! -- Bill