ONLINE JOURNAL These journal entries track our progress as we undertake our adventure of restoring this very old home. The main reason for keeping this journal on the web is that we have found that there are very few resources (books or websites) that follow all of the trials and tribulations of restoring an old home...from start to finish.
---
August 1, 1999
Today we met with Agnes Hathaway, who lived with her husband (Henry Hathaway) and children at Enon Hall from 1935 until 1940. (The last Hathaway owners of Enon Hall!) She gave us lots of exciting new information about the house. Like that there was a large addition built off the back of the house by Walter Hathaway that she and her husband later removed (she said it was "haphazard" and poorly built). All of the sheds and additions to the present rear of the house are "post-Hathaway," as is the screened porch. She gave us a stack of photos of the house which show the long-gone addition, long-gone porches, an old photo of the graveyard and more. I will scan and post them here soon! -- Bill

---
August 3, 1999
Posted many of the photos kindly provided to us by Agnes Hathaway in the photo gallery. -- Bill

---
August 7, 1999
Visited Enon Hall today to assess the overgrown landscaping and the dock. The property is 3.67 acres of huge and stately trees, including magnolia, birch, holly, cedar, pine, crepe mertle, and more. Unfortunately, many of these trees have been overrun by vines and underbrush for years and years. It will be a massive job to set them all free. Probably the best plan will be to spend a couple days onsite with some tree professionals in the fall. Will need to find somebody with a cherry picker who can strip the vines from high up in the trees. Meanwhile, we need to decide what areas we want to de-jungle...and which areas we want to leave "natural."


I cleared an opening so that you can actually reach the dock without a guide and machete. The dock is sturdy, but needs an overhaul. It's too narrow and the wood is badly weathered. A couple weeks ago, our five year-old son, William, said that he thought that we should extend the dock further. I went into an explanation of how that would depend on what the county would let us do...because there are lots of restrictions, etc.. He just looked at me blandly and said, "I just want to extend it to the shore." He had a point...right now you have to take a pretty healthy step from the shore to reach the dock.


Checked the water depth today and found it to be four feet at the end of the dock at just below high tide. Don't have a low tide measurement yet.


The Hayden's executor was there today, continuing the massive clean up process. When I first talked to her over a year ago, she didn't understand why we wanted to buy the place and declared that we would need to just "tear it down." Funny, she seems to be falling for the old place as she spends more time there. She made several positive comments about beautiful woodwork and a wonderful setting. Although she does say that she keeps a pitchfork with her as she goes though the house, in case she runs into anything "wild."


Spent a few minutes in the cellar. Things look very sound. There has definitely been insect damage over the years...but it seems to be in check. There is a large brick holding area down there that was once used to store ice. Pretty cool.


Also peeked through the storm door leading into the shed addition on the far left at the rear of the house. Good news...it's just a closed-in porch and there are no knockouts leading into the house. Inside the addition is the exterior of the house...with an exterior door and window in tact. So it looks like the shed addition (which looks like it has just been used for storage) can be removed with little effort. -- Bill

---
August 19, 1999
Got a call from Agnes Hathaway today who had thought of some more information that she thought we might find interesting or helpful.


Before the "long porch" on the front of the house (shown in the old pictures), there was a small porch with benches on both sides. Apparantly the ladies enjoyed sitting on this little porch and talking and were sad to see it go. Suppose the men took over the long porch?


She also said that Miss Effie Toler Hathaway (born at Enon Hall in 1880) married John Wright Ballard in the parlor of Enon Hall in 1903. I suppose just as there were many, many Hathaways who were born and died here, there were also many happy wedding days.


Agnes also said that her daughter is kindly sending us an old photo of the front of Enon Hall that she has framed in her home so that we can make a copy. Can't wait to see it! -- Bill

---
August 23, 1999
Received this great picture today from Agnes Hathaway's daughter. Probably taken sometime between 1900 and 1920. Really shows off the former addition off the back, and the side staircase.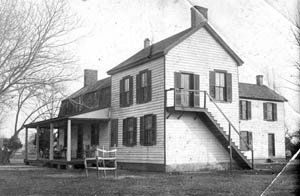 Also, turns out that Agnes' daughter married into the family of a friend/co-worker of mine. Like it or not, Brian...looks like we're long-lost cousins! -- Bill

---
August 31, 1999
The original deed to Enon Hall indicates that William Hathaway purchased the land from a "William Downing" in 1666. It is possible that I might have found who William Downing was:


"William Downing -- Emigrated from Bristol, England in 1651 with wife, name unknown, and two sons, William and John, to Northumberland county, Virginia on the Wicomico River in Northern Neck, which lies south of the Potomac River and North of the Rappahanock River. The Custom House in Bristol England was burned down during the riot of 1831 which destroyed the shipping records. It now seems almost impossible to find where William Downing came from. Capt. William Downing traded with merchants of Bristol, England. He was a planter and large land holder."


Source: " The Downings of Northumberland County"
by Mrs. O. A. Keach, Wichita, Kansas


I am in contact with some Downing descendants to see if a connection can be made. If it does turn out to be the same William Downing, it will be very exciting for the Downing researchers, because they have never been able to determine his wife's name, which is shown on this deed!


Will be going to Lancaster Court House on Friday to do some more deed research and to take a picture of the portrait of Henry S. Hathaway that is hanging there. -- Bill

---