---

When you see this symbol, click to read related discussion in the Forum.
---
Early this week we had our 30-yard construction dumpster hauled away and dumped for the last time. Out of curiosity, I went back and pulled all of the tickets for each time the dumpster was emptied to see just how much construction waste we had hauled away. I am stunned by the answer.

25.61 tons!

That's 57,366 pounds

About the weight of 10 Dodge Caravans

424 of me

675 of William

Our entire household contents that we had in storage weighed in at 14,000 pounds. It's like throwing everything we own away...4 times.

I'm stunned.

It seems so tremendously wasteful. Thinking back, I'm trying to remember what all went in each load. The largest single type of item was certainly scrap wood. And lots of it. Maybe about 15% of it was stuff that wasn't related to the construction. Just stuff that we siezed the opportunity to get rid of. Like the very last item that went into the last load...an old rusty trailer that belonged to the previous owner and had been sitting in the woods for Lord knows how long. It probably weighed about 500 pounds by itself. (Getting it into the already-full dumpster was a feat involving a ramp at the open end, my Land Rover at the other end, and 35 feet of rope in between.)

All in all, the dumpster was certainly worth the cost. Including monthly rental, dumping fees, and landfill fees it cost us about $140 a ton. 6 cents a pound.

Still...

25.61 tons...

I feel guilty for having generated so much trash. There's probably a corner of the landfill named for us.

956 60-pound bags of Sakrete

11.473 bags of sugar.

110 Andre the Giants.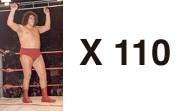 That's a lotta giants. -- Bill

---
Kitchen update...

We are still without kitchen countertops, but we do seem to be finally getting closer.

We have been committed to soapstone from day one. But that's turned out to be easier said than done.

There just aren't many sources for soapstone and there is no soapstone presently being quarried anywhere in the United States. Everybody is selling soapstone that they import from Brazil or India. The Indian stones are generally only available in 30" lengths, which means lots of seaming. The Brazilian stone is available much larger. There is one source for American soapstone right here in our own backyard. Alberene Soapstone in Virginia was once the largest soapstone quarry in the U.S. If you read their site, you would think that they are still mining it, but they haven't for decades. Instead, they are selling off existing slabs that were mined before the quarries were closed. Sadly, I found them to be unprepared to really do business. Getting a quote was difficult and then we've been waiting for stone samples for over a month. After being asked for my address for the fifth time, I finally gave up on them. It's a shame, because we would have far preferred having Virginia soapstone in our Virginia kitchen.

I have found both Vermont Soapstone and Bucks County Soapstone to be very responsive and nice to deal with. Don't be fooled by their names, they both sell soapstone from Brazil.

We have contracted with Bucks County to do the job. Largely because they are able to respond quickly. As long as this process has dragged out, we really can't wait another 8 weeks to have the job done. They are making the 6 hour drive down from PA on Thursday to make the templates and they should be back to install our new countertops and soapstone farm sink a couple weeks later. Then we can even install our cooktop that's been sitting out in the garage for a month now.

Countertops. A cooktop. A sink! We'll be living large!

Earlier this week we finally received our new Jenn-Air double ovens (after refusing the first ones that arrived damaged. I wish I could say that we are thrilled with the new ones.

The original ovens had some obvious shipping damage. Also, the control panel did not sit flush with the cabinet and the stainless steel along the top edge of the control panel had a very distinct flex in it. We chalked this up to damage, as well. Well, the new ovens look exactly the same way. This appears to be more of a design flaw than damage.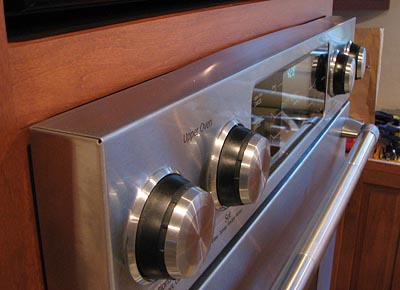 The problem is that the control panel sits out a full 3/16" - 1/4" beyond the mounting flange below. So when the flange is tight against the cabinets, the control panel is still sticking out. As a result, you can clearly see the cabinet cutout behind the panel. In addition, the stainless steel across the top surface of the control panel bows up in the middle over 1/4". (It looks worse in person than it does in the photo.) The combination of these two flaws makes the oven look like it's a scratch & dent item instead of the first quality appliance that we thought we had purchased. For this amount of money, and for this brand, I would expect the oven to fit very neatly and precisely into our cabinet instead of sticking out like a sore thumb in the kitchen.

I sent an email to Jenn-Air via their Web site and received a pretty unsatisfying response. They suggested that I contact my retailer and have them take a look at it to see if they can fix it. Uh...the retailer is the one that installed it and suggested that we contact Jenn-Air after the second oven arrived with the same defect.

I'm not sure what my next step is...if any. It's not the end of the world, just frustrating.



Meanwhile the Subzero doors are still not properly aligned. They came and replaced the freezer door which made things worse. So now they've ordered a new refrigerator door.

Sorry for the gripey post. It's just been one of those days.

On a more positive note, a couple people have emailed me recently asking about our black bathroom floor...are we going to leave it black and is it wearing well. The answers are "yes" and "yes."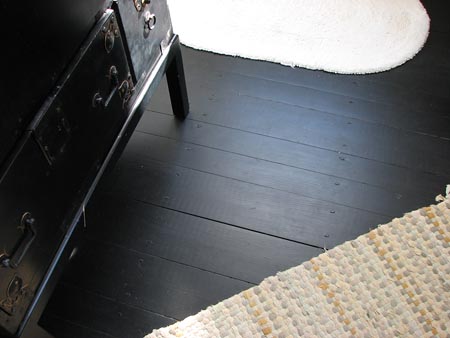 Once we were no longer tracking plaster dust on our shoes the black floor started looking much better. It does show dog hair and stuff, so it needs to be cleaned a little more frequently than other areas. But the look is worth it to us.

Have you seen the new Home Depot commercial featuring the single mom who restored her home by herself? It's fantastic. Kudos to Home Depot for really hitting the mark with this campaign. -- Bill

---
To get ready for the arrival of Doug from Bucks County Soapstone tomorrow I spent today attaching the legs and skirt board to the island. The legs really add a lot of character.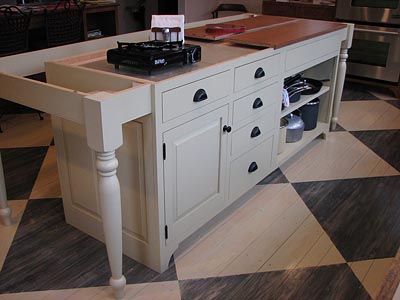 The island was planned to be 109" long, but I shortened it to 104" so that the soapstone countertop can be all one piece with no seams.

At the far end of the island you can see that we are using some spare shelves as a temporary countertop. And on the near end of the island you can see our little gas burner. Works great. -- Bill

---
Wow, that was so cool!

Doug from Bucks County Soapstone arrived right on time this morning to make the template for our kitchen countertops. I wasn't expecting the cool technology that he brought with him.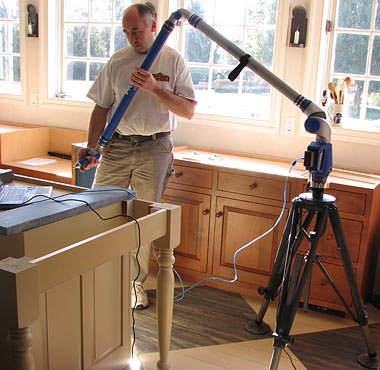 Instead of the usual technique of cutting a template from thin plywood, he digitally traced the kitchen walls and counters using a FaroArm. Then, back at their shop, all of the plotted dimensions will be output directly to their waterjet which will cut the slabs exactly to size, make the sink cutouts, etc. It speeds up the whole process and improves accuracy.

They're scheduled to be back on March 1st to install everything! Based in Pennsylvannia, this is the farthest they have traveled so far to do a countertop installation. (6 hour drive) -- Bill

---
This is a test.

We think we are mouse-free.

For about a month we silently noticed the difference. No sightings. No new droppings. No catches in the traps. Finally, I decided to test fate and told Gay, "I think we've gotten all of the mice." (Actually, I probably said "mouses.") For us that was a big test. Usually once you voice something like that aloud, it's immediately proven to be untrue. So the next morning I expected to find all sorts of evidence that the mice were still here, going strong. But we didn't. And still haven't.

So now this is the ultimate test. We're telling the world that we're mouse-free. And then we'll sit back and wait for the stampede that proves us wrong. Or for more of nothing. Which would mean we're right. They're actually gone.

There was a distinct change that occured right before the sightings stopped. The last four mice that we caught in traps had been eaten before we could empty the traps in the morning. It was quite grisly and something we've never seen in our 8 years here. I think the mice were finding it so hard to find food that they were actually dining on those unfortunate enough to have been caught in our traps. And then there were none.

What's changed? There is no food accessible to them anymore. In our temporary kitchen we had a backless cabinet where we stored canned goods. Dry goods were stored in a pie safe which we still use and which has proven to be totally mouse-proof. Our new kitchen contains no food at all. It's all in the pantry, which has no doors, open shelving, and a slate floor. There's nowhere to hide in there. No dark corners. And there's no way for them to get under the new kitchen cabinets. Yet. I'm sure that won't last forever.

Where'd they all go? Probably out to the smokehouse. There's an open bag of grass seed sitting out there that has become an all-you-can-eat buffet. That's fine. Have at it!

Lucy's sleeping easier too. No more hours spent staring at walls, tracking every little skitter and scratch.

So will this post be a jinx or an affirmation? We'll let you know. -- Bill