---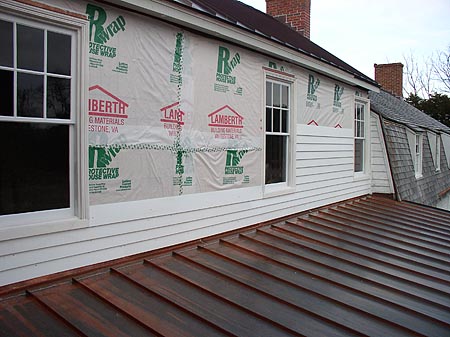 Gay and I took advantage of some warm weather to get a start on the installation of the new cedar siding. (We've been digging the radiant heat up on the new porch roof.) It's slow going as we prime any ends that we cut, put a bead of caulk at each end, and then caulk all joints once each piece is nailed into place. But now that we have a system down, I'm hoping that we can finish this wall above the back porch tomorrow.

There seem to be competing schools of thoughts regarding scarf cutting (mitering) joints. Some literature says do it, others say don't. I even have an Old House Journal article by John Leeke (from 1994) where he says you should scarf cut all butt joints. Then immediately following the article is another by an old-timer from North Carolina who says "...if they (joints) are necessary, make them square-cut and butted together rather than lapped or mitered." I'm thinking that scarf joints are more common in New England. I really have never seen them used around here, so I'm proceeding with square cuts. It will certainly help the installation to move along a little more quickly.

We're trying to be smart with our cuts to minimize waste. Like remembering that it's better to cut a 12-foot board in half to get a 6-footer than it is to chop a foot off of a 7-footer since that foot is unusable.

Our target exposure on the siding is 5-3/8", but it will vary slightly as needed to make the siding line up with the tops and bottoms of windows. -- Bill

---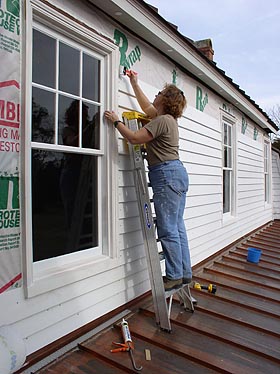 Almost finished that back wall over the porch today. But in the end we ran out of daylight.


One tip that I have never seen in any siding articles, but makes good sense... If you can install an even number of courses in the height of a window, then the center rail of the window will line up with a siding line. Just a nice nuance. Can't say that we planned it that way. We just happened to wind up with an even number and then said, "hey, look how well this worked out..."

We will totally finish this wall before moving on...completing the soffet, installing the bed moulding, and then putting a final coat of paint on everything. That's the way we plan to approach each section, totally finishing all aspects of it before moving on. This will be especially necessary when we get into working on higher areas that will require staging. Don't want to be setting it up more times than is necessary.

We're really pleased with the siding from Carolina Colortones...in the quality of the quartersawn cedar and in the paint job. Really nice. And extrememly well packed, with a piece of plastic between every single board. -- Bill

---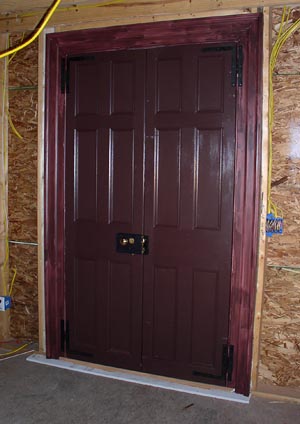 The creekside double doors are up!

We've decided to carry the brown color of the doors inside and use it for the trim color in the hall. We put a quick first coat on the trim before we hung the doors. You can tell from that first coat how much red is in this color, but it does get more brown with each coat.

The lock is a reproduction Carpenter Lock. We don't like the size of the brass knobs that came with it. They feel way too big, so we'll probably replace them. We also have wrought cane bolts that will hold the right hand door in place but we'll wait to install these. For now a box of nails sitting in front of the door works fine.

I have been plagued by an irrational fear that all of the doors that I've been working on just weren't going to "sound right" when all was said and done. For some reason they would just sound like two blocks of wood clunking together when they shut. Well, so far the doors sound great. Especially these. A nice solid sound. The three of us took turns opening and shutting them over and over, grinning as we did so. -- Bill

---
The south side of the house is getting all of the attention these days. Because it's warm! The north side is always 10 degrees cooler. That might be appreciated during the summer, but not in February.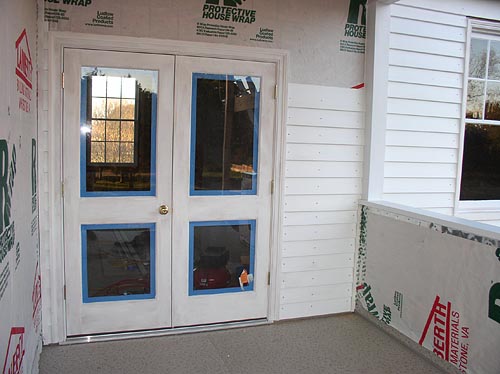 I removed the factory brick moulding from the French doors (upstairs screened porch) and re-trimmed the door to match everything else and then got a little more siding installed. I had to stop when I realized that I don't have a drip cap for this door. I made an inventory of the remaining copper drip caps that I need to have made and took it to the roofing company. I hope to get these soon so I can carry on.

This porch is really going to be a favorite spot. Even when it's cold outside, it's comfortable on the porch because it's sunny and there's a nice wind break. The porch floor is a product called Duradek. It's not especially pretty, and certainly not "period," but it should ensure that the kitchen below won't have water raining down on it anytime during our lifetime. It's supposed to be the best flooring option out there for porches over living spaces.

I have contracted for the insulation and am waiting to hear when they'll be able to do the work. Probably next week. Once that is done, I need to get some drywall on the garage ceiling because the garage door is supposed to ship next week.

The power company says they will be able to have our new service live by the end of the month. -- Bill

---
I woke up exhausted this morning after working on the house all night...in my sleep. I do that a lot. The upside is that I often anticipate problems in my dreams; things involved with projects that I haven't even started yet. Somehow my subconscious stays about three steps ahead of me.

The insulation was delivered today and the installation will start tomorrow. While the walls were still open I took photos of every wall in the addition to document the location of wiring, plumbing, etc. Might come in handy some day years from now.

I also took care of some final details in the framing like putting in supports to screw the bathroom sinks to, adding some drywall nailers that the framers missed, etc. My favorite was in the downstairs bathroom. I looked up and noticed that a ten foot wall needed a nailer at the ceiling. As I wondered how they missed that I noticed the word "NAILER" written in all caps on one of the window headers. Seems that somebody did notice it, but it still didn't get installed.

Boxes and boxes arrived today containing the lighting we purchased in Williamsburg last month.

Sconces for the kitchen...


Four of the fixtures below for the creekside doors...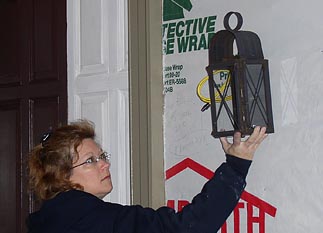 And two of these fixtures to go on either side of the front door.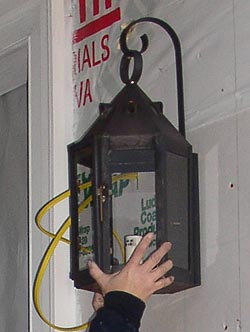 Plus, two pendants for the kitchen island. -- Bill

---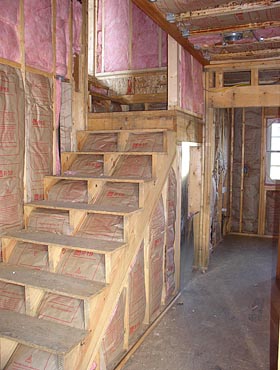 It's getting pink in here! The insulation started going up and boy does it change the look, feel, and sound of everything. No more wind whipping around! This photo is of the back staircase that goes to the room above the garage, which is presently my workshop. In the workshop (which we aren't going to be finishing right away) I asked the installer to put the kraft paper facing the room so that the insulation wouldn't get all full of sawdust.

I really like our installer. He is all about doing a good job. "I'm a pride-monger," he told me. Gotta love that.

Never having trimmed out a house before, I'm finding that it's a real art; a combination of numerous aesthetic and waterproofing decisions. The main challenge is trying to make everthing flow together around the house, rather than colliding awkawardly at corners. I scratch my head a lot.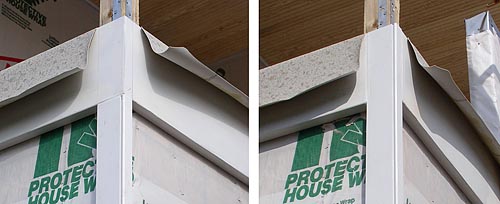 This morning I put up this corner board under the corner of the upstairs screened porch. Immediately I hated the way that the bead dead ended into the band board around the porch. ("I don't know what I'm doing, but that can't be right!") And a horizontal joint where two pieces of wood of equal thickness meet is usually not a good idea, no matter how much you caulk. I decided, instead, to cut out my mitered corner of the porch trim boards and let the corner board go all the way to the top. The porch floor and its trim will finish off the top of the corner. I think it's a better choice. If it's not, I'm sure I'll be hearing about it in the Forum.

Regarding my corner boards, I only put a bead on the wide face of the board. Often these boards have a full radius bead, meaning that the bead continues onto the short face of the board. After a number of tests with the moulder I was able to achieve this by running the boards through in two passes, but the effect wasn't perfect. And in the length of a 20-foot board, there was the risk that the bead would wander in and out quite a bit. So given the cost of clear cedar, I opted to keep it safe.

Gay and I got some more siding up today, but our progress is limited by the temperature. The directions on the caulk we're using read "Caulk in temps above 40 degrees. Do not apply when rain/freezing temps are forecasted (sic)." "Forecasted" for when?? A little more specific info would be helpful. But we are trying to adhere to the above-40-degrees direction, even though it's frustrating to have to shut down progress when the weather is otherwise very pretty.

We've been discussing the heart pine wood floors in the addition and toying with the idea of leaving them totally unfinished. That's how they are downstairs in the Dutch Colonial and in all of the buildings in Williamsburg. We like the informal effect, but are worried about staining. As a family, we are very neat people and rarely have spills. But what if a guest were to spill a glass of red wine (or grape juice) on the floor? Would we be able to deal with that? Or would there be a murder? It's a line we have to walk. We want our guests to feel totally comfortable, but it's hard to give up a look that we really want. The other option we are considering is a tung oil finish. -- Bill

---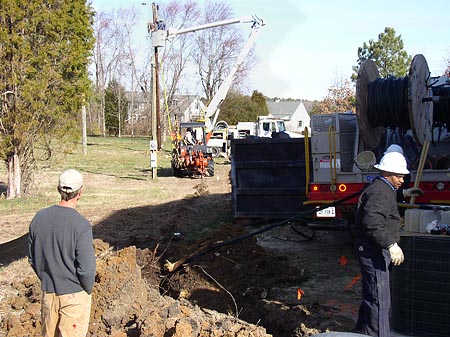 We were all set for a full day of hanging siding today. Then the power company showed up at 9am to hook up our new service, which meant we were without power until after lunch. No power. No saw. No siding installation.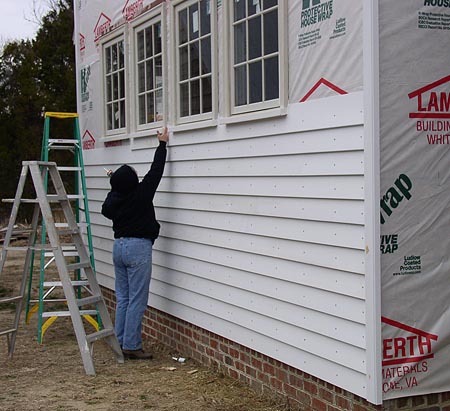 After lunch we were back in action and made some progress on the kitchen wall.

The insulation contractor was back today and got a lot done. Luckily I wandered up to the law office to check on him, just in time to find him cutting insulation right on the floor boards with a utility knife. Fortunately, he had only made a couple of cuts before I caught him. "Oh, you're re-using this floor? I'm so sorry." Oy. - Bill

---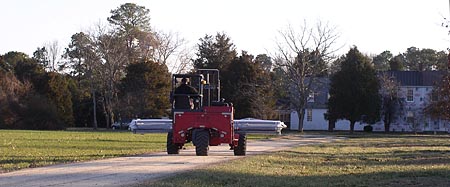 Our new garage door arrived today from Designer Doors. The tractor trailer driver didn't feel comfortable coming down our dirt road, so he parked out on the gravel road and then used the forklift to bring the door the rest of the way to the house.

The door will be installed next Wednesday. Before then we have to decide on a color and paint it. The manufacturer requires that we apply three coats to all six sides within 10 days of delivery. I guess we'll be using oil to ensure that the cold weather doesn't mess up the finish. The manufacturer also recommends that we not use a dark color (their bold and underline) because it will increase heat absorption and can dry out the doors prematurely, causing cracks and gaps. Not sure if that would be so much of a problem on the north face of a house...

We installed more siding today. -- Bill

---
The last couple days have been a mad dash to get the garage ready for the installation of the door next week. We've been racing against that deadline, as well as a more looming weather deadline. The last few days have been beautiful and warm, but that's all supposed to change tonight as temperatures drop quickly and snow is a possibility for tomorrow.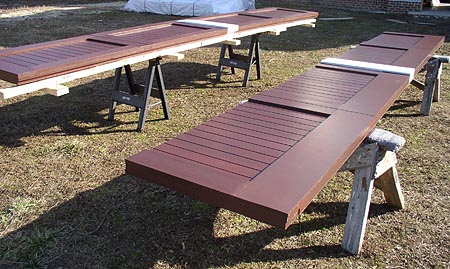 We decided to stick with our brown color for the doors. I talked to the manufacturer and they confirmed that a northern exposure is definitely to our advantage. And our brown is dark, but not as dark as the colors that they listed as no-nos (black, green black and ebony). I think we'll be fine.

I keep saying, "garage doors," instead of "door." It's actually one 16-foot door with a fake center post, which we have painted white. The intention is that it will look like two sets of outswinging doors. We may even add some dummy strap hinges later to enhance that effect.

We also had to hang the sheetrock on the front half of the garage ceiling before the doors go up. I had hoped to find a contractor to do this as I'm not a big fan of drywall work. But no go. Everybody is so busy and nobody could get the job done in time. So Gay and I went at it.

I've never hung a ceiling before. It was definitely a workout. (Which is good, because neither Gay nor I have had time to go to the gym in weeks now because of working on the house.) It also made me long for the evolution of a third hand. It's a real challenge to hold your end of the sheet up with one hand while digging for a screw and grabbing the drill, etc.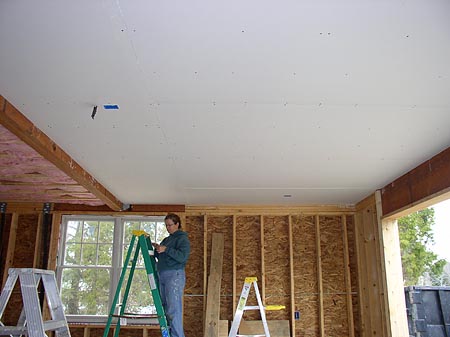 Gay taped all of the joints and I did the mud work. This is the first time that I've ever used a "hawk,' that handheld tray that holds your mud while you work. This tool is awesome and really makes the job a lot easier and faster.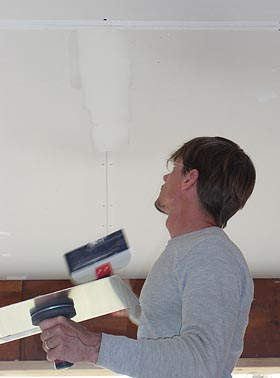 So, at the end of the day today the ceiling was up with a first coat of mud and the painted door sections were back in the garage to protect them from any inclement weather we might get. If temperatures permit, I'll try to do a second coat of mud this weekend, but I'm not sure we'll have time (or warm enough temperatures) to paint the ceiling before Wednesday. -- Bill

---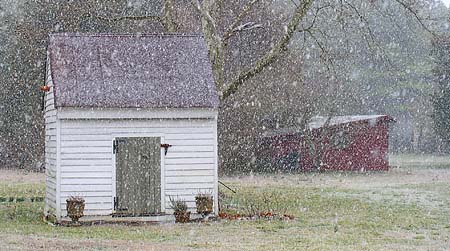 And then came the snow, right on schedule. It snowed for a couple hours, but left no accumulation.

I spent the day hanging more drywall in the garage. I'm looking forward to a day of rest tomorrow. -- Bill

---
I'm so happy!

Because it was too cold this morning for work that demanded any manual dexterity, we decided to attack the much-hated crabapple tree in the front yard instead. Gnarled, twisted, and diseased, I have hated this tree from day one. Now it's gone! Well, almost. We still have a lot of cleaning up to do and I have to cut the stump down.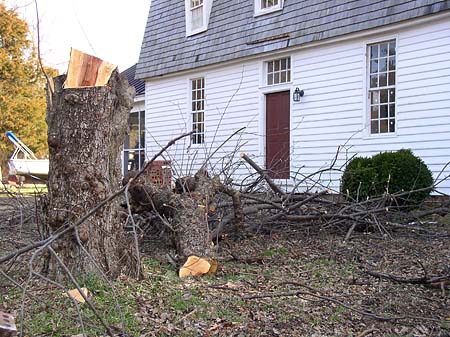 The dining room is so much brighter now and we can see almost a mile away. It's a good thing.

I think my fingertip is broken. It was recovering pretty well from the nail gun incident last month, but I re-injured the finger today while pulling on a crabapple branch. My hand slipped off of the branch and my fingertip hurt like hell...worse than after the nail. And it makes kind of a sick clicking sound. OK...that's probably too much information. -- Bill

---
With a splinted finger (hard to type!), I got back to work on the crabapple this morning. Hey, we have the start of a woodpile!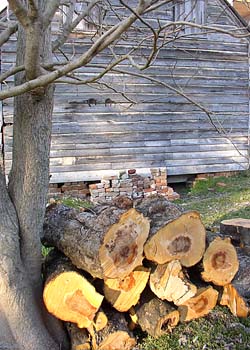 With all the countless trees we've cut down around here, we've never saved any of them because we've never had a working fireplace. But soon that will all change and we'll wish we had all that wood back. (Actually, I'm eyeing a pine tree out front that would keep us warm next winter. Not fond of pines.)

It looks so much better without the crapapple blocking the house.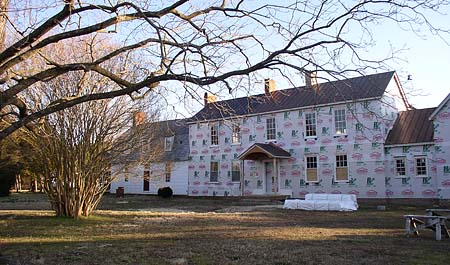 Now if we can just start getting siding on the front of the house. People think we're not doing anything, because all of our progress has been around back.

Our garage door will be installed tomorrow! -- Bill

---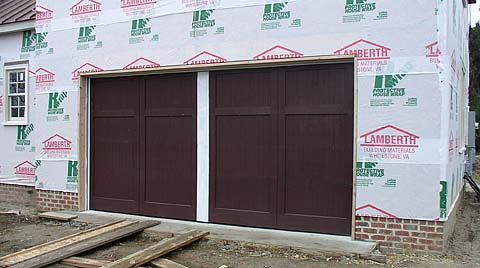 Finally, something that looks like progress on the north side of the house! -- Bill

---
I didn't post much info on the garage door yesterday, so here's a follow-up.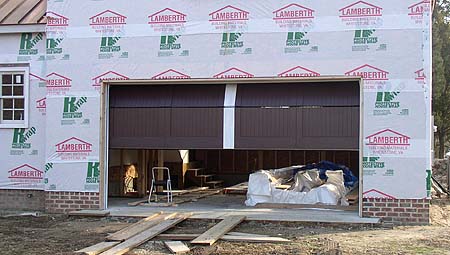 See, it's one door.

You might remember back in December that we were panicked because the framing supporting the last two steps to the room above the garage was in the way of the track.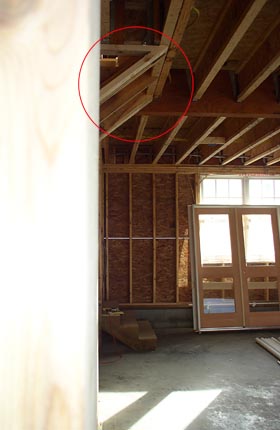 After modifying the supports for the steps, here's how that worked out.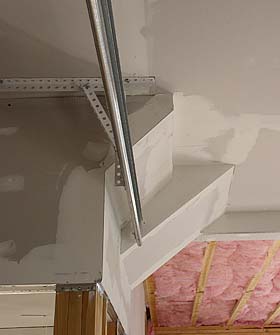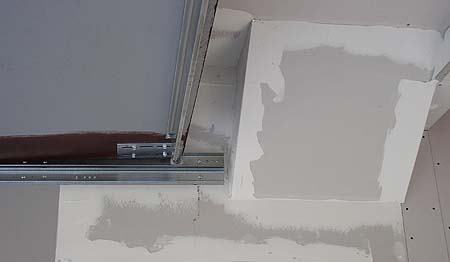 In addition to making the bottom of the steps funky, we had to go with a special "low headroom" track. The second photo shows the garage door in its fully open position with not an inch to spare above it.

It looks quite bizzare, but at least it works. And hey, it's the garage. I wouldn't even be drywalling it if we didn't have to for code.

Today I started working on the steps for the back door. I've been working mainly from this photo that we took in Williamsburg last March. (Yes, we carry a tape measure with us everywhere we go.)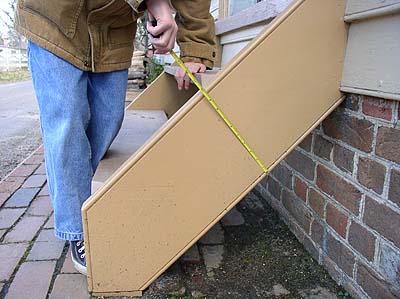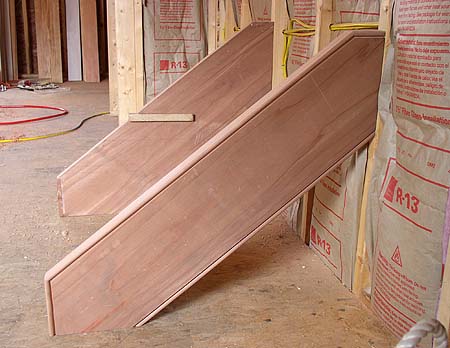 I made the carriages out of redwood and matched the bead. I've ordered a one-inch router bit to make the slots for the three steps. I inherited my father-in-law's router and only a couple of bits. The one slot that I cut took three passes. Too much chance for error, so I'm waiting for the new bit.

I'm not sure yet how to best mount the carriages to the house and ground. I'm thinking about driving screws into them, through the rim joist, from under the house. I just want to make sure that I will be able to remove and replace them fairly easily in the future should they (when they) rot. In Williamsburg, the bottoms of the carriages are usually sitting on brick. Maybe I can make a brick pad with anchor bolts in the mortar. If anybody has better suggestions, please post them to the Forum.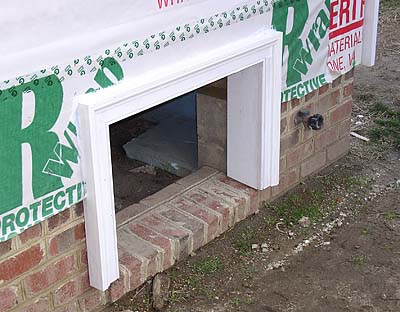 I also trimmed out the crawl space entrance so that we can turn the corner and start siding this wall. I think I'll make some kind of board and batten door with slide bolts for the crawl space. -- Bill

---
Now that the garage door is in, Gay and William moved the rest of the siding into the garage. It's nice to get it out of the front yard.

We're still enjoying discovering new views, unobstructed by the gnarly crabapple.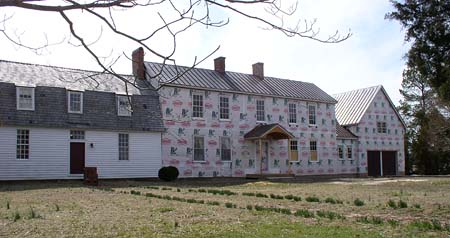 I got a little more siding hung in the back today. I'll be so glad when our house doesn't have words stamped all over it anymore! -- Bill

---
Our doors have a case of the splotchies.


We're not sure exactly what the problem is, but the brown that we chose for the center hall doors and garage door started looking like this within a week of being painted. The guy from the paint store has been out to look at the problem, but didn't have much in the way of answers. I think part of the problem is that there is so much tint in the paint to make this color. Right on the Martin Senour paint can label it says that the gallon can take up to 4 oz. of tint. However, the Martin Senour formula for this Williamsburg color requires over 11 oz. of tint! What's wrong with this picture? The paint store sent us the same color mixed in Martin Senour's top-grade paint to paint over the splotches in a small area as a test. We'll see. Meanwhile, he's also supposed to be checking with Martin Senour to see if they know anything about this problem. None of the other colors that we've painted have had any problems.

We have several MIA issues.

Electrician - MIA: On Friday, February 10th our electrician said, "I'll be back Monday or Tuesday." Now, three Mondays and Tuesdays later we still haven't seen him. I need to give him a call and see what's up.

Insulation Contractor - MIA: On Friday, February 10th (hmmm...is there a pattern here?) he told us that he would be back on Saturday to finish up. We weren't here that Saturday, but could tell that he'd been here and had finished everything except for the insulation above the law office and the crawl space (rim joist insulation and vapor barrier). He left behind unopened packs of insulation, a nearly full Coke bottle and a case of caulk. It sure looked like he was planning to come back, but we haven't seen him since. Then on the 17th we got a bill in the mail for the full amount of the job. I called the salesman on Monday the 20th and he said he would check into it and get back with me. Nothing. I called him again Friday afternoon. "You mean nobody called you?" "Uh, no. YOU were the one who was supposed to call me." He again promised to find out what was going on and call me first thing Monday morning. Nothing. I left him a message this morning. Nothing.

The electrician really isn't holding us up at the moment, but if I let this go on he will be. The insulation is a problem because I need to get our insulation inspection before I can start closing up any of the interior walls.

It warmed up enough today to get some more siding up.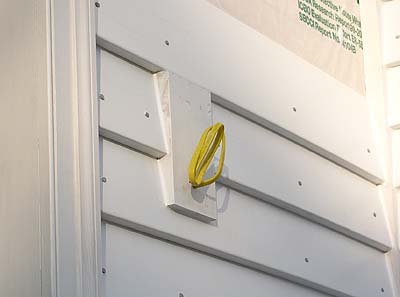 Everywhere that we have a light fixture I am making a base for the fixture so that it won't have to mount directly to the siding. I think it's a much more finished look, plus most of our fixtures have bases that are taller than our 5-1/2" siding exposure.

Here ends February. Looking back, it's been a pretty good month of progress. Much better than January. Here's looking forward to even more progress in March! -- Bill