ONLINE JOURNAL These journal entries track our progress as we undertake our adventure of restoring this very old home. The main reason for keeping this journal on the web is that we have found that there are very few resources (books or websites) that follow all of the trials and tribulations of restoring an old home...from start to finish.
---
January 1, 2001
Happy New Year everybody!

I spent about 3 hours this afternoon sorting and filing two years worth of emails from Hathaway cousins and old house buffs that we have heard from as a result of this site.

In the course of my clean up, I found a batch of photos of Enon Hall from 1964 that were emailed to me back in September by a former Enon Hall resident. Somehow they got misplaced until I discovered them today. (It was like Christmas!) Included was this inspiring photo of the kitchen outbuilding.

To display the rest of these photos, as well as information I have received from other 20th century residents, I have created a page for "Post Hathaway Families of Enon Hall." -- Bill

---
January 7, 2001
I spent the weekend at Enon Hall working on an assortment of projects. For starters, I began the huge job of stripping the paint off of the beaded board in the law office.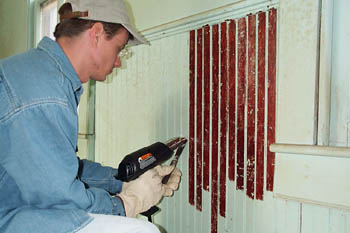 The paint came off of the flat surfaces pretty easily with a heatgun, but I need to find a better scraping tool for the grooves. This beaded board goes all the way around this large room, as well as on the ceiling. I think we will just repaint the ceiling instead of trying to strip it.

Also cleaned out the smokehouse making it a very usable storage building for the short-term. Also did some more cleaning up in the kitchen outbuilding so that we can better assess the work that will need to be done there. Got an email this week from Don MacKenzie indicating that this building's rear exterior door was added sometime after his residence at Enon Hall in the early 50s. -- Bill

---
January 13, 2001
Today we began clearing a new area of the yard to reveal an old farm fence that leads from the smokehouse to the road and was previously completely hidden in overgrowth. --Bill

---
January 28, 2001
Today I built a new breakfast bar in the kitchen. Gay and I have decided that any changes made in the kitchen should be treated as temporary, since we'll ultimately want to redo the entire space...but not anytime soon. So we're definitely trying make any short-term changes as inexpensive as possible. Therefore, the new breakfast bar is made out of a 24" X 80" hollow core door and an upside down newell post as a corner brace. All done except for some finishing trim and paint. --Bill