CAPTAIN JOHN HATHAWAY
May 17, 1733 - April 19, 1786 We probably hear from more descendants of "Captain John" (son of William Hathaway, brother of Lawson I on our family tree) than any other Hathaway, so I wanted to add this page dedicated to him.

John was not born at Enon Hall like is often said. (Enon Hall wasn't purchased by the Hathaways until 1762.) At this point, we don't even know if he ever lived here. Further research is needed.

"Hathaway's of America" (1970) contains the following information about Captain John:

"He was stout, handsome, very active, well-proportioned, with beautiful shining black hair. Undaunted resolution, friend of American Revolution, commanded a militia company which served in Pennsylvania and New York during the war; called Capt. John. In 1772 he moved about 12-14 miles above Warrenton (Virginia) and built Hatherage, a long rather narrow stone house...When Hatherage was sold in 1837 the following reservation was made:

"It is expressly understood between the foregoing parties Hathaway and Kincheloe that the family Graveyard on the farm herein conveyed is reserved and excepted and shall be forever subject to the use and direction of the said Hathaway and heirs including the ground now enclosed for that purpose and not to exceed one fourth of an acre."

"It is presumed that John and Sarah and two of their children are buried there."

---
Capt. John descendant Donna Parsons visited Hatherage in 2001 and kindly shared these photos and comments.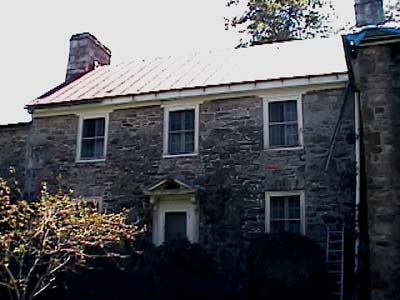 "This shot is the rear view of the wing you see on the far left side in the shots of the front of the house. This wing along with the center section of the house are original, built by Capt. John in 1772."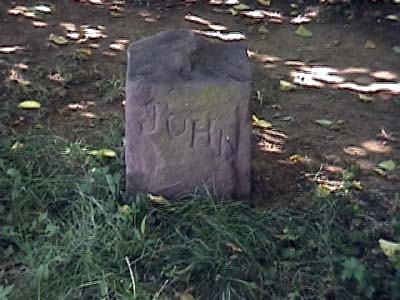 "You can imagine our excitement when we found this headstone! We were snapping pictures like crazy until the present owner informed us it was the grave of his dog, John... The gravesites of Capt. John, his wife, and two children are supposed to be in the meadow that you see from the front of the house. The owner says that in almost 60 years of farming and plowing that property he has never come across any gravesites. But they could have been plowed up a hundred years before he ever purchased the farm. Or... they could still be out there somewhere..."

---
CAPTAIN JOHN HATHAWAY'S WILL
(Thanks to Brenda Konarske for sending this transcription of Capt. John's will abstract, written just 6 days before his death. Source: Abstracts of Fauquier Co., Va Will, Inventories and Accounts, 1759 - 1800 By John K. Gott)

Date: 13 April 1786
Dau.: Elizabeth - in lieu of mine given to my brother James Hathaway which he assigned to her - one Negro Girl.
Wife: Sarah - the tract of land whereon I now live, all Negroes, horses, cattle and household furniture during her natural life.
Sons and Dau.: It is my Will and desire that if my wife Sarah Hathaway should die before my Sons Henry Lawson Hathaway & Francis Hathaway & dau. Sarepta receives their Education that they shall be educated: Lawson 3 years more than he has received; Francis five and Sarepta Two at the expense of my Estate.
Children: After decease of wife, real and personal property sold and equally divided between all my children Viz, Judtih Kamper, Sarah Bartlett, Elizabeth, John, Nancy, Susannah, Molly, Dolly, Peggy Lawson, Sarepta and Francis. Judith Kamper and Sarah Bartlett to have L12 less than the others.
Sons: John - the land which Simon Kenton was to locate for me which is 1100 acres lying near Big Sandy River.
Sons: Lawson and Francis - the tract of Land I bought of Powers and Davison lying on Tyger River in Harrison County - 561 acres - if my son John should not get the Land above mentioned that then he shall have an equal part of the tract of land I willed to my sons Lawson & Francis.
Exors: Wife, Sarah, Executrix & Son John Hathaway
Signed; John Hathaway
Wit: Josiah Fishback, Philip Fishback, William Metcalf
Proved: 25 September 1786 by o. of above Witnesses Sarah Hathaway and John Hathaway granted certificate to obtain probate.

---
Does anybody know of a portrait of Capt. John somewhere in the family? If so, we'd love to add a photo of it to this page!

---